GOA'S MONSOON TIME OLMI OR WILD MUSHROOMS: Highly prized and priced! These tight bud-styled mushrooms are flavorful and delicious, available only for a short time and this monsoon are priced anything from `500-`300 for a hundred mushrooms
Eating is Fun / Eating is Yuck! – A variety food column
By Tara Narayan
RECENTLY, I had a terrible experience. Perhaps it's because I'm on Herbalife milk nutri shakes for breakfast these days which has detoxified my insides somewhat, not enough to knock off 10 kilos of excess weight though! I learn that it's the visceral hugging our internal organs in a vice-like grip we should worry about more. It'll happen, it'll happen, my impeccable sources tell me, just hang in there. Fact is just taking these French Vanilla/Orange Cream/Dutch Chocolate/Mango nutri shakes for breakfast is not enough. One is advised to take some cellulose tablets and I particularly should also take the "heart friendly" capsules…I still  have to study the whole matter as much as I can!
The truth is two months of Herbalife milk nutri shakes and I am feeling good about myself even if all I have lost is one kilo! So, my friends, I continue. Cost-wise it's about as expensive as breakfasting out at one of the downtown Panjim eateries be it idli or meduvada or rava dosa at Kamat's or buttered toast dipped in filter coffee at Navtara's or Mangalore bun at Café Real. The good is courtesy my nutri shake for breakfast these last two months I've stopped all my hearty previous eating out breakfasts and yes, I feel the better for it!
I've noticed that your usual Goan restaurant breakfast of bhaji-pau/fried mirchi bhaji is absolutely thumbs down breakfast and so many Goans are hooked on it, these are carbohydrate-rich spiced breakfasts with little protein values and of course tea and coffee are ditto values, plus obsolete industrial food that is refined sugar in everything! Hey, I've quit all that and it's been months since I've indulged in Amul buttered Goan poder's poie dipped in coffee for a treat…don't laugh, if I feel like it some blue morning or evening I will succumb to the temptation but I don't feel like it anymore if you understand what I mean.
To continue with this my sometime Herbalife diary I've been taking it slow and easy like I don't want to get addicted to anything, never mind that I'm told this is a good addiction vis-à-vis my bad addictions. A friend tells me she started on Herbalife to lose weight some years ago but she was substituting both breakfast and dinner with the nutri shakes and in love with Goan chicken cafreal and sausage-pau and other Goan dishes she gave it up. Mind you in about three months she did lose something like 10 kilos (while she was being what is called a good Herbalife associate)…
Funny, when the friend renewed her nutri shakes anew recently, she confided, "My neck pain has disappeared!'" She is back to patronizing these range of Herbalife nutri milk shakes but she does them on her own at home adding  her own creative touch like using soybean or almond milk instead of the horrible adulterated cow's or buffalo's milk we get from a slew of dairies from Goa or the neighbouring states. Only in Mumbai one may get organic grass-fed cow's milk-fed courtesy the Parsi Dairy and as I remember it came in good old-fashioned bottles (now I don't know what it is), but this milk was to live for. Goa Dairy milk is to die for!
ANYWAY, where was I? The horrible thing which happened to me after consuming a hefty burger at a 5-star hotel restaurant. It was the chef's special and although I'd asked for a multigrain bread bun and no processed sliced cheese in it ("make it feta or natural cheddar if you can and if you can't, skip cheese altogether!"), I got the burger bun as listed in the menu and not as I'd specified. Even the 5-star servicing folk don't listen or listen with one ear and forget it with the other ear or something like that.
Okay, I ate the hefty burger which if it's been put through a microwave turns the cheese to a scalding melting mass…the mushroom-onion patty within was fine if insubstantial, a little bowl of lettuce salad came alongside and a cone of potato wedges. Well, I was feeling hungry so I polished it all up and then later on walked straight into the loo the moment I got home that evening, several times half the night actually!
So what went wrong? I mean it was an expensive 5-star hotel evening snack which I said would be my early dinner for the day…a friend (another friend this time, Elizabeth) who's acquired a club card at the 5-star hotel was treating me. But …(sigh)… If I'd any sense I'd have just made a meal of the potato wedges and asked for some more of them and returned the grand bun burger…or skipped the white bread bun altogether with its measly scattering of white sesame seeds atop.
The truth is since I no longer eat white breads of any kind, on the odd occasion when I do… my stomach revolts. I swear to it, otherwise I've got a cast iron, tough, foolproof stomach which rarely gives me any trouble. Well, I take it that it's basically because my stomach is now cleansed up or "de-toxed" (to use the right vocabulary for today's times) courtesy my morning Herbalife nutri shakes, that it's become selective and punishes me whenever I eat out of turn!
Don't laugh. I don't think I'll ever touch a burger bun ever again, be it at three-star or five-star or seven-star restaurant. Nor do I want to drink sugary hot chocolate ever again just to enjoy the scene-scenery of rain falling outside. And Elizabeth, who found my complaints disagreeable, snapped at me, "Well, it's your fault if you chose unwisely! You should have told them you didn't want added sugar in your hot chocolate…I didn't order for you!" Okay, sweetie, next time I'll leave it to you to do the ordering.
FORGET all that as bad experiences eating out, all my own fault. It's wild mushroom season in Goa. Do you, like me, feel like eating nothing but mushrooms these rainy days? Unfortunately they're selling at `500 per 100 buff-colored wild mushrooms, laid out on a banana leaf at places in downtown Panaji. It's the story of mangoes in Goa all over again. I will not pay that much, however wild and enticing these gauti mushrooms are and will wait till someone gives them to me, which may never happen.
Actually, I'm reminded of my friend Khaitan-bab of Martin's Corner down the Miramar beach front (is he still alive in Belgaum?) who once told me the best way to harvest your own wild mushrooms is have a pile of tree logs lying around in your garden compound and with all the leafy mulch piled up around, wild mushrooms will grow automatically. Harvest them when they're ready to be harvested, the baby and adult ones…don't even rinse out, just dry them off, slice and stir-fry them in a bit of olive oil (or good butter), sprinkle bit sea salt, fresh grated black pepper, add in a handful of chopped lettuce or celery/fennel stems, toss in fresh lemon juice, bowl and relish.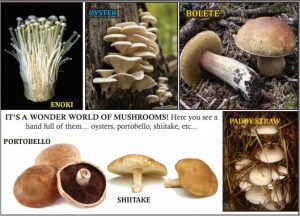 It is the season to eat fresh mushrooms for breakfast or early supper and I don't know why some folk don't like them. Hey, mushrooms are all kinds of good things and their etymology is a fascinating saga, they're worth studying…some 14,000 species of them. Of course there are edible mushrooms and poisonous mushrooms and you must know the difference if you're out in some wilderness hoping to harvest a pot full of wild mushroom.
Mushrooms come with such evocative names and to name just a few…bolete, puffball, fairy-ring, oyster, enoki, shiitake, paddy straw…familiar mushrooms all. The agarics species usually come with a stem, cap and gills beneath (where the spores are, remember mushrooms are fungi). Quite a few folk are cultivating mushrooms in Goa now and if I had a bit of land I dare say I'd take time off to cultivate them too and come the monsoon season have some fun harvesting mushrooms.
Mushroom lore and literature is worth delving into and do learn to eat mushrooms raw, semi-cooked or cooked. This monsoon think mushroom salads or stir-fried mushrooms with herbal greens, also mushroom sabzi/biryani/pulao, maybe mushroom cutlets/patties — but the main ingredient must be mushrooms and not potato or refined flour! It's a crime to deep-fry or spice up mushroom item numbers! Once upon a time I used to make divine mushroom soup in my mother's house in Bombay, that is now Mumbai! I wish somebody would do a mushroom festival with nothing but mushrooms and mushrooms to look at and eat and drink.
Mushrooms have a nutritious brief — they're mostly water, but have light carbohydrate/protein/fat values. They're mostly perceived as vitamin B rich food (riboflavin, niacin, pantothenic acid), also selenium, copper, phosphorus, zinc, potassium and vitamin D is cultivated once they're out of their dark earth and exposed to light.
The story of mushrooms as food has been extensively covered in the media but then again, if you haven't yet, do discover the world of mushrooms or fungi in all its magical forms, colours, earthy flavours. Needless to say mushrooms are on my mind currently and I'm reading them up with enchantment…do you know there are  lobster and stinkhorn mushrooms? The Chinese shiitake are marketed extensively as mushrooms with medicinal properties powerful enough to cure the big C!
When people say this, that or the other is anti-cancer to do misplaced business ethics, I always get annoyed, although it is true of course that mushrooms in the wild are picked to death and many species are now on the endangered list. As a matter of fact all organically cultivated fruit/veggies/fungi of the earth is anti-cancer – one must just try to eat them as au natural as possible or with minimal processing or cooking, so that inherent virtues/properties of the food are not compromised or murdered like we're doing all the time in our miserable times.