DARK HORSE: While Parrikar has a larger-than-life image, Girish remains humble. He reminds his detractors that while Parrikar may seem to be a powerful leader, the people of Panaji have the final say and are more powerful and can defeat Parrikar
Unlike the high flying IIT alumnus Manohar Parrikar, the Congress candidate for the Panjim Assembly Constituency, Girish Chodankar, is the humble son of a vegetable seller in the Margao market. Girish knows the problems of the aam aadmi as he knows firsthand what growth and development challenges the people face everyday… TARA NARAYAN meets a refreshing politician for our times!
AT LAST a fresh wind of change is blowing through the admittedly stale corridors of the Congress party's offices in Panaji! It's Girish Chodankar, the Congress candidate for the forthcoming bye-elections in Panaji, who's blowing in this fresh winds of change.
The Youth Congress leader who lived mostly in the background of Congress politics for over 28 years is finally shining through to the front-lines with the blessings of old-timers and new-timers in the Congress party. An era is over and the old-timers for whom the bells have been tolling for quite some time are stepping down gracefully and positively! They sense their time is over and it is time to make way for younger politicians who see the country differently and think differently. Someone who has been the soul of sobriety and discretion even as he discharged his duties faithfully for a cause which goes beyond past and present. Girish Chodankar, from the sound of it, is a long distance runner and his analysis of the present matches what the younger generation of India thinks.
In politics, he offers quietly, "it's the corruption of morality which is more dangerous and I'm facing a tough time because of this!" Why? He shrugs, leaving me to work it out for myself. His has always been the politics of conscience right from the time he was a teenager "helping my father, a vegetable vendor in Margao market, and working part-time at a printing press not so much for the `100 but for the free notebooks I could get!"
He does not come from a privileged or even middle-class background materially speaking, "I was born and grew up in Margao and come from a very poor family background!" Why am I asking him all this which is not important? Yes, he is from the Bhandari Samaj and he has no favourite politicians; after some thought, "Except Rahul Gandhi, his thinking is totally different from today's conventional leaders and he is open to criticism. He listens. It was the Congress which brought in the revolutionary RTI which is now being sought to be diluted by the BJP! It was Sonia Gandhi who was the driving force behind the RTI, she said the public has a right to know how corrupt the government is."
Girish Chodankar acknowledges that the Congress party has a long history and some Congress people may not  qualify for sainthood. But the Congress has and will always be a secular party, it has no communal bones to pick or turn over out of any sense of belated justice (that's what the BJP and RSS are all about, their idea of India is different). Congress or BJP, I tell him, I may not live to see a corruption-free India!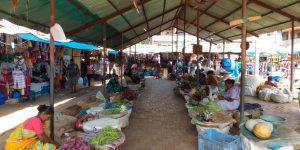 He smiled and got busy taking a call coming in quietly through wired attachments and courtesy earphones, signals for me to wait. Then disengages and tells me to continue with my questions.
More details about his family background? "I went to Damodar High School in Comba and then Damodar College of Commerce and got my BCom. My mother is a housewife, I have two brothers, one sister, they are married. I am married to Sunita and we have two children. My son Om Preet is 17 years and daughter Laranya is 12 years old. I play badminton every morning to stay fit, and watch my diet." Now I know everything there is to know about him!
He got involved with Congress politics right from his college days when he got interested in the Konkani language agitation. He was elected representative in the booths committee work, like a booth agent, and for eight to 10 years that's all he did. "Then I became part of the Youth Congress and thanks to Mama Cardoz became block secretary in Fatorda, later Luizinho Faleiro recommended me as president of State Youth Congress, Ravi Naik and senior Rane made me chairperson of State Horticulture Department…" It's called coming up the hard way!
Girish Chodankar has a quiet sense of humour. Seriously, he soon began to think that a political career is the only way to get to a platform "where you can influence the life of people and empower them" although he has never been desperate enough to get to be councillor or MLA or MP. For the record for the last 28 years all that he has taught himself is "to have zero ego! I work with zero ego, I practice this, if you would like to call it the secret of my continuous progress in politics this is it. If you don't have an ego, nobody can hurt you!"
Ahhha, only someone sensitive can be hurt in the first place? Well, he offers, "As you climb up the political ladder you have to be more grounded. In politics I never promise anything so I will make no u-turns….but I will not defame Panjim voters either!" He may be a Margao boy but he thinks Goa deserves a better capital and Panaji is the capital of Goa. He is well aware of the sorry state in which it is "because the act of 2012 was never implemented and there has been no long term planning for Panjim's development."
He is not for casinos and is aware of how the casinos bug has destroyed as many as 15 to 20 families in Goa. He also knows Panaji is in shambles. Many Panjimites (or Ponjekars) have been talking to him about the roads, roadsides, gutters, the St Inez Creek, the parade grounds that have turned into a garbage site, the Miramar-Dona Paula-road-scandal…
Jerman D'Mello tells him that till 1980 there were no slums in Panaji and then the migrants came and various politicians created their safe vote banks. "All that Manohar Parrikar has done in the last 23 years is gifted casinos, the Campal garbage dump, and floods to Panaji!" Girish Chodankar never dreamed that he would be contesting against Manohar Parrikar, "I feel as if I have just landed up here in Panaji! In a sense it is not me but the people of Panaji who are fighting the Panaji bye-elections against Manohar Parrikar. They want to give vent to their feelings and I'm just the medium, the vehicle…"
He is sure money will not play a role in this bye-election and nor will caste factors. The citizens of Panaji are an educated people. If he succeeds in defeating giant Parrikar, who has the might of the government on his side, what will he do about the much-hated casinos on Mandovi river? Chief Minister Manohar Parrikar says his government needs the money from the casinos and therefore all his U-turns.
Girish Chodankar quips, "The casino money is just ATM money for the BJP! It's the Miramar-Dona Paula road scam which is the BJP's concrete road to corruption…" After that there was no more conscience left in BJP politics in Goa. The issue here is much more grave and it is too early to ask him what he will do with the casinos — he will cross the bridge if and when he comes to it. Interestingly, he thinks the BJP earns only about `200-250 crore from the casinos and yet loses `5,000 crore annually!
He thinks pollution of the river Mandovi is a bigger issue. But now at zero hour he doesn't want to criticize anyone! His motto is, "I hate none, I love all!" Then again, he comes back, criticizing does not mean you hate anyone, anyone has a right to criticize, it's a fundamental right, "but I see politics differently. You know most people think Gandhiji was not a politician, but I think he was the greatest politician!" One may learn much, studying Mahatma Gandhi's politics.
What are his final thoughts on what Panaji needs or does not need: "Panaji doesn't need a room service MLA!" Citizenship is a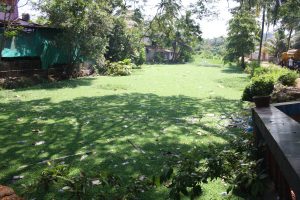 concept which needs to evolve and be developed…but he is sure many citizens have seen through Manohar Parrikar. "They want a leader on whom they can call on, who will listen to them (and not with one ear and out of other ear variety of listening and cheating later)…Parrikar has converted voters into voting machines!"
How confident is he of winning the forthcoming bye-election in Panaji? He is not confident at all, "Like I said I am a small man, I don't have the strength or power to take on Parrikar, but the people of Panaji have the power!" How many votes does he need to win? Say  8,000 votes, 10,000 votes to be on the safe side…to win against Manohar Parrikar! Girish Chodankar has started low key campaigning and will go from house to house to introduce himself to the people of Panaji, and tell them another side to the story of Goa's politics. The people are his only hope of winning and mercifully, "I think Panaji now wants a common man on whom they can rely on…"
Let us say Girish Chodankar is a common man from the bottom of his heart and a classy man up there where it matters, courtesy his education — formal and informal — and that is why many will vote for him so that he gets a chance to usher in achhe din for rural as well as urban aam aadmi and khaas aadmi of Goa.
In Girish Chodankar I see reflected a more modern version of the first chief minister of Goa – Chief Minister Dayanand Bandodkar. But for Bandodkar's wisdom and courage in changing the Land Act the Bhandari Samaj and other land-bound communities of Goa would not have got an equal playing field vis-à-vis education and politics!.