YESTERDAY'S ENEMIES, TODAY'S FRIENDS: Chief Minister Manohar Parrikar was once the biggest detractor of Vishwajit Rane, leading the charge against his blatant mis-use of his position. However, political expediency makes for strange bed-fellows and in a classic U-turn Parrikar is now relying on Vishwajt to prop up his government
Vishwajit Rane who is contesting the Valpoi seat as a Bharatiya Janata Party (BJP) candidate is alleged to have looted the Health Ministry of more than `200 crore in kickbacks for equipment and bribes for jobs!
By GO Staff
BOTH father and son, Pratap Singh Rane and Vishwajit Rane, from Poriem and Valpoi constituencies have seen huge increases in their assets over the years, no matter which government has been in power.
The Ranes, father Pratap and son Vishwajit, topped the list of the richest MLAs during the 2012 polls. Back then, their combined assets were more than `40 crore.
While senior Rane was the speaker in the Digambar Kamat government (2007-2012), Vishwajit Rane was the notorious Minister of Health who was at the centre of allegations of blatant mis-use of his position. The assets of speaker Pratap Singh Rane increased from `8.82 crore in 2007 to `25.87 crore in 2012, a significant jump of `17 crore. Vishwajit's doubled from  `7.46 crore to `15.69 crore between 2007 and 2012.
For 2017, they declared joined assets of `61.8 crore. Vishwajit Rane and his wife alone declared 67,198 grams of gold worth `1.47 crore including `1 lakh worth of silver.
In Goa, as in many parts of India, having a government job is the be-all and end-all of many families. Given the potential to milk the public and the incomparable job-security, many families are willing to pay sums far beyond their means, for the privilege of having a government job. Many even go into debt.
During the period from 2007 to 2012, when the Ranes' influence was immense, 41 out of 81 posts in the agriculture department were filled from one Sattari taluka, then represented by Vishwajit and his father. Similarly, the Goa Medical College (GMC) and the Institute of Psychiatry and Human Behaviour (IPHB) filled 255 posts out of total 556 posts, from Sattari taluka alone.
Chief Minister Manohar Parrikar had at the time equated the alleged scam to Omprakash Chautala and his son, when the issues had come up in the budget session in May 2013. "It is a fit case to go to jail", he had said. Vishwajit, on the other hand, had challenged to prove him guilty while stating that he is prepared to face any kind of inquiry.
After the vigilance department conducted a preliminary inquiry, the cases were handed over to Lokayukta.
In GMC alone, states the official information, 214 jobs have been given to the youth of Poriem and Valpoi Assembly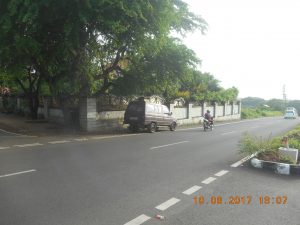 constituencies, out of total 495 posts — around 43 per cent to one Sattari taluka. In IPHB, the Sattari taluka represents 67 per cent, with 41 out of 61 jobs allotted to two constituencies — Poriem and Valpoi.
According to Parrikar himself (before he needed Vishwajit's support), the agriculture recruitment was a clear cut violation of Supreme Court guidelines since all the selected candidates had been given same marks for qualification — 60 or 70 to everybody. "The other tests like orals etc just did not matter", he said. Parrikar also pointed out that some candidates who registered in the employment exchange after the advertisements were released were still sent interview calls.
Many of the young people given jobs at the GMC were made attendants. Most of them don't do any work and if taken to task get away by claiming they are baba's men.
Now four years later, Parrikar has set the fox to guard the hen house by making Vishwajit Minster for Health once again!
(Details of the increase in  the assets are based on data provided by the Association for Democratic Reform.)