`I AM ON MY WAY…': Congressman and Panaji bye-elections candidate Girish Chodankar with his campaign group discovers ground realities in not-so-smart Panaji! Will this David win the fight against Goliath Manohar Parrikar?
Parrikar may find that he is his own worst enemy. The people of Panaji are frustrated and Girish Chodankar is giving them a strong, viable alternative!
 By A Special Correspondent
REAL political campaigning is an uphill task but Girish Chodankar, Congress candidate for the Panaji bye-elections coming up on August 23, was campaigning as if to the manner born late into the evening of Monday, August 14, 2017. As one joins him for a walk for a while, one notices that there is not ounce of flamboyance or grandstanding for this campaigner and his group of fellow-campaigners, friends and well-wishers. Every now and then a few more join up. Most wait outside while he enters a home in the back alleys of St Inez.EAL political campaigning is an uphill task but Girish Chodankar, Congress candidate for the Panaji bye-elections coming up on August 23, was campaigning as if to the manner born late into the evening of Monday, August 14, 2017. As one joins him for a walk for a while, one notices that there is not ounce of flamboyance or grandstanding for this campaigner and his group of fellow-campaigners, friends and well-wishers. Every now and then a few more join up. Most wait outside while he enters a home in the back alleys of St Inez.
Girish Chodankar picks his way easily through the seedy, litter-dotted back lanes, calling on the small people who've very definitely never heard of smart city! They've lived for years, their entire lifetime, in compact, sometimes hole-in-the-wall homes amidst less than enviable surroundings (CCP workers probably never do any house-cleaning here).The Congress Panaji candidate was checking out how bad things are in Panaji first hand. He is campaigning for a better capital city for Goa. For over a week now he's been doings the rounds around Panaji town, sometimes wife Sunita and daughter Laranya accompany him, handing out leaflets, caps for protection against the sun and colorful ribbon scarves to identify that they are Congress campaigners.
On Monday evening an ardent senior citizen devotee keeps track of the group of campaigners on his motor-bike, mumbling all kinds of things about scorpions in BJP politics… but nobody has time to listen to his possibly familiar rambling! Amongst the familiar Congress faces the ever-smiling face of Swati Kerkar is recognisable and she's the one who every now and again raises the enthusiastic sloganeering cries, one of them, "Amka zai, amka zai…Congress amka zai!" There's Ansuya, Farida Bandekar, other diehard Youth Congress leaders who've grown up with Girish Chodankar and his hard-working politics of substance.
Soon all manner of folk join in the campaign walk, even children get mesmerized and follow the trail and there's a break at a beautiful "Bishop's Well." The residents of St Inez receive him cordially and he exchanges a few words with them, asking them about what they need on a priority basis, do they get water, electricity around the clock? His manager-for-the-day takes down names and addresses. Senior citizens, he bends down to touch their feet and they bless him. Someone briefs him here and there about the area and occasionally a litany of complaints pour out just because someone is listening!
It's good exercise, going along on a political padyatra campaign! It's also one way of seeing humble places in Panaji one may never have seen before and meet people with worry lines detailed on their ever-anxious weather-beaten faces…these are not the better off upper crust  Ponjekars but the worst off humble residents for whom life is as hand-to-mouth as it can get. At one point Girish Chodankar looks up as if to say "This is smart city Panaji, do you see it, it is the capital of Goa!"
He rues not corruption per se but "the corruption of morality which is more dangerous in society" — this is the toughest challenge in politics and he's seen much political life and many political scumbags come and go in the last 28 years in Congress politics — of course, he would like to be a position to wave a magic wand to change a lot of things!
And he will do it without talking about it…he thinks faulty development is the worst thing to have happened to Panaji, there's been no long-term overall planning for the new Panaji coming up at breakneck and ad hoc speed. Panaji definitely needs a new MLA for the present one has too many other distractions in and out of Goa and in any case, his time has run out. So says one Ponjekar walking along with the campaigners. Manohar Parrikar got a lot of chances over two decades but he just blew them all.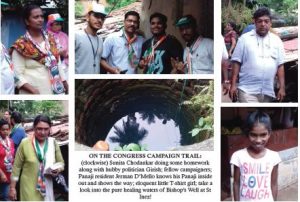 It's time to give someone else a chance to undo the tight mess that Panaji has become…and the word is going out that Margao boy, the Congress candidate for Wednesday's Panaji bye-elections is experienced and seasoned and conscientious to boot. Judging by the mood in which most Ponjekars are they will give Girish Chodankar a chance! One listens to what his friends for a new Goa have to say — this Panaji bye-election in Goa will determine the future of democracy in India itself! Don't make the mistake of voting for someone who's proved himself to be a dictator and a U-turn master!
Interestingly, four candidates will be competing for MLA status in the Panaji bye-elections, you may have heard of them! There's Goa's powerful, charismatic Chief Minister of Goa, and national BJP bigwig, Manohar Parrikar; there's Kenneth Silveira (Independent candidate, the richest it's rumored); Anand Shirodkar (GSM candidate) — and Girish Chodankar (Congress candidate). If you ask Chodankar, he says, "The Congress party's idea of India is different. In Congress we are for India Unlimited, while the BJP is for India Limited!"There is a world of difference between India Unlimited and India Limited, just think about it, "In the Congress we will never sow the seeds of hatred in young minds to destroy the India we have all grown up in equally, courtesy one of the most respected Constitutions in the world."
VOICES  OF  Panaji
Even The Shallow Votes Count! ~ Noel Sequeira, Campal
Never thought I'd have to traverse the memory avenue of my wretched school days to wake up the passive Ponjekars but in the present backdrop of by-elections and dismal politics, this anecdote merits dissemination.
It was the 10th grade. My classmates, Mrinmayee and Sonali, were furiously canvassing for votes to be elected as Head Girl. The campaigns grabbed no more of my attention than my lectures did. I was, however, adamant on contributing to the defeat of the boy who consistently accumulated straight As as well as everybody's hearts.
Fast forward to the eve of elections. Perched on my chair and wiping away the trickle of drool from my face as I was about to dive into my tiffin box, Mrinmayee interrupts the most intimate ritual of the day. "Please vote for me." Or maybe it was, "You'll vote for me, no? Either way, she reinforced my rights as a voter. And I felt validated. I went from not giving two hoots about either of the candidates to admiring the curls of one candidate and detecting angry owl-like features in the other. (The fact that owls appear stunning to me 13 years into the future should indicate an evolution of thought processes). Sure enough, I voted in favour of curls.
An assembly was summoned, the ballots had been emptied and the victors were about to be announced. Mrinmayee won by just one vote. The systematic folding of paper and insertion into the slit wasn't an exercise in futility, after all.
Please don't emulate the 15-year-old me. I was just another cog in the machine of bad politics that seems to be flourishing in Goa. I didn't lend a ear to any of the speeches. I didn't sit my peers down to list a consensus of demands. I am proud that I didn't ask Mrinmayee for an ice cream. The difference between then and now is that back then, I didn't conceptualize the notion of 'for the greater good'.
It's 2017 and we Ponjekars have one more chance to choose between the devil and the deep blue sea. And between the two, there's a lesser evil. I'm generally not one to advocate for lesser evil politics but if democracy is a principle that we claim to be proud of, then why not do justice by reaping the only benefit of it? Yes, we're starved for good choice but look beyond the rhetoric of corruption because at this juncture, there's not much we can do to salvage ourselves from it. But if you really do love Goa, here's some homework. Because without completing your homework, you've got to endure detention. Alternatively, you could interpret it as a checklist. You don't want to go grocery shopping four times a day, do you?
Would you like to live in a replica of Mumbai?
Do you like visiting malls more than a good conversation/peaceful thought under a tree(or climbing one)?
Do you want to talk about dolphins in the same way you talk about unicorns?
Would you fancy more benches than flowers in a park?
Can you sleep well at night knowing that irrespective of whom you vote for, you will always be comfortable while many are languishing?
Are you okay with histories and legacies being wiped out?
Do you think coconut trees need to be mowed?
Do you get high on coal?
Do you think the ideology behind a party/contestant isn't something worth looking into?
Voting can be a journey of self-discovery. Don't deprive yourself of it. But more importantly, remember that it's not only about you. You don't want to be the shallow boy that I was in school!
Free Goa From Parrikar! ~ K Mascarenhas, Panjim
When people ask me what has changed in Panjim I tell them when I was small I used to dream about boats on the beach… now there is actually a big boat on Miramar beach! People talk about issues Panjim is facing… like roads, garbage, casinos etc… I say the biggest issue Panjim is facing is Parrikar. All the issues can be clubbed together and given one name — Parrikar, and even if you ask me to pick one issue that bothers me the most, I will have to say that Parrikar bothers me even more than the garbage. I wish he would go back to being Defence Minister so that Goa could be free from him. And if he gets blown up while inspecting some bomb somewhere I couldn't care less… But jokes apart… I can't bear to see what Panjim has become. I've voted in each and every election and I will definitely vote this time also. Hopefully this time the people of Panjim win. We've suffered long enough.
Nothing Changes! ~ Pierre Fernandes, Panjim
I don't know much about these upcoming elections but of course everything that's been happening in Panjim is a bit worrying and I kind of get fed-up with the whole thing. But then I guess pretty much most of Panjim is fed-up with the whole thing — the garbage, the casinos, the parking, the nonsense — everything! I don't know if it's getting better or worse, but elections don't really mean anything to me anymore. It's the same old mess. Until I stand for elections I don't think there's gonna be any change… so I don't care right now!
Bad To Worse! ~ Rashme Pawar, Panjim
When I think about elections I think about three things… casinos, drugs and corruption. As a young mother I'm scared about this world my son will grow up in. Take casinos for instance… Casinos are bringing loads of unknown people into Goa. People with vices like gambling and drugs possibly. Casinos lure people. Prostitution also increases in areas where gambling is popular. And gambling is an insidious vice. It seems like it's not affecting a person's health like drugs and alcohol do. But in reality, with gambling, the whole family is affected! In Goa, when I think of casinos I think of all the broken promises about removing the casinos from the Mandovi. Promises broken for personal benefit. Proof is the 'Lucky Seven' sitting on Miramar beach.
Then there's the drug menace. Just this week we've seen the reports about deaths due to drugs and the police swinging into action. It's all eyewash. Everyone knows the drug menace has been here for years. Everyone knows there are politicians profiting from the drugs and prostitution. But now, just because of the publicity of those two deaths, and maybe because of the bye-elections, everyone is pretending to act and sacrificing a few and covering up the rest.
Corruption is so rampant I don't know what to say about it. My husband is a businessman and I hear first-hand accounts from him about the problems he is facing. Not that corruption was not there before. It's always been there. But before people would pay someone some amount to do their work and the work would be done. Now with each successive administration there are new corrupt mouths to feed that are focussed on storing money for the next seven generations maybe and no one does their work. This is at all levels, top to down, even at the Panchayat level! This corruption is in Panjim and is spreading everywhere. Forget bribes for votes… there is a politician I know of, who threatens people for votes!
In Betim, like Panjim, gaddos are coming up everywhere. And they are mostly run by non-Goans. Some Andhra guy has fish gaddo or a UP bhaiyya has a veg stall. Migrants are welcomed into Goa just to plump up politicians' votes banks. The population explosion is not sustainable with the present infrastructure… more people, more traffic, more mess! Goans are the losers. The traffic in Panjim is horrendous at times. There's no system in place. Specially in school areas, traffic needs to be regulated. There's a school in Porvorim, Shiksha Niketan, that does it quite well. To encourage parents to send their children by school buses or car pooling they have time slots. The first pickup slot is for school buses, the second is the car pool slot and the last slot is for those who are picking up only one child.
Oh and one more issue that needs to be addressed is the garbage issue. Look at Campal! World over, countries are managing their garbage. Why can't we, even after so many years? In some areas there is no collection of garbage and all the garbage bins at the sides of the roads have also disappeared. What are people going to do with their garbage? Specially people in apartments. We have a garden and sometimes we are forced to burn stuff. Far from ideal, especially because of the environmental damage, but what is the alternative? Piling up of garbage leads to diseases and infestation!
Fix People's Minds First! ~ S. Dias, Panjim
Since you're asking me I have to admit I don't care too much about the issues in the current election. Sometimes I'm surprised about people focusing on things like infrastructure and mines and coal. I get that development is required, and of course I want the environment to be good. But no one is looking at the root cause of all these issues. People. I think we should focus on improving people's minds first. Educate them correctly! The right education will have a cascading effect and automatically resolve things like corruption, which in turn will improve the environment etc., because illegal projects won't get permissions due to bribes etc. What is scary is that the government in Rajasthan and other states are doing the opposite — aiming to brain wash children in the classroom!