CHOVOTH'S TRADITIONAL SWEETS FOR LORD GANESH: Steamed patoleo and modak in every home, although nowadays both come in several versions!
Eating is Fun / Eating is Yuck! – A variety food column
By Tara Narayan
SINCE I've lived both in Maharashtra and Goa I know it's Ganesh Chaturthi in Maharashtra and Chovoth in Goa, never mind that all this is just sort of sibling rivalry or mai-mausi relationship in a patoleo-modak competition!  Frankly, these days I'm trying to make up my mind about what I like more!
Maharashtra's upper crust snowy white modak (flower-shaped steamed rice flour sweet filled with jaggery-freshly grated coconut filling, bit of fragrant ghee smeared atop)? Or Goa's delicately winsome patoleo (same ingredients steamed in a crescent shaped turmeric leaf)…both are best eaten steamy warm from the steamer, although it's practical to make them en masse early hours of the morning and store them for serving the rest of the day.
Children handle patoleo better and love unwrapping it from its dark leafy greenness (like a steamed pod) ….and so do I. I can take my time unwrapping my patoleo and savour half-a-dozen of them by way of a meal…the faint scent of turmeric about them is so divine if you know what I mean. Some cooks stir in some green cardamom powder or grated nutmeg in the jaggery-coconut choon for a mere hint of it. Patoleo made with a delicate touch is sheer poetry…but, alas,  hard to find.
They're plentiful in Goa come Chovoth or Ganesh Chaturthi but most of them are heavyweight, lumpy affairs, and I can't bear to eat them. But give me a delicate wafer thin crescent of a patoleo with molten dark sweetness enshrined within and I can go ahhh…ahhh…to be honest both modak and patoleo have to be gently and delicately handled. Wash your hands before unwrapping your patoleo, sit somewhere and linger over it till the last bit and be happy.
I DON'T know why they don't distribute patoleo to children in school and aanganwadi or to just about anybody in temple or church or mosque in Goa! In most Maharashtrian-influenced homes they prefer to serve fried modak or mava modak in a myriad colours to Lord Ganesh come Ganesh Chaturthi and nowadays there's modak and modak. A bizarre variety of fluted dumplings made of sweetened mava or caju puree or mixed milky powders or golden boondi…modak of the commercial marketplace can be very luridly coloured and taste ghastly.
But then I've been spoiled for taste! I've eaten superb saffron-spiked boondi modak enriched with almond slivers and cardamom seeds, encrusted with pure silver tissue….in rich homes, but the original wholesome steamed ukdachya modak is hard to buy, you may find them only a friend's home where Lord Ganesh is devotedly worshiped. You must know the elephant-headed Lord Ganesh is worshipped in Hindu religious mythology and whatever this roly-poly god's origins (mother Parvati's mud bath creation?) he is much loved across Hindu homes across the country, his name  invoked first in all puja rites for blessings of all kinds.
I mean, he is Shiva and Parvati's progeny of two sons, Ganesh being smarter than Kartik (worshipped as the god of celibacy in some traditions). Chovoth or Ganesh Chaturthi which starts off on August 25 (4th day of the monsoon month of Bhadra shuklapaksh fortnight of Hindu calendar) and may be observed for one-and-a-half day to 11 days (the big Sarvajanik Lord Ganesh which is installed at community level with pomp and ceremony)…and then the visarjan takes place when the worshipped Lord Ganesh's idol is set off into water bodies ranging from pond to lake to the seashore.
To be honest with you after  a walk down Juhu Beach in the distant western suburb of Mumbai one morning after visarjan…long ago…all those broken, washed up Ganesh idol debris dotting the waterline and intermingling with lots of dead fish and other marine critters, put me off these Sarvajanik Lord Ganesh forever. I don't think we should poison our life-giving water bodies like this! I'm all for eco-friendly Lord Ganesh idols dolled up in herbal colours rather than chemical paintwork. Surely there must be sensibility in the ways in which we worship!
BUT this week I want to wax lyrical over the all-Goan patoleo, leafy delight. It's an all-time classic and I wait for the Ganesh festival to arrive so that I may get a few patoleo here and there at various puja pandal or homes keeping Lord Ganesh. Do you know that in Goan Hindu homes a different meal is cooked daily to pleasure Lord Ganesh? And one occasion I recall eating at a friend's place where they had a vegetable dish made of five leafy monsoon greens, it was too good…usually, Goa's wild monsoon greens list such greens as basale or valchi bhaji, talkulo bhaji (Cassia tora, grows most everywhere in idle field or roadsides), shewgachi bhaji/maskhachi bhaji which refers to the tender leaves of the drumstick tree. Then there's koddu bhaji (Celosia argenta, also silver cockscomb or flamingo's feather)…there's also taro or aalu leaves (Colocasia esculenta). Greens are all kinds of good things.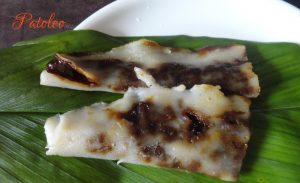 Most greens are just chopped up and steam cooked in their own juices with addition of bit salt, grated ginger, roasted jeera and haldi powder; add in white radish or turnip cubes and a sliced green chili if you wish…fold in freshly grated coconut and serve. A greens bhaji is usually recommended and prescribed in evening meals quite simply because greens are rich in fibre soluble and insoluble and this goes a long way in keeping us in the pink of digestive health or so to speak.
Also remember Lord Ganesh must be very fond of greens given his elephant god avatar! Others greens: think usual spinach, dill greens, green and red amaranth (tamdi bhaji is succulently delicious cooked in its own juices, cook in a mud pot!), fenugreek leaves, mustard leaves, there's Chinese spinach (kangkon) and I discovered Italian spinach recently at one of the organic bazaars in town…there's also sour spinach/khata palak (bathua) with its delicious slippery sour tang (if you can find it, it's usually plentiful in Delhi's winter markets).
My favourite greens recipe is to chop, steam cook, cool, and dunk in a bowl of curd/dahi, season with chaat masala or sea/rock salt and roasted cumin…squeeze of lemon (I can squeeze lemon on just about anything). A greens raita beats all other raita or so I think. This is to say eat more greens this Chovoth season along with pattoleo and modak and may Lord Ganesh shower a myriad showers of blessings on you!
IT'S the season to make patoleo for Lord Ganesh, There are many variations to this dish… here's one!
(Patoleo are made on the first Shravan Sunday morning and first served as neivedyam to Lord Ganesh before being distributed to family and friends.)
TO make 15 patoleo (patuli): You will need 15 fresh green turmeric leaves; 1 cup rice flour; 2 cups water; quarter tsp salt; 2 cups freshly grated coconut; 6 cardamom pods peeled and crushed; quarter cup grated palm jaggery; salt.
BOIL water, when it comes to a boil gently stir in the rice flour and a bit of salt and mix well with spoon. After water is absorbed turn off gas and let cool. After dough is cooled a bit take dough on a platter and mix it well, keep it aside.
WASH and pat dry the turmeric leaves. Heat a kadai and put in grated coconut and grated jaggery, crushed cardamom pods and bit salt. Stir all for two or three minutes, till well mixed. Turn off gas and cool.
SPREAD rice dough across evenly on the face side of a turmeric leaf, fill in with the coconut-jaggery choon. Fold leaf, repeat likewise till you get 15 patoleo and they may be laid out in a steamer atop each other and steamed for 10 to 1 minutes. When ready remove the green pods and unwrap a few to serve to Lord Ganesh first before adding them back to the main lot and distribute to whoever you wish. Enjoy!