Compiled by GO Staff
A23-year-old boy Gurmeet Singh became Huzoor Maharaj Gurmeet Ram Rahim Singh ji. He is now just an ordinary convict in Rohtak's Suniara jail after a special CBI court found him guilty of raping a follower. Before becoming an ascetic he had a family that he officially renounced but like all other dualities in his life, he continued to be the head of the family.
His story is as astonishing and colourful as his films. He did not have humble beginnings. His father Maghar Singh was a landlord in Rajasthan's Sri Ganganagar district. Mother Naseeb Kaur was a god-fearing housewife.
EARLY CONTACT
MAGHAR Singh came in touch with Dera Sacha Sauda pretty early in life. The dera founded by Baba Balochistani Beparwah Mastana ji attracted followers from the backward and dalit sections of society, who couldn't get the equality that Sikhism promised. Jat and Khatri Sikhs never accorded them equality in practice.
Maghar Singh was a Jat Sikh. The dera head Shah Satnam was a Khatri Sikh, who had succeeded Mastana. Maghar Singh was a follower of Satnam Shah and devoted a lot of time in spreading his spiritual leader's thoughts. Maghar Singh's son Gurmeet wasn't as spiritual but accompanied his father to the dera.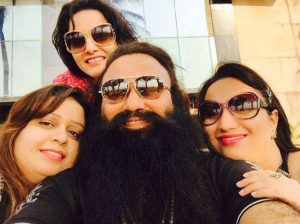 Gurmeet Singh had a friend, Gurjant Singh, who was jailed after he avenged his uncle's murder. In jail Gurjant was radicalised by separatist Khalistani militants.
Once he came out of the jail, Gurjant became a Khalistani terrorist and rose quickly in the ranks. Gurmeet meanwhile was a full-time worker in the dera, doing odd jobs, driving a tractor or assisting his father in seva.
SUSPICIOUS TURN OF EVENTS
THEN, in an unexpected announcement, dera head Shah Satnam announced that he would retire after handing over the leadership to a successor. There were three contenders. Gurmeet was not one of them. In a surprise public announcement, the dera head anointed Gurmeet Singh his successor and gave him the name Huzoor Maharaj Gurmeet Ram Rahim.
People in Sirsa say Gurjant Singh and a revolver were involved in the process. There is no evidence of any threat of violence, but people still attribute Gurmeet's rise to Gurjant's notoriety. Gurjant was later killed by security forces in Mohali.
The new dera head wasn't a simple-living-high-thinking leader like his predecessors. His love for shiny costumes took an obsessive tone later. He already had a son and two daughters when he took over the position of dera head and became celibate. The family that he publicly renounced continued to be with him in his dera quarters. He himself was surrounded by sadhikas (women devotee attendees). He later adopted a bubbly young girl Honeypreet as his third daughter. The three call themselves Papa's Angels.
All other devotees also call him Pitaji or Papa ji. Honeypreet is the same woman who accompanied Baba Ram Rahim while he was being flown in a helicopter from the police lines complex in Panchkula. Both Charanpreet and Amarpreet are married to men given really fancy names by Baba Ram Rahim.
Charanpreet's sons are named Sweetluck Singh and Subah-e-Dil. The daughters have acted in his MSG series of films. The sons-in-law assist in managing the dera business. His son Jasmeet Insan (a surname all his followers adopt) is married to a Punjab Congress MLA's daughter Husanmeet Kaur, now Insan.
Ram Rahim built a cave-themed palatial underground home in the dera where he would meditate and sexually exploit women. Based on the concept of 'harems' in palaces, he would choose girls from among the devotees, make them surrender their bodies before him and these women would later remain in the dera and wait to be married off to male devotees who followed his orders like slaves or devotees do. These women were guarded by men allegedly neutered or castrated by the dera.
This was not a secret. His private quarters were always guarded by his trusted gang of girls. The rape, by the way, was called an act of pardon (maafi to be precise). Some women, as was later revealed, believed it was a blessing. But not all.
The two women who testified against him had similar stories. The primary complainant, whose anonymous letter to Atal Bihari Vajpayee, became the basis of an FIR by CBI in 2002, told the CBI court that she was called by Pitaji (that's what they call him) into his gufa (cave) in the intervening night of August 28 and 29, 1999 for granting maafi (pardon). He threatened to kill her if she did not give in. The rape made her realise the reality of the dera. She complained to her brother, who revolted and escaped with her. He was later murdered.
The second complainant had grown up in the dera where her parents taught in a school. She was guarding the cave residence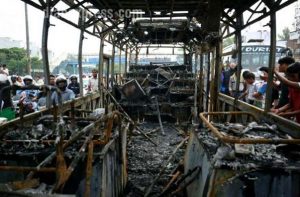 of the guru. He called her and she went in. The so-called Pitaji was in bed, apparently naked. She was shocked and tried running away. But it was too late. Nobody came to help her.
She was raped. She managed to escape later. She lived to tell her story to the CBI court. There are scores of other women who have remained silent out of fear or hopelessness.
While the man loved his daughters and married them off to a life in luxury, his victims, who he called 'daughters', but treated like slaves have to live lives without dignity.
Courtesy: India Today
JOURNALIST SHOT DEAD
Still awaiting justice
A CBI court in Haryana declared Dera Sacha Sauda Chief Gurmeet Ram Rahim Singh guilty of rape on Friday, bringing a sense of justice to the women he had abused. But there's another victim of this case who awaits legal redress from the same court that convicted Singh as a rapist. Rather, his family does.
In 2002, journalist Ram Chander Chhatrapati ran an anonymous letter in his daily Poora Sachh, exposing the ugly truth about Singh, much-revered as a godman by his followers.
The three-page letter, written by a woman in Hindi, was addressed to the then Prime Minister Atal Bihari Vajpayee as well as to the heads of several institutions, including the Chief Justice of Punjab and Haryana High Court. It revealed Singh as a sex offender, who exploited his women followers (or sadhvis), and urged the authorities to take action against him.
Soon after the expose, Chhatrapati was shot at point-blank range by miscreants outside his house. He spent almost a month battling for his life in a hospital but eventually succumbed to the injuries. Although he had named Singh as one of the accused in the FIR, the police refused to mention his name in it. So it fell upon his son Anshul, then 21, to take up a prolonged battle against the authorities in his quest for justice that is yet to end.
In his mid-30s now, Anshul is persisting with his struggle, alongside running his father's newspaper.
"I was 21 then, and did not know where to go for justice after the police did not include the name of the Dera chief in the FIR," he told the Hindustan Times. Finally, he petitioned the Punjab and Haryana High Court for a CBI inquiry in January 2003.
Another murder case against Singh, once again in the same court, is for the killing of one Ranjit Singh, a former member of the Dera, in July 2002. Ranjit Singh had also revealed the spiritual guru's alleged misdeeds at his headquarters at Sirsa, including the sexual abuse of female devotees by some people involved in the sect's management.
Courtesy: Hindustan Times
The letter to the Prime Minister that exposed the exploitation
THE following letter from a young victim of the Gurmit Ram Rahim to the Prime Minister of India was published in 'Desh Sewak' on September 25, 2002. It details the misery these helpless young women live in throughout these deras.
Shri Atal Behari Vajpayee, Prime Minister, New Delhi,
I am a girl hailing from Punjab State. I have been serving as a 'Sadhwi' in 'Dera Sacha Sauda', Sirsa (Haryana) for the last five years. Beside me, there are hundreds of others girls here, who serve for 18 hours daily.
But we are sexually exploited here. The 'Dera Maharaj' Gurmit Singh rapes the girls in the 'dera'. I am a graduate. My family has blind faith in the 'Maharaj' (Gurmit Singh). It was at my family's bidding that I became a 'Sadhwi'.
Two years after I became a 'Sadhwi', a special woman-disciple of Maharaj Gurmit Singh came to me one night at 10′ o' clock and said that the Maharaj had summoned me to his room. I felt elated that Maharaj himself sent for me. I was going to him for the first time. After climbing the stairs, when I went into his room, I saw that he was holding a remote in his hand and was watching a blue film on the TV. Beside his pillow on the bed, lay a revolver. Seeing all this, I was frightened and became nervous. I had never imagined that Maharaj was a man of this type. Maharaj switched off the TV and seated me beside him. He offered me water and said that he had called me because he considered me very close to him. This was my first experience.
Maharaj took me in his embrace and said that he loved me from the core of his heart. He also said that he wanted to make love with me. He told me that at the time of becoming his disciple, I had dedicated my wealth, body and soul to him and he had accepted my offering. When I objected he said, "There is no doubt that I am God." When I asked if God also indulges in such acts, he shot back:
Sri Krishna too was God and he had 360 'gopis' (milkmaids) with whom he enacted 'Prem lila' (love drama). Even then people regarded him as God. So there is nothing to be surprised at it.

I can kill you with this revolver and bury you here. The members of your family are my devoted followers and they have blind faith in me. You know it very well that members of your family cannot go against me.

I have considerable influence with governments also. The chief ministers of Punjab and Haryana and central ministers come to pay obeisance to me. Politicians take help from us. They cannot take any action against me. We will get the members of your family dismissed from govt. jobs and I will get them killed by my 'Sewadars' (servants). We will leave no evidence of their murder. You know that earlier also we got the 'dera' Manager Fakir Chand killed by goondas. His murder remains untraced till this day. The 'dera' has a daily income of one crore rupees with which we can buy leaders, police and the judges.
After this, the Maharaj raped me. The Maharaj has been doing this with me for the last three years. My turn comes after every 25-30 days. Now I have learnt that before me too, the Maharaj had been raping the girls he had summoned. Most of these women are now 35 to 40 years old and they are past the age of marriage. They have no other option but to remain in the 'dera'.
Most of the girls are educated — B.A., M.A., B.Ed, etc. But they are living a life of hell in the 'dera', simply because the members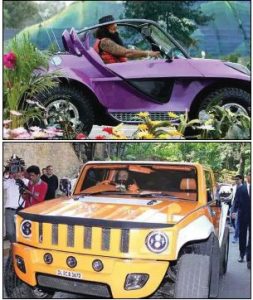 of their families have blind faith in the Maharaj. We wear white clothes, tie a scarf on the head, cannot even look at men and as per Maharaj's commands, and talk with men from a distance of 5-10 feet. To the people we look like 'devis' (goddesses), but we are living like harlots. This time I tried to tell my family that all was not well at the 'dera'. But they rebuked me saying that there was no better place than the 'dera' for here they were in the company of God (Maharaj). They said that I had formed a bad notion about the 'dera' and that I should recite the name of 'Satguru'. I am helpless here because I have to obey every command of the Maharaj. No girl is permitted to talk with another, according to the commands of the Maharaj.
Girls are not permitted to talk to their families even on the telephone. If any girl talks about the reality of the 'dera', she is punished according to Maharaj's commands. Sometimes ago, a Bhatinda girl revealed the wrong doings of the Maharaj. At this, all the women disciples gave her a sound thrashing. Because of a fracture in the backbone, she is now bed-ridden. Her father gave up the service in the 'dera' and went home. For fear of the Maharaj and his own disgrace, he is not revealing anything.
Similarly, a Kurukshetra girl has also left the 'dera' and has gone home. When she narrated the events in the 'dera' to her family, her brother who worked in the 'dera' gave up his job. When a Sangrur girl left the 'dera', went home and narrated the wrong-doings in the 'dera' to the people, the dera's armed Sewadars/hooligans reached the girl's house and threatened to kill her and warned her not to leak anything about the 'dera'.
Similarly girls from Mansa, Ferozepur, Patiala and Ludhiana districts are afraid of revealing anything about the 'dera'. Although they have left the 'dera', yet they do not say anything for fear of loosing their lives. Similarly, girls from Sirsa, Hissar, Fatehabad, Hanuman Garh and Meerutdisclose as to what happened to them in the 'dera'.
If I reveal my name,I and my family will be killed. I want to reveal this truth for the benefit of the common man, because I cannot bear all this tension and harassment. My life is in danger. If a probe is conducted by the press or some govt. agency, 40 to 50 girls living in the 'dera' will come forward to reveal the truth. We can also be medically examined to find out whether we are still celibate disciples or not. If we are no longer virgins, the matter should be gone into to find out who has violated our chastity.
The truth will then come out that Maharaj Gurmit Ram Rahim Singh of 'Sacha Sauda' has ruined our lives.