PROTEST: Social activist Ramesh Gauns talks about how consumerist India has arrived with bullets for the media. Goan media gathered at Azad Maidan on Thursday, September 7, 2017, to protest the killing of Gauri Lankesh
GOA JOURNOS PROTEST
I'D LIKE to end on a grimmer note this week. The country as a whole needs to wake up to take cognizance of the cold-blooded, professional killing of senior veteran journalist and small opposition media editor Gauri Lankesh in Bengaluru (she kept alive the spirit of her famous father's Kannada political weekly called "Lankesh Tribune" with distinction). What spooks me is a report detailing that the motorbike killers gunned her down outside her home with the same make of gun which killed rationalists/academics Dabholkar, Pansare and Kalburgi in a series of by now familiar killings.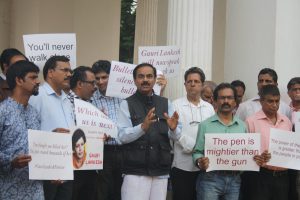 The question arises. Are we dealing with a pre-meditated Ku Klax Klan sort of group which has made up its mind that after the assassination of Mahatma Gandhi, the time is now ripe to assassinate anyone else standing in their way of achieving a Hindutva state of their dreams? Except that India is not a state or a country of a singular  religious colour (saffron), but a nation of varied histories, diversities, unities. Most of us have grown up in a secular, democracy-bound Constitution. How many more people are this hydra-headed demonic people going to kill before they achieve their pathetic Hindutva country and what cost?
For media, print and electronic, it's become a story of trial and tribulation with yet another killing in the name of those who no longer seem to have a conscience or a religion in the real sense of the word! At the Goa Union of Journalists gathering at Azad Maidan in Panaji on Sept 6, to mourn and speak up on behalf of Gauri Lankesh, several media people articulated their thoughts on the ongoing gruesome murder of democracy in India. Is a government which came to power courtesy democracy all set now to snuff it out for the cause of a so-called Hindu or Hindutva state?
Activist-cum-social worker Ramesh Gauns pointed out something which has stayed in my mind. Is this BJP government so drunk with power and newly-found wealth (the people's wealth) that it will compromise with anything to stay in power? Is the BJP & Company government betraying its true colours in copious consumerism in personal and public life? We know power brings in its wake insatiable  greed for fortune and fame (never mind what kind of fame)…and never before has India been such a grossly ambitious consumerist country in the name of a religion!
To fulfil their dreams will the dreamers invest more and more in a vicious cycle of killing anyone who does not scrape and bow before them? If this is their political ideology of righting the wrongs of history, then call it what you like, it is greed for revenge which is driving them to negate 70 years of independence! The killing of  Gauri Lankesh (Gauri is also the name of Parvati, second wife/consort of the all powerful mahadeo in Hindu religious mythology, she is also goddess of wealth Lakshmi) seems to me to be the last nail on the coffin of democracy in India. I hope this killing comes back to haunt her killers who're currently celebrating her death on Twitter or so I'm told.
Think about all this, my dears, and don't just think! On that note it is avjo, poite verem, selamat datang, au revoir arriverdecci and vachun yeta here for now.
— Mme Butterfly
FOR some time now I've had hospitals — public and private — on my mind. Goa is rated as a fairly decent healthcare state but recently I've had cause to think that for the common person hospitals can be a nightmare even if one has some kind of insurance. To take an example, recently the hubby complained of chest pain in the middle of the morning and we rushed him to the Manipal Hospital, which being the nearest with all medical services more or less under one roof, I thought was the best place to go.
In an emergency Casualty is best and doctor and staff on duty take over, murmuring reassurances. Said a Dr Anita, "Let him be here for some observation and we may keep him for a day or so for further diagnostic tests…." That's fine, I said, this man needs his stomach to be set right… and then realizing the importance of insurance formalities, I go meet the insurance woman who takes down details, checks our Oriental Insurance card and then says, "Now you must go up and find Nalini to fill up a form… of course everything will be cashless since you have insurance!" My fault, between home, office and hospital I told myself I'd go later to fill up the vital form — I forgot about it in the rush to find out if anything could be done to ease the patient's normal comfort levels (if your stomach is in trouble there can never be a comfort level). As a stomach protests with medicines, food and recurrent bloating, it impacts lungs, throat (acid reflux) and much else in steady progression.
But to stay with my insurance woes! It happened to be Ganesh Chaturthi eve and the doctor advised after a night's hospitalization, it would be wise to discharge and return as an OPD patient the following week for more detailed diagnostic tests to pin down various health issues (including holes in patient's voice box  — it's something which afflicts journalists who use their voice over years of dictating stories, and teachers too who do a lot of talking) …otherwise the long weekend holidays would find him stranded in hospital and well, we know how bills get inflated!
Well, the patient was discharged after a night's stay and more or less all the Goan doctors headed for ancestral homes to woo Lord Ganesh with extended family and friends. In the process I forgot to go up to the first floor to meet Nalini, the insurance lady, and fill up the vital form! So the evening we left nothing was "cashless" and a billing close to `40,000 had to be remitted before the patient could go home! We paid and came home.
Then began the education! If that vital insurance form is not filled up while in hospital the onus of taking care of the cashless procedures are no longer with the hospital, but with the patient! So there I found myself back at the hospital making all kinds of appeals to a mercifully very helpful Nalini to get correct details filled in the discharge form, waiting for a busy doctor's signature outside the hospital's Cath Lab…making copies of documents, etc, in between trying to explain to the hubby why I did not fill in the form when I should have.
Hey, we have the government of Goa's Deen Dayal Swasthya Seva Yojana insurance card too, but it's an insurance cover full of convenient petty holes which doesn't cover what it should cover — emergency treatments, the cost of expensive medicines (goes into thousands of rupees these days), and all the hardware paraphernalia hospital staff use by way of disposals (gloves, injections, water bottles, etc.) The  moment a patient lands in a hospital nowadays there is the hunt for a nurse experienced enough to find a much abused senior citizen's artery to fix what is called a canula, literary a hole through which blood may be drawn, medicines poured in, drips attached — an obnoxious arrangement to make life easy for medical staff.
This canula is always in situ while the patient is in hospital and over days it becomes a sore trial until the patient rebels and demands it be removed, it is a cause of varied irritations especially during visits to the bathroom.. Of course, everything from A to Z is chargeable, except perhaps the affection or sympathy of a doctor who is familiar with his patient's medical history and his life and times.
But to stay with rest of the health insurance story, I wish the powers-that-be would make it easier for everyone, especially senior citizens, to be better serviced and discharged "cashless" as promised during all the wooing at time of collecting insurance policies! I don't see why a hospital's paid-for insurance officer cannot call on a patient in room to fill in the vital form! Why must the onus of finding the hospital's insurance office/officer be on a patient or relative in attendance? Aren't relationships cordial between hospitals and insurance companies and why?! This is to say hospitals are happy to shift insurance claiming procedure headaches in times of stress to the patient/patient's relative.
Regardless of whether it's a small or big hospital, many patients fall into several common pitfalls when it comes to insurance procedures. Oftentimes we end up paying hospital bills major and minor just because we don't have the means to chase insurance dues. In the end giving up through the sheer fatigue of filling up most-unfriendly designed forms and justifying this, that or the other. Senior citizens who don't have anyone to do the needful for them, my dears, just give up the battle and pay the bills from their own frugal resources at time of discharge from hospital.
HEY, this time around in hospital (not the GMC but Manipal Hospital) I discovered this private tertiary hospital has the loveliest atrium canteen for relatives/patients and their foodie demands. But much of it is junk food comprising of white breads, fried snacks, bottled or tetra packed sugar-doped drinks, confectionary! And fryum snacks like samosa, puff patties, some Udipi-styled idli-dosa-uttapam item numbers (these you get if you're lucky and there at the right time). Patients get a seemingly more health-conscious thali meal but most patients pass it for food from home (in my opinion the vegetarian thali meal offered to patients at the small CMM polyclinic up at Altinho in Panaji is the best. In this case while the patient eats his home-made khichdi-dahi or rava idli made out of MTR's packets, the patient's wife relishes the patient's hospital thali meal, murmuring, "I wish I could eat like this at home every day…less salt, oil and no sugar!"
Most hospital canteens of various denominations can do with major overhauling in the health-conscious direction. If you're in Mumbai check out the Bombay Hospital canteen, it's possibly the most health-conscious hospital canteen in Mumbai; but then again the Asian Heart Hospital restaurant is also pretty clued up on healthful issues and there are options of the healthy kind as well as a few of the unhealthy kind — providing one knows the  difference between the two!