AT THE NAVE MARG-SPONSORED ALL-GOA SENIOR CITIZENS' SINGING CONTEST SUB-FINALS….IN SEARCH OF THE GOLDEN VOICES OF GOA! (Top l to r) Girija Raina, Quentin Creado, Olivia D'Souza….judge Seby Fernandes. (Bottom l to r) Mohan Borkar, Pravin S Borkar, Francisco Xavier and others, and Louis D'Souza, who participated despite being in a wheelchair!
By Our Special Correspondent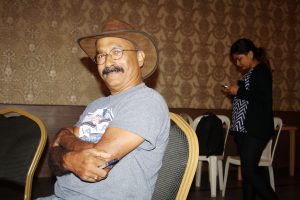 THERE are not many who want to brighten up a senior citizen's day. But perhaps that's not quite true! We came across several senior citizens of Goa singing their hearts out at the Nave Marg-sponsored All-Goa Senior Citizens' Singing Contest sub-finals auditioning which was going on Sunday evening, September 10, 2017, at the Gaspar Dias Club at Miramar, Panaji. The credit of bringing some sunshine in senior citizens' lives goes to Dr Celso Fernandes of Nave Marg and advocate Colin Coelho, the twosome have come together with other like-minded folk to give the seniors a chance to feel young again and belt it out, be it the golden oldies in English or Hindi or spiritual singing in Konkani. Actually, come and sing any song you want as long as it is in the three aforesaid languages of the State.
Meet some of the contestants, senior citizens all, although many don't look like it or act like it! The petite Maria Quadros tells me she had missed the contest's sub-finals the evening before at the Ravindra Bhavan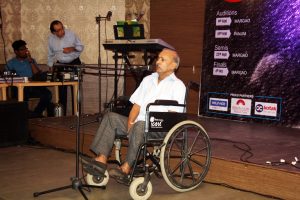 in Margao and she was advised to come to Panaji the next day where it was Panaji's turn, "I was No18 in Margao …but here they'll let me be the first contestant I hope, for I have to take the bus back to Margao and I can't be too late!" She was the first contestant and sang two songs, one in English and one a Konkani hymn.
Some of them are quite the veterans in their singing joys and have participated in similar contests previously. The 81-years-old Quinton Creado is engaging and happy to volunteer all the information I seek, "I love to sing because it makes me feel young! My wife Theresa tells me enough! Sing only in church now…I was with the  Paranjyot choir earlier, I just stay fit by singing (Elvis Presley maybe) and going for a one-and-half hour walk daily. We have travelled abroad, to the Holy Land …but nowadays I'm living in Miramar in Panaji." The charismatic Quinton belted out Presley's "It's now or never…" with much style and although he says he doesn't need to win anything anymore he would like to sing in the finals of the contest.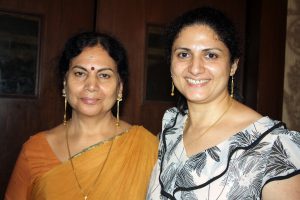 Girija Raina from Old Goa (migrated from Jammu) also quotes the many by saying, "I'm here because I love to sing and this time I'm going to sing the Lata song `Ja re oodja re panchi…' I love Lata Mangeshkar's songs!" There's a Mrs Linda who also sings in Hindi, she sang "Ajeeb daastan hai yeh…" from the film Dil Apna Aur Preet Paraya. Mostly Konkani but Hindi songs of yesteryear mingled with English songs; Pravin S Borkar  was much appreciated for his Bakibab Borkar Konkani song…and there was Francisco Xavier and Aurio Cunha Gomes with his "From Russia with love…"
Mohan Borkar rocked to an Elvis number and a vibrant Salette Miranda (hard to believe she's a senior citizen!) sang "I'm just a woman…" Oh yes, she has crossed into the senior citizens category officially, she replied to a query, and this was the first time in a singing contest for her. Cyril Silveira sang a sad number, "Am I that easy to forget…" (Engelbert Humperdinck) and Louis D'Souza in a wheelchair delivered a serious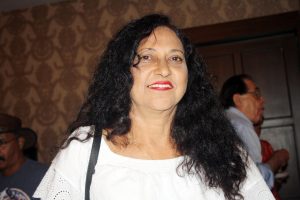 Konkani number very seriously. Another contestant presented a famous Lorna…Anthony Gonsalves, Olivia D'Souza (her Rita Rose song "Novreancho Balcheanv" drew quite a few chuckles. The Panaji audition attracted about a dozen odd contestants, says one of the organizers, Colin Coelho, "Margao attracted a lot more contestants, 62 senior citizens…in Panaji we registered 15." They have as the judge the very popular musician, Seby or Sebastiao Fernandes of the famous 'Seby and the Wings' band; Seby sings for a living and it's a very good living, he said, "I am very blessed." His father was a jazz legend. To the query of how good are the contestants, he smiled, they are good but some can do with a bit of grooming and advice before being put on stage, it is something which can work wonders for novice first-timers who are participating in a contest.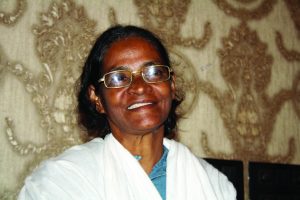 Still, such a singing competition for senior citizens is a great idea for one never knows who will turn up with a long lost heritage song in need of revival for a younger generation of musicians and Goa is a music state remember! Senior citizens are usually a sporting lot, they have seen much life come and go and can also share a lot of things apart from singing in a contest, for most it's just to beat loneliness maybe and meet others old or young in friendship and fraternity. After all why do we do things except to feel young as the irresistible Quinton Creado put it! So here you are, wanna stay young? Be sure to sing at home in the bathroom or venture further afield by participating in a contest designed exclusively to woo senior citizens out of whatever shell they may be living in. Three cheers for the good Samaritans who make the All-Goa Senior Citizens Singing Contest take wing with a lot of possibilities in store given the goodwill and co-operation of the many!