CHALLENGERS: With competitors like JIO, airtel and others moving towards fixed line services, BSNL is going to go under if it doesn't improve
ALMAS AHMED speaks for many Goans when he shares his frustrations with BSNL's services in this open letter to BSNL
Dear Mr Sandeep,
Dear Mr Sandeep,
I hope your internet connection is healthy enough to load this email.
I, Almas Ahmed from Vasco da Gama, Goa, have been facing this issue of irregular and mostly low and fluctuating speeds of Broadband since I have been using BSNL Broadband.
I am a Hardware and Networking professional and a majority of my clients are users of your service. And they usually call me to complain about the poor quality of Broadband and 3G (still stuck on 3G) speed provided by BSNL in Goa. So, I take the complaints and forward them to the concerned authorities and follow up personally to get an appropriate solution.
They are solved, no doubt. But only temporarily. Sometimes, it is the fault in the line and I get it changed with the help of a linesman. Or a fault in the port which has to be rectified by an engineer in the exchange. And at times, it is an issue at the Broadband Section in Altinho (where they never answer calls — one has to contact them telepathically). All the necessary steps are taken by all the employees of BSNL. And they even succeed in satisfying the customers needs with the minimum facilities that have been provided to them. But this is all just temporary. The technical glitch rises from the dead again somehow and continues to haunt the customer throughout their life.
I would like to know whether BSNL has the ability and required resources to give us uninterrupted good quality service. This is very much required as most banks, hospitals and public service offices rely on the connectivity provided by BSNL and the electricity provided by the government. And from the 50 working hours per week, 25 hours become non-working hours due to the connectivity issues that arise. Transactions don't get completed. Reports are withheld. Businesses go down. Students can't study or answer their exams online. Even domestic problems are given a way to grow because of miscommunication (primary reason -— Husband can't hear wife's grocery list).
Probably, BSNL in a paradox of its own tagline, will now make it "Disconnecting India".
BSNL is such a great company but is sinking so fast that even the Titanic will feel ashamed. And speaking about sinking, BSNL CellOne has  great connectivity in the sea and even underwater. Not to forget, jungles and mountains and remote unpopulated areas. That's an achievement though. But please help the population get such good service.
When I was in Higher Secondary and used to bunk lectures and go out with my girl to 'high' and 'vegetated' areas, my mom always came to know. Because that's the only time I got 3 bars of network and my phone rang.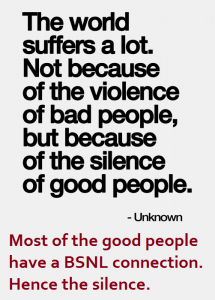 We have heard that the Government of India doesn't want BSNL to grow. And they want to promote Jio and Reliance Power. And that high level officers of BSNL are hand in hand with them. And that is the reason why BSNL is underperforming. But I believe these are just rumours. And rumours are the only thing that get communicated even with such poor connectivity.
Probably there is some genuine reason that consumers are facing such chronic issues with connectivity. So, maybe, it would be a good idea to declare it in public and make life easier for everyone or maybe you could perform an exorcism on these ghosts of connectivity issues that haunt us. Try sprinkling some holy water on your equipment.
People have become so helpless that they have resorted to even praying in holy places for better connectivity. And cursing the BSNL employees, as usual. But even that is ineffective because, I assume, even God has a BSNL connection.
I was told by a friend that Mr Sandeep is a good and helpful person. And I believe that you would be able to redress these grievances. We have been loyal customers for so long. It's high time now that you show us your loyalty.
Thanks for your time reading this mail. I don't expect a response as I know these days it's hard to even send an email if one is using a BSNL connection. And lately, BSNL has become an acronym for "Baaher Sar Nantar Laagnaar". And it's true. Zero connectivity at my residence for CellOne. Issue was raised 12 years back. Still unsolved. Broadband complaints are lodged every three days. Still unsolved. Wire was changed. Router, changed. Yet to no avail.
My mobile number is 9405952786. And landline is 0832 2555678.
I have contacted all the people in charge of my area. But nobody is able to help me out. Maybe they don't have the proper resources or knowledge. I'm sure though, that you are fully equipped with technical resources and knowledge both to find and impart a swift and effective remedy to all the grievances of all the consumers in your circle.
Thanks again. This is just a brief description of a few of the problems we are facing.
I hope you receive this. Given the current situation, I feel even India Post does a better job.
Regards,
Almas Ahmed