(Citizen's Diary…
Stephen Dias)
Tuesday, October 3, 2017
I got several messages yesterday evening about a fire that broke out early in the day at the Kadamba Transport Corporation terminus building on the ground floor. Luckily no lives were lost, but the fire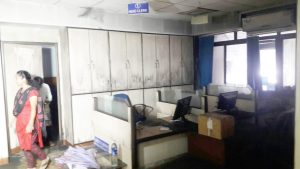 destroyed valuable documents in the RTO office worth crores of rupees. At first I wondered whether the fire was due to arson. Just last week I was worrying about the birth and death certificates. I can't imagine what will be the state if a similar fire happens there! Unscrupulous people who want fake documents to get Portugese passports or who want to rob family property are quite capable of setting fires!
I went to check out the damage at the RTO today. The photographs show the severity of the fire. The fire was apparently not through carelessness but due to an electric short circuit at the Presidential Supermarket. This is a clear indication of the danger present in all our badly equipped buildings — especially the government offices in Panjim as well as all over Goa. Our electricity is inconsistent, with surges that damage expensive equipment even in our well maintained homes. Imagine the danger in such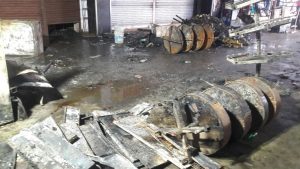 offices. Any of these offices could be caught unawareness and the flames could harm people apart from ruining documentation. The entire system of granting permissions for any ill-equipped premises should be condemned as there seems to be no co-ordination between the CCP, the Electricity Dept, and the Directorate of Fire Services in assessing that only those premises that comply by all fire-safety norms are allowed to function. The blame game has to cease and concrete action has got to be taken to prevent such fires especially in those government as well as private owned premises by providing adequate firefighting equipment so as to prevent future fires of this magnitude.
The following safety measures should be implemented to ward off fires in future:
Thorough inspection IMMEDIATELY especially of those offices that have combustible records such as the Directorate of Archives & Archeology and the Sub-Registrars of various talukas.
Digitization of records so as to save important documents from fire/water damage, since any documents destroyed by the fire, will quite possibly be destroyed by the sprinklers and other fire fighting efforts.
Storage of old documents in safe houses away from the main office to prevent damage in case of valuable records.
Providing smoke detectors linked remotely to mobiles of the officials in-charge and to the fire department as a fire alarm. With all the new fangled 'apps' that are available for phones I am sure someone can make an app that wil send an alert if a sevice (in this case a smoke detector) is triggered.
Installation of voltage stabilizers with circuit breakers to prevent fires by heat generated due to spikes or fluctuations.
Providing firefighting equipment at all areas such as sprinklers, fire fighting hoses and pipes connecting to source of water, dry chemical powder, canisters, carbon dioxide canisters and halon so as to enable trained staff to douse small fires before it gets out of control.
Training designated staff to use the fire-fighting equipment. Identifying fire marshalls from within the staff
Concealed wiring to prevent air from aiding fires due to access to oxygen.
Timely maintenance of all firefighting equipment in all the premises in the state.
Formation of a nodal agency to co-ordinate granting of occupancy certificates, NOCs and consent to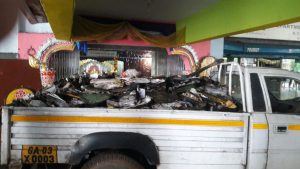 operate businesses.
Formation of authorized flying squad to attend to complaints of unsafe electrical wiring and inadequate sheathing of electrical wires in premises running businesses and offices.
Equipping of fire brigade tenders which do not use water but other fire extinguishers such as dry chemical powder for electrical fires.