INSPIRATION: The outstanding vocalist Dr Pravin Gaonkar composed special songs to reflect the spirit of the fusion of faiths which was a theme of the concept
The fusion concert coinciding with the exposition of the padukas of Shirdi Sai Baba was an outstanding example of communal harmony and a musical treat which rocked the audience.
By Hetal G. Gangani
"What is new in the world? Nothing.
What is old in the world? Nothing.
Everything is, has always been, and will always be…. "
~ Sai Baba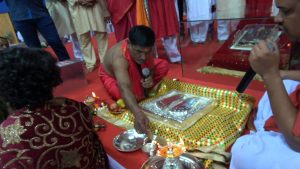 SAI Baba left his physical form in 1918, but his divine energy and intention and power are always available and at work in the world. He taught a moral code of love, charity and inner peace.
Known as a saint, fakir and sadhguru, Sai Baba was highly revered by both his Hindu and Muslim devotees. Irrespective of caste and creed, all he stressed on was  the path to divine consciousness, the one which led to the awakening of the Self.
Naming his Mosque "Dwarkamayi", a Hindu name, he bridged all the differences between the two religions and his epigrams of "Allah Malik" and "Sab Ka Malik Ek" only confirmed his faith in unity of divinity further… As a rare phenomena, it was because of this reason, that Sai Baba had a huge Hindu and Muslim following. He preached profusely the love for fellow humans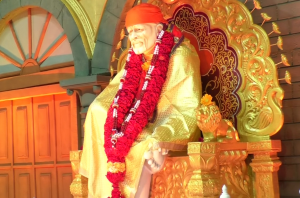 and all being around him. "Whatever creature comes to you, human or otherwise, treat it with consideration" is something that he strongly tried to spread through his preaching… He believed that God is one and we as humans can only use different means to get connected to Him.
Sai Baba is worshipped by people around the world. He had no love for perishable things and his sole concern was realization of the Self. Spreading the message of inner peace and love, Sadhguru Sai Baba's thoughts and words of wisdom have touched the lives of millions in the home country as well as in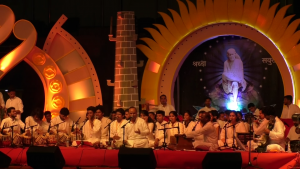 various parts of the world. Such is the impact of this one man who took the road less travelled… the path of self-awakening… and it is because of these saintly qualities of Sai Baba's that, on the celebration of completing 100 years, people from all over the country came in large numbers to gather and express their love and gratitude for their beloved Sadhguru..
It must have been a great day… a great moment when the concept of celebrating the completion of 100 years of Sai Baba Samaadhi was thought of. The man with a vision and purpose, the one who touched numerous lives and healed their souls only with his simplicity and simple preachings completed 100 years… even after leaving his physical form, he stills lives amongst his followers through his thoughts and sayings. And it was to celebrate the greatness of this simple man, Sadhguru Sai Baba that "Sai Naad" was conceptualized.  On this joyous occasion, it was the positive and noble idea of leading Goan Industrialist and fond lover of art and culture, Mr. Anil Counto, to revive and propagate the thoughts and ideals of the beloved sage, Sai Baba by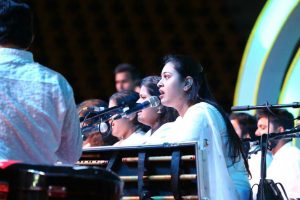 way of Sai Naad..
Sai Naad is an international program now seeking to celebrate Sadhguru Sai Baba and his views. His paduka (original footwear) which are well preserved, were brought to Goa and will be further taken to different parts of the world.
Sai Naad in Goa was a two-day festive occasion which took place at the massive Dr Shyama Prasad Mukherjee stadium on October 13 and 14, 2017. Darshan for the Saint's padukas was open for his devotees form morning to late evening and the evenings were filled with eventful entertaining sessions.
On day one the people of Goa witnessed some of the most spectacular celebrating dance performances by children as well as young girls and ladies. The dancers were Mandira, Nidhi Sanke and Hetal Gangani.
The evening Sangeet program on day two was truly a musical journey. It was a one-of-a-kind performance like never before! Conceptualized by the very talented classical singer, a man with a vision, Dr Pravin Goankar. He believes that music has no bounds of religious or caste differences and took the bold step towards this amazing thought of creating or rather re-creating the age old bhajans and dhuns sung in praise of Sai Baba. His concept was to amalgamate talented musicians from different backgrounds and fields of art and create a fusion like no other. And he succeeded in breathing life into this noble thought with the support and cooperation of 52 musicians from all over Goa! This was simply phenomenal and not only Goans but people from all over witnessed this live on October 14!
This well-thought-out concept initialized by Dr Pravin Gaonkar, was idealised and put together in a manner that kept the true essence and feeling involved in the age-old bhajans sung for Sai Baba.. It was a group effort with practice session and rehearsals spanning through days just to make sure that innate feeling that Sai Baba's followers feel for him can be invoked when they listen to the re-created versions.. and there was no doubt that it was a grand success. The constant smiles and loud applause Dr. Pravin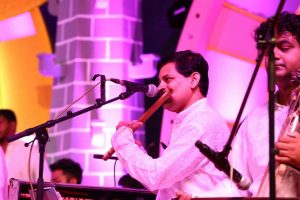 Gaonkar and his band of musicians won all through the performances was truly a sign of their success in taking the devotees on a divine musical journey that day!
Dr Gaonkar's team worked really hard to make this event a grand success..
The following are the names of the talented music artists who played their role with responsibility and dedication:
Theme and music designed by lead classical singer Dr. Pravin Gaonkar who created symphony with 12 chorus singers.
Rhythm section was beautifully mastered by Mayuresh Vasta,
Western music was handled by Vishnu Shirodkar.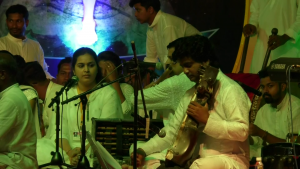 Seven musical pieces were composed by Dr. Gaonkar himself and their lyrics were devoted to Sadhguru Sai Baba and an amazing amalgamation of these western and Indian classical instruments: drum, ghumat (8), shamel (5), dhol (4), kasale (1), taal (manjiri 4), tabla (4), pakhawaj (4), sarangi, flute, harmonium, keyboard, base guitar, and a lead guitar.
The names of the other artists are: Mahanand Kavlekar, Nitesh Naik, Pradnya Rawal, Natasha Kuttikar, Sanil Parsekar, Rohit Parab, Suraj Morajkar, Arunkumar Murlidharan, Nimisha Kurupath, Gayatri Saraf, Shraddha Joshi, Prasad Kamble, Suraj Shetgaonkar, Buddhesh Talkar, Smiraj Parab, Deepsiel Kambli, Shashikant Narvekar, Premnath Kerkar, Dayanand Khedekar, Vishant Surlakar, Rahul Khandolkar, Subhash Fatarpekar, Chetan Khedekar, Upendra Bongale, Sunil Gaude, Jitesh Naik, Vinay Borkar, Girish Gaude, Ramdas Kurparkar, Pandurang Naik, Nikhil Mainath, Piatikesh Naik, Sarvesh Naik, Sachin Naik, Sarvesh Jalmi, Gopal Prabhu, Vishnu Shirodkar, Megha Patki, Dattaraj Chari, Vignesh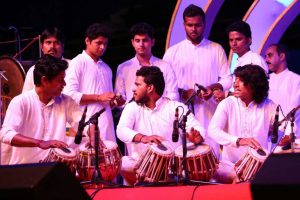 Naik, Shambhu Mule, Rajendra Dhulapkar, Roque Lazarus, Elvis Lobo, Bondo.
The management of this entire group was done by Pallavi Patil, Murgesh Raman and Sarvesh Shetye. The event was compèred by Mr Govind Bhagat and Ms Hetal G. Gangani.