KATOR RE BOL! Samantha & Ivan do the honours…cake-cutting is exclusive to Goan Catholic weddings. Of course the dance floor is as much the children's as the bridal couple's for dancing!
Eating is Fun / Eating is Yuck! – A variety food column
By Tara Narayan
WITH Tulsi Vivah the Hindu marriage season really gets going. Even the Catholic community likes to fix up marriages during the cooler season with year-end Christmas and New Year festivities rolling in. The first marriage alliance invites of the season are coming in and as usual I always get amused by the differences between Goan Hindu and Catholic marriage celebrations, they have their charms in different ways.
First I went off to a Catholic shaadi reception. Who got married? My friend Samantha Nunes (daughter of Stanislaus Nunes and Gladys Nunes of Divar island), who looked radiant on her wedding day and unabashedly danced away with hubby Ivan (son of Thomas and Helen Gomes) the evening of October 28, 2017, on the dance floor at Golden Orchid, a large, cosy venue at Duler, Mapusa, all dressed up in white finery to suit the occasion.  
Samantha is pattisserie chef at Goa Marriott Resort & Spa and chef par excellence, she can make just about anything with passion even if I say yuk to some of her excessively sweet chocolaty things…for some time she'd been telling me "I'm getting married!" And I would tell her remember, marriage is the oldest institution of slavery in the world!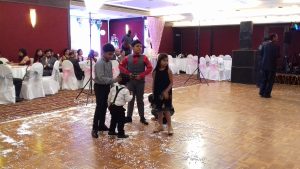 Not to be put off she finally tied the matrimony knot with  Ivan (also in the hospitality industry in big-time city Delhi, they'd met during their early training years in the Taj kitchens). Anyway, once again I found myself musing at a Catholic wedding reception with pristine white decor and flowers everywhere – even the tiered cake was a snowy white affair.  Lots of family, friends from far and near, colleagues, it was yet another razzmatazz marriage evening and a study in white and black contrasts…bride in lovely lacy white gown with a long train, bridegroom in formal black suit, bridesmaids in shimmering grey.
The children have the most rollicking time. This is one time when nobody hauls them up as they get involved with clouds of confetti cascading and rolling on the floor…my eyes were on them even as I carried on chatting with Esmerelda and the gracious Elizabeth (my favourite old time Marriott staff with loads of gentle charm) at the table we were sharing.
While the cake-cutting, champagne bottle popping and toasting was going on Esmerelda fed me with interesting tidbits, like she'd come all the way from England, "but over years of staying at the Marriott I've got to know Samantha… do you know in England we put a silver coin in one of the champagne bottle corks and present it to the bridal couple for good luck?" An old friend, chocolate woman Judy D'Costa, came up to say hello and since there was this golden casket of delicate and amazing look-alike shell and pebble chocolates on each table, I asked her if she'd made them?
She smiled back, who else can make chocolates look so naturally divine! I'd trust Judy with any chocolate making and dare say she's the best in all Goa, must get her to make some dark bitter chocolate-coated Marie biscuits for me one of these days. Well, don't know why the champagne bottles didn't fizz explosively and spill over to the floor but Dr Eugene D'Silva (Nunes family doctor and friend) makes for a salutary toast master.
While felicitating Samantha and Ivan, amongst a whole host of things, he said "From my own long marriage I've learned that the key to being happy is to be ready to apologise, apologise and apologise…I apologize to my wife even if I know she is in the wrong!" Laughs all around but I wondered if a profusion of apologies can keep a marriage glued forever? And I wonder why marriage toastmasters are more men and rarely women, may be then the joking would be equally from the women's point of view and not always from the men's point of view!
The good doctor also observed that the day a couple gets married they've only so far seen each other's best side and are the least in love  — real love comes as it seasons and matures in the togetherness of marriage and how the better half or worse half survives the ups and downs of being married. Ohhhh, real food for thought, think about it and don't just think!  
Well, Samantha and Ivan, lots of jug jug jeeyo and forever after happiness for both of you.
NEXT shaadi coming up my way was the Gauri and Amit shaadi at the Hotel Fidalgo's comfortable ball room on November 6, 1017. My goodness I was pleasantly surprised, we went in at 7.30 pm and were home by 9.30 pm! It helped that the reception was in the heart of Panaji and we live close by….Gauri is the daughter of Jeevankala and Namdev Pai of Bicholim and Amit the son of Sujata and Shivanand Singbal (advocate by profession and rather well known for doing company cases).
Most Goan Hindu marriages demand very little from their guests except presence and blessings and there's no dancing to watch or children running riot with confetti shenanigans. This reception was graciously simple…no long, long queuing up to wish the couple (interestingly, they met and took a shine to each other while exchanging notes on Facebook and decided to get married). Gauri is a banker while Amit is an advocate.
Wishes and photographs over, dinner was announced 8 pm onwards…what? For a while I thought my ears were playing tricks but that was correct, we could proceed to fill up our plates, dine at our table at leisure…the menu was a mix of Chinese, Continental and Goan Hindu (how can it be a Goan Hindu marriage menu without caju biyo shakuti!). The marginally health-conscious prefer to feast on Chinese, while most help themselves to the other dishes…I helped myself to some aromatic veg biryani, boondi raita and Russian salad with pineapple in it… some butterfly pasta tossed in a chilled tart sauce, bit odd combo but I survived.  
No animals? No, it was a purely vegetarian affair and one ate as lightly or as heavily as one wished! Dinners I like to  be vegetarian and I always like the kokum tival served at Goan Hindu shaadi….the tival is sweetly tangy and a real palate cleanser, quite different from the coconut milk solkoddi. One or two glasses of the rosy pink kokum tival always makes for a perfect digestive finale.
Hey, it was not khao, piyo and jao. Early dinner over with many hung around to catch up with each other,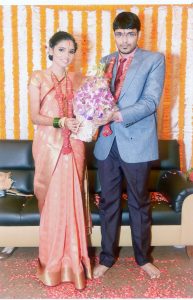 lots of silk sarees and gold jewellery to take an interest in and lots of chatter with the hubby discovering long lost friends to have gala conversations with about life and times in third world media experiences. I couldn't believe it, we were back home by 9.30 pm. There's much to be said for early shaadi evenings but then not all of us are senior citizens I suppose! I suppose at Goan Catholic wedding receptions one may dance the night away, have a champagne breakfast at dawn and totter home for a memorable tight sweet sleep. Can anybody do it anymore?
HOW to make kokum tival at home? Fresh kokum fruit in season is best but next best is take a few semi-dried kokum peels and soak in a glass of water, chill…strain on the icy rocks and sip. In case you don't know kokum is the traditional fat-buster of the Konkan cost…these days you may find bottled kokum concentrate sweet or plain salted (ugal) in the Goan market. Invest in both, mix and match and arrive at your own favourite kokum cocktail to drink on a hot day…the tival concentrate is usually cumin-infused and lends a unique flavour. Don't know why we don't do more things with kokum like kokum jelly, kokum cocktails, kokum raita, kokum chutney, kokum tossed in salads, how about a kokum cake? Kokum wine, please, at shaadi receptions!