GUIDE: The Finnair airlines journal "Under The Northern Skies" is very informative, readable and full of breathtaking pictures!
— Mme Butterfly
WHAT do you know of Finland? I must confess I knew little and now I know too much!\ Enough to put me in a mood to run away from it all to fl utter off to …er…Finland! Running away is a favorite dream chasing
me regardless of whether it was in my salad youth or now in my dessert days or so to speak. Most press conferences are dreary, boring affairs but this one by the Finnair airlines folk, Arja Suominen (senior
vice president, Corporate Communication & Corporate Responsibility) and Desmond Chacko (Finnair general manager) was a delightful treat, made me feel like I may as well enjoy an "arm chair" trip to
Finland if not a real one.
The press conference was to announce that Finnair (one of Europe's most popular airlines) is in expansion mode and if you have a mind to run away from Goa for whatever reason you may catch the 8.15 am direct Goa-Helsinki flight on a Monday or Thursday morning aboard a luxurious A330 aircraft… get to Helsinki
spend some time just breathing some eight hours later and in the fresh air. By way of some foodie adventuring you may consider looking for rye bread (it's the national bread of the Finnish people) and meatballs to go with it.
What is Finland famous for? I asked Urja (what alovely name) and she laughed, "Actually 70,000 lakes!" I'm not sure if she said 40,000 or 70,000 lakes but later while reading up the Finnair magazine guide,
plus googling Finland I learned Finland is predominantly lake country with thousands of lakes and wildlife national parks! It's also a welfare country and farmers are on first name terms with their cows!
Cows have names and can you get more charming than that my dears…it can give our poor Indian cows foraging at rubbish dumps a real inferiority complex I should think! Oh to be a cow in Finland and all that.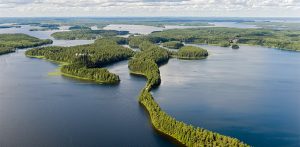 But to clue you up some more about Finland…hey, during the brief summer seasonyou may go picking
wild cloud berries in the park… they also have lingon berries and mushrooms…autumn and
winter seasons are also being promoted as tourist seasons and Europeans love Finland because it is different from the far more crowded and familiarSweden. Shared Finnair'sDesmond Chacko, "Finland elationship with Sweden is somewhat Pakistan's with India!" Needless to say they have sports like ice skating and sleighing and f shing out in Finland….
Most folk are lured by the thought of visiting Lapland in the far north to see the magical "northern lights" or have fun in piles of the lovely cold stuff called snow. You may if you wish stay in a see-through toasty warm igloo (check out Pertti Yliniemi's Lapland hotels which own some 13 properties across north Finland
and Levi Igloos is one of them). I'm told it's like sleeping beneath the stars and one may sleep safely through a snow storm if it's buzzing outside… wake up and see it all through your igloo panes like Alice in
wonderland or like a voyeur! Before I forget remember that Lapland is also the place where the sun never sets…fi nd out more about that.
Something about Finnair: 2017 is Finland's Independence centenary and Finnair being national carrier naturally joins in the celebrations in the air and on the ground, says Pekka Vauramo (Finnair's CEO), "For
us at Finnair, being Finnish is a part of our heritage and I is present in every part of our operations, from the precise punctuality of our fl ights to the decidedly Nordic design of our cabins and lounges. It is also
visible in our strategy, which builds on the geographical location of our home country, enabling us to connect Europe and Asia with fast connections. Being Finnish is also a part of the everyday encounters that take place on Finnair fights and behind the scenes of our operations…"
Finnair took the skies in 1947 and has grown from six flight attendants to more than 2,000 today and after catering to US of A and Europe it turned its eyes eastwards with its first  flightTokyo in Japan in 1983…it was the fi rst airline to fl y nonstop from Western Europe to Japan and soon it was offering some
of the fastest "modern silk routes" between Europe and Asia and vice versa. There was no looking back. Asia, Europe and North America, Finnair carries more than 11 million passengers annually and its
extensive network connects 19 cities in Asia and seven cities in North America with over 100
destinations in Europe…it's the only Nordic carrier with a 4-star Skytrax ranking and has won the World Airline Award for Best Airline Northern Europe for the past seven years running.
What else! Now Finnair is in Goa and if one so wishes one may fl y off to Helsinki and Finland one of these blue Mondays when there's too much devil's dust blowing in Goa. Imbibe some zen thoughts in Lapland and on the way back pick up a loaf of rye bread, lashings of Beluga caviar and cloud berries for me. Just cloud berries is fine, I rather like the sound of them.
BEFORE I forget a bit of foodie talk. I must mention here that the feast they laid out for the media at the Finnair press conference was as Finish as they could get? Who? Chefs Rego and Desai of the Taj
Vivanta who're more or less the old-timers who stay as close to the brief given to them… usually, most media folk have no time to hang around and make a quick getaway after a press conference, but this was
high tea offer and one could make an early meal of it, just the way I like it!
The menu was highlighted by a Live Counter doing a rapidly becoming popular snack which catches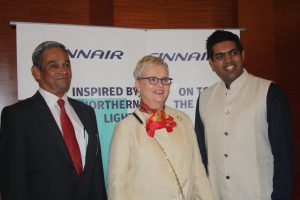 everyone's attention…this is the making of the "potato tornado!" While chefs Rego and Deepa call it
"potato tornado," on the menu Chef Sahil Desai called it more politely as "potato curlies on stick." These are hefty potatoes partially sliced to the ninth inch, then dipped in a thin fl our-egg batter and the whole potato deep-fried…later giving the slices a kind of roasted ratherthan fried feel, alongside there were the toppings to choose from, sauces alfredo/mango cilantro/Mexican salsa/ Cajun spice and Indian chaat masala. Funny how everyone fell for potato tornado including me, it was kind of thrilling to watch
this live station as they call it, and it's a very stylish potato presentation with substance. But don't be in haste to burn myour tongue and fi ngers in the eating of this sizzling hot potato tornado, okay, take your time.
Elsewhere thirst-quenching "Juice Shooters" featured cucumber kiwi/watermelon mint/carrot apple and they made for refreshing palate cleansers in between the high tea temptations… assorted veg and non-veg sandwich bar with good bread (I couldn't make out if it there was rye bread anywhere there, multigrain mostly), assorted cold cuts of ham, mortedella, smoked salmon, olives, crackers, Californian grapes,
glazed nuts… a roasting, rotating chicken shwarma was there with garlic aioli and fresh baked pita a pockets; satay bar featuring sizzling vegetables/ prawns/chicken served with sweet chili and peanut sauces. Finally, the desserts…ice-cream swirl station" and assorted tea cake bar I bypassed but the "omenapilirakka" (apple pie Finnish style) I picked up a piece and it was superlatively to live for. There was cut fruit on skewars and assorted cookies jar and these "korvapuusti" or Finnish cinnamon pastries
which alas, I eyed too late and let them go, another time.
Like I said earlier, my dears, once in a blue moon press conferences have their charm and this one definitely did! For some reason I'm beginning to feel at home at the Taj Vivanta nowadays, if only for the
cocoa gelato (Rs80 per scoop) they serve at their Caramel lounge which one may go in from the side entrance where the al fresco smokers' corner is. It's a pleasant small lounge overlooking the road outside
and ideally located to meet and chat up with friends if I may say so.
On that note it's avjo, poite verem, selamat datang, au revoir arriverdecci and vachun yeta here for now. Lots of art,craft, literary happenings coming in this month in Panaji, including IFFI…I'm getting
ready to run away and catch as many films as I can by hook or by crook, follow my example if you can!