(clockwise) ESG's Anand Jadav, PIB's Manish Desai, ESG assistant manager—public relations Vrundawan Raikar; the Peacock team at their office at Maquinez Palace working around the clock to bring out the ESG magazine
By Tara Narayan
CALL them the invisible people if you like who host something like 7,000 plus plus film buffs or delegates who turn up every year to view the best films made the world over. The film industry is a big deal for most of us are hooked on celluloid stories – be they dreams or nightmares, real or unreal — and constantly look out for a film which inspires, charms, entertains, educates, sears the soul and somehow rubs in that little bit of stardust in our life or lifestyle to feel that perhaps life if worth living after all.
It's can't be easy to bring off a good IFFI in Goa with its infrastructural shortcomings, yet for 14 years now the country's premier film festival has been rooting in capital smart city in the making  Panaji and making shaky take-offs and as smooth as possible landings. Usually, I swear by the large roll-call of films and take all the side highlights with a pinch of salt, but tail end of IFFI this year I gave a couple of films a skip to catch up with some of the  invisible folk behind the scenes of IFFI. Those who make IFFI walk, run or roll along merrily from day 1 to day 8 (this year from November 20 to 28, 2017).  Who're the folk who make IFFI happen year after year? This 14th year as an ardent IFFI-goer and last day of IFFI after viewing one more film I went looking for them and of course they were busy!
The Entertainment Society of Goa (ESG) is CEO-ed by Ameya Abhyankar and he is not easy to find but he it is who pulls the strings of IFFI. Small fry media like me when in trouble with a pass or a ticket for a film go to PIB's Manish Desai or ESG's Vrundawan Raikar and this year I had the pleasure of meeting one of Goa's forest officers on duty here, Anand Jadav (his department in the ESG made the thousands of electronic chip-enshrined plastic cards by which every delegate identified himself/herself at the entrance of INOX/Kala Academy entry gates. Can't we be more eco-friendly than plastic identity cards? He smiled, "We're working on finger print identification which will do away with cards…" Hope I works out next IFFI! Genial fellow, smiles easily. He helped me to find my "lost" media card!
Next, meet Manish Desai from the Mumbai PIB (Public Information Bureau), a veteran of over 45 odd years. If you're a media person it's to him you go for this and that and the other and for whatever invitation cards you're seeking to be admitted to various parties – Chief Minister Manohar Parrikar's opening IFFI party or Vice-Chairperson Rajendra Talak's party, or Minister of Information & Broadcasting Smriti Irani's concluding IFFI party…and whatever parties thrown in between by those who feel like entertaining the heroes and heroes of the celluloid world!  Needless to say parties may be entertaining or boring, high-brow or low-brow, depending on the imagination of the host.
Manish Desai knows the nitty gritty of most everything and he's been at IFFI Goa for the last 10 years to supervise and facilitate media demands. This IFFI, he said, the media contingent was larger than ever, "We got something like 440 media representatives, correspondent, reporters, photographer, micro bloggers, radio professionals, 25 film critics, 20 editors…and more who came on our list at the last moment." The usual complaint is that media and delegate cards are distributed late every IFFI but "this year we started working from Oct 6 and by Nov 10 most of our documentation work was complete in advance. Say about 40% or 200 media people are from Goa…we give up to five media cards for the dailies so that reporters may take turns to cover IFFI's activities and press conferences. There is also the invited national media from outside Goa and from abroad and we have to take care of them, keep them posted in time for them to meet their deadlines through IFFI…" PIB also has to maintain clippings of everything which appears in print.
VIP list? Yes, of course, that is there and this year they got a list of about 700 names, but this year NFDC (National Film Development Corporation in whose name this IFFI is being introduced to audiences for the first time)  appointed Raindrop Media Company from Mumbai who coordinated with PIB to take care of much of the needs/demands of the national/foreign media and celebrities from the cinema world who usually come to Goa during IFFI (many Mumbai film stars also have homes in Goa, especially at the luxuriously-appointed Aldiea de Goa gated complex at the Bambolim plateau).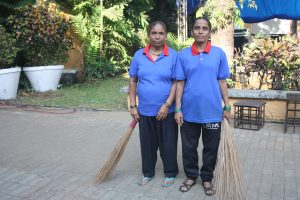 Say Manish Desai has seen it all and thinks on the whole, "IFFI has been seeing incremental improvement over the years." He also has additional charge of being the DG of Films Division, "We deal with documentary making and commission filmmakers…" That's something which can be very rewarding and he enjoys that job. Manish Desai, can be affable and elusive in turns, he rues the fact that neither his colleagues nor he manage to catch films scheduled at IFFI no matter how much some of them may wish to…some of them catch a film or two if they're lucky!
Now meet my favourite ESG young man who constantly liaises with Goa media and keeps them posted of press conferences, happenings and developments, as IFFI starts rolling into town in November.  Vrundawan Raikar is a lively niz Goenkar from Fatorda and extremely patient with media's incessant queries. The ESG has a team of about 40 people and he is one of the six or seven assistant managers, he takes care of public relations. Plus, ESG also hires crew during IFFI and they help out in the smooth running of the festival. There're reportedly about 150 IFFI crew who care of various help desks and are on duty at the auditoriums (most of them are young students from Panaji colleges like Demphe or from the Deltin Casino Training Institute).
Amongst other things Vrundawan clued me up about something I was not conscious of and that is the theme for IFFI this year is "Future of Cinema!" They're focusing on a young generation seeking a future in cinema, "After all IFFI is the gateway to world cinema and there's much young film buffs can learn into the art of filmmaking…" I dare say Vrundawan Raikar himself would like to take time off to see some of the films of IFFI while it is in town and dreams of a making a film or two in the near future given the sunlight, salt and time or so to speak.
Then the ESG's daily IFFI magazine — The Peacock – which comes out for the duration of the film festival. It's a colourful, ultra deluxe production of about 10 to 12  tabloid size pages which offer a selective range of film-related articles along with interviews with visiting celebrities who make the film duniya turn and evolve,  activities at various venues and much more. Again here's a young team of reporters guided by editors Vivek Menezes, Jose Lourenco and Sachin Chatte, familiar names all for those who've taken to viewing films with passion at various venues in Goa in recent years, may be since IFFI came to Goa in 2014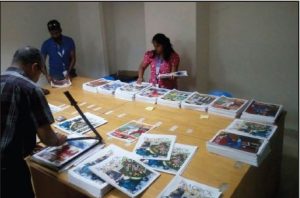 and ignited latent interest in Goan hearts. They've been bringing out The Peacock for the last three IFFIs and Vivek Menezes tells me it is quickly picked up every morning at the Help Desks at INOX and Kala Academy…some 2,000 copies, all gone before even half the day is over.
Which goes to prove that the IFFI magazine has become popular and much looked forward to by delegates and not just because it offers the day's scheduled time table of films, "Our art covers are much appreciated and this year our series of cover artworks come from acclaimed we've been carrying a series of cover artworks done by acclaimed artist Siddharth Gosavi…" The Peacock team has Omkar Rege, Arti Das, Sasha Pereira, Resham George, Clara Astarloa, Rupleena Bose, Astri Ghosh, Aileen Carneiro, Suyash Kamat, Greig Fernandes, Niju Mohan, Assavri Kulkarni and Siddhartha Lall contributing copy, articles, write-ups, photographs, illustrations and more.  Come to think of it for regular film buffs at IFFI, The Peacock (all eight issues this year) make for a useful keepsake, the best souvenir of them all to take home in memory of films seen and unseen! Really, a ready reckoner of IFFI in Goa.
While winding up my various stopovers on the last day of IFFI an interesting viewpoint came my way and I'm tempted to agree with it. An IFFI veteran who seeks anonymity says, "After all the original goal of IFFI is to promote cinema in India. Surely the best way to do so is to give other venues in the country to host it — say five years at each venue!" Why should IFFI get stuck in Goa? It's not fair to the rest of the country and its people who come from such a cross-section of backgrounds and who would appreciate the kind of international cinematic exposure which Goans have been getting for the last 14 years for all the good it has done!
I mean, there is something like too much of a good thing and then it starts to rot, no? It's something to think about although I dare say Hindi cinema's powerbrokers feel at home in Goa more than anywhere else in India. From all accounts with NFDC driving IFFI from this year onwards, India's premier film festival may well undergo a sea change agreeable or disagreeable by the time it comes around again next year in November.
While leaving I said hello to some folk behind the scenes who also make IFFI in Goa possible, two sweepers at the INOX courtyard. Aminah and Fatima were happy to pose for a picture and to a query offered, "We are supposed to get here by 7am but you know how it is in Goa, we manage to arrive only by 8am…and we have to drink tea at home before leaving to come here." Goa simply does not have a public-friendly public transportation system around the clock.
Ask some of the Goan delegates who come from up north or south Goa and they will tell you how they arrive at IFFI every day for the love of films. Confided Prabha Mahajan, sitting next to me for a film, "You know I come from Arpora and have to change three buses…you are so lucky living in Panaji!"