FAMILY MAN: With his loved ones — wife, children and grandchildren
The late Dr JC Almeida will be long remembered as the first Goan Chief Secretary of Goa, a man scrupulously honest, hardworking and with a far-seeing vision for Goa
By Tara Narayan
JOSE CONCEICAO ALMEIDA. Dr JC Almeida. Dear JC! Gone with the wind on Wednesday, December 29, 2017. Goa's first and funnily enough Goa's only Goan Chief Secretary to date, JC Almeida (JC as he was popularly called), is a man to remember. He is worth remembering for all the good he did. Considering how nowadays we only remember people for all the evil they did and do while in positions of power in government!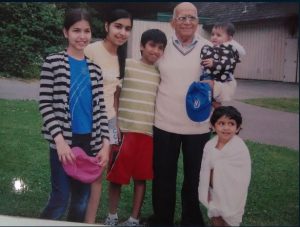 JC Almeida was in a class of his own. In Goa he was educated at the Lyceum located at Altinho, Panaji, but he subsequently got a doctorate in economics from the Coimbra University, he was one of the few senior officers of Portuguese Civil Service to be posted back to Goa at the time of Liberation in 1961 when 450 years of Portuguese colonial rule came to an end.
It was undoubtedly JC Almeida's love for his homeland Goa which brought him back from Lisbon where he could have reaped a golden future! After Goa formally became a Union Territory and military governors gave way to Indian Central administration, JC Almeida was one of the very few officers of the Portuguese Civil Administration Service who was quickly absorbed in the Indian Administrative Service and posted to Goa to facilitate the switchover. His knowledge of Portuguese helped Indian officers coming from the neighbouring states of Maharashtra and Karnataka to take up administrative posts in the Goa government's departments, as they knew little about the Portuguese administration in Goa.
One of the first things JC Almeida did upon his return from Lisbon to Panaji was to set the Directorate of Statistics in the new administration! With the formation of the Goa Legislative Assembly he had the distinction of being appointed the first Chief Secretary and he served both Goa's first chief minister Dayanand Bandodkar as also his daughter Shashikala Kakodkar who was Goa's second chief minister. At the time of switchover of administration remember everything was in Portuguese and the challenge lay in converting everything into English which was/is the language of the Indian Civil Service.
From the sound of it when it came to English it couldn't have been easy for Almeida and often he would drop in at the Herald offices to meet the then editor, Rajan Narayan, to sort out the finer nuances of some words in the English language.
One may say that the contribution of JC Almeida was incalculable. None of the "outsiders" from the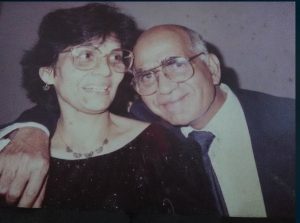 neighbouring states on administration duty in Goa knew the ground realities of Goa as he did. It is not surprising that he was principal advisor to Goa's first two chief ministers over several long years. He got along fine with the easygoing first chief minister of Goa, Dayanand Bandodkar, and possibly encouraged his desire to give underprivileged Goans a chance to shine, even as he took time off to watch cricket matches whenever he could!
Dr Almeida had the CM's ear on many important matters and Together with Dayanand Bandodkar he was responsible for the tenants/mundkar act which helped the hitherto discriminated classes of Goa reap the benefits of education and own the land they tilled in an age-old tradition equation  ending the domination of the upper castes.
Some say many disliked JC cordially for his honesty and refusal to play ball with the influential and wealthy classes of Goa! Dr Almeida continued to advice Goa's second chief minister Sashikala Kakodkar. Needless to say he quickly earned a reputation for being a civil servant who walked the straight and narrow path of being scrupulous and fair, he cracked the whip when he had to although a few black sheep borrowers didn't return loans granted from the State kitty even then! But when any wrongdoing came to JC's ears he didn't hesitate to take punishing decisions of recovery.
During Chief Minister Shashikala Kakodkar's time, Dr JC Almeida was very sympathetic towards the student community and many of today's activists like advocate Cleofat Coutinho, Dilip Prabhudesai, Shridar Kamat, Prashant Naik and others may remember his role in advising Shashikala Kakodkar to give in to the demand of the agitating students when they wanted a 50% concession in bus fare. This concession was granted but not after a prolonged agitation by the students.
It is widely known that Dr Almeida set a personal example when it came to honest administration and even after he retired, the then Chief Minister Pratapsingh Rane appointed him as the first chairperson of the Economic Development Corporation (EDC) which amongst other things offered loans to business entrepreneurs. Many companies were set up by the EDC itself including Goa Auto in collaboration with the Tatas and Goa Antibiotics. When Goa Antibiotics (GAPL) was sold by a concerned politician to an unscrupulous businessman, Dr Almeida learned of it ironically from the CEO of the company, GL Gidwani. He scrapped the crooked business deal and retained Gidwani as the managing director, who went on to turn the company around to make profits for the first time.
Until Goa became a state, it was a union territory under the control of the Lieutenant Governor Goa, which effectively meant the Central government. All officials of the Goa government or the Goa Civil Service as it was called were recruited on a national basis. Since the Portuguese had neglected education, and particularly education in English, there were no candidates from Goa who qualified for the jobs in the Goa Civil Service. Which is why till recently the top echelons of bureaucracy including the electricity department and water department were dominated from officers from Maharashtra and Karnataka.
When Goa became a state in 1987 and decided to set up its own body for recruiting officers to the Goa Civil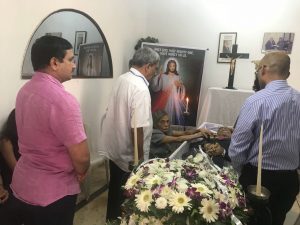 Service, Dr Almeida was appointed as the first chairperson. As he wanted to set an example that all recruitment would be on merit and done in a transparent basis, he even took on his own personal secretary on merit. He shared the marks with all participating candidates to convince them that the selection was entirely on merit!
Possibly, JC Almeida is the last of his generation of administrators who practiced such scrupulous honesty combined with the graciousness of the Portuguese aristocracy. Though he spent most of his working life in Panaji he came originally from Assolna which is part of the famous Assolna-Velim-Cuncolim which played a major role in the struggle for Goa's freedom. The AVC was dominated by the kshatriya community unlike other villages of south Goa. Dr Almeida's father was also a distinguished official in the Portuguese administration.
JC's wife, Dulce, is from Calangute and when they got married the marriage was amongst the first which brought north Goa closer to south Goa! This was not easy because those days there were no bridges and three ferries plied to take folk across the Mandovi river. The couple had six children (four girls and two boys). Comments Rajan Narayan, "It is quite probable that JC Almeida's extreme honesty made it a difficult job to bring up his children in any lavish way, for as far as I know he never sought any favours or showed his children any undue considerations. Almeida was always conscious that nobody should point a finger at him or blame him for any favouritism."
In fact, at one time "the politicians were so angry that their chosen candidates were not selected to the Goa Police Service and they decided that the lower categories of clerks and peons would be selected directly so that they could extend favours to their supporters!" Of course, by then Dr Almeida was almost on the verge of retirement and after retirement so perturbed he was in the manner in which Goa's administration was being compromised with in department after department, that he concentrated on writing his book 'Goa Administration and Economy Before and After 1962'.
It is a heavyweight book offering invaluable information and data to anyone interested in doing an analytic or comparative study of governance in Goa  in the years following Liberation and today! Daughter Orfelinda Dias says, "My father was worried about many things happening which he didn't like and often expressed his frustration…" Dr JC Almeida was 87 and although he suffered from stomach cancer he rarely showed it while doing his small evening walkabouts from his residence at La Campala Colony in Panaji, he would carry on engaging conversations with friends he bumped into accidentally, and when it came to matters of food he would kindly offer his wife's expertise, "You come home and consult Dulse!
All one may say in death is rest in peace dotor, you lived a life which was worth living and every bit worth remembering for the insight it offers into a Goa gone by and varnishing rapidly — there are few left like him to draw the line between what is in the long-term interests of Goa, and what is not.
AAP'S MEMORIAL MEET FOR DR JC ALMEIDA
AMONGST those who remembered the qualities of head and heart of the late Dr JC Almeida were leaders and  volunteers of the Aam Aadmi Party who paid rich tributes to him at a meeting held on Dec 1, 2017, in Panaji. Reportedly, the late Dr JC Almeida took a keen interest in the political dilemmas of newcomers AAP and took to mentoring it when occasion demanded.
Speaking on the occasion AAP convenor Elvis Gomes praised the administrative skills and keen grasp of issues which Dr Almeida had, he also chided the State administration for failing to designate a State representative at Dr Almeida's funeral. Others who spoke included Valmiki Naik, who recalled how Dr Almeida, even in retirement, never stopped working for the welfare of Goa. He noted Dr Almeida's brilliance when it came to simplifying and analyzing the State budget when it was released every year — everyone he knew would look for Dr Almeida's articles to understand the budget which even many politicians don't understand! Dr Almeida had a knack for dissecting the budget and presenting it for what it was without the government jargon. He made the budget so comprehensible for the common man to understand.
A former Panaji corporator also spoke warmly of Goa's distinguished first Chief Secretary and how it would be difficult to find another such as him. She said she remembered him as a man who could sense and speak out against any wrongdoing or injustice or anti-Goa move of the ruling establishment and didn't mince his words. It's a quality hard to find nowadays when everybody is afraid to speak their mind.
Other AAP supporters vowed to emulate Dr JC Almeida's life and to keep his memory alive to the best of their ability. After all, he was one of their mentors.