YUMMY WONDERS: In a perfect pasteis da nata, the creamy custard filling is a wonderful contrast to the flaky pastry cocooning it!
By Tara Narayan
Eating is Fun / Eating is Yuck! – A variety food column
DURING my years in Goa I've taken a shine to some things Portuguese in the foodie area like bacalhau croquettes (as made in the kitchens of my friend Anastasia Mendes of Leonoras once upon a time!), then bol sans rival (the cake without rivals which only Margarida of Nostalgia down south Goa makes for me come the hubby's birthday every July 4)…and of course it's hard to find a good caldo verde (delicate green soup but the original features kale and sausage chunks), then one may not find fish caldin in too many of Goa's xitt-kodi places no matter how upmarket…this Christmas in a corner of mind I've been thinking of a bit of golden confectionary — looks like a great golden drop of buttery sunshine!
Ever heard of pasteis da nata? I recently dropped by at Cluck Tales in Panaji to pick up a bread pudding, but failing to find one I decided to taste one of the pasteis da nata which had arrived freshly… I'd seen them before but never go around to finding out what they are all about. But this first time for me I got seduced by pasteis da nata! This baked egg custard tart is an exquisite creamy sweet something and soon I was lost in its flavours. What is it? A baked custard tart is too boring, it's more than that. Take a bite and it's like a mildly sweet moment melting crunchily in one's mouth! The perfect pastel da nata (pasteis da nata is in the plural, original Portuguese) is hard to find for the puff pastry has to be flaky and the custard velvety smooth.
Chef Vasquito Alvares who was around here and who's taking care of Cluck Tales tells me I may find a hint of orange or lemon zest in the pasteis da nata they do and yes, their bakery is the only one making this pièce de résistance pastry of Portuguese origin in Panaji. Griselda Monte Da Silva chatting with him, said she was from Margao and had recently started a niche confectionary enterprise called Our White Door with her hubby Fernando, "we make sort of pasteis da nata" (Rs 360 dozen) on order, they also do "queijadas" which are baked tarts featuring caju and ricotta cheese (a speciality of Sintra in Portugal)…somebody else who makes divine pasteis da nata, she tells me, is Goncalo who's got a bakery outlet called Nata da Goa out in Anjuna.
But to stay with pasteis da nata, Vasquito tells me they've got quite a culinary history and I should look it up. So I googled and found our these curiously interesting facts about the much loved in Portugal and Goa pasteis da nata…it seems in convents in those days nuns used to use up a lot of egg whites starching their habits! So what to do with all the left over golden yellow egg yolks?
The story goes that it was a monk at the 18th century Catholic Jeronimos Monastery in the parish of Santa Maria de Belem in Lisbon who first created pasteis da nata or "pasteis de Belem" as they are also called more famously in Europe. "Nata" translates to the naturally sweet creamy silken milk cream which was originally used to make the custard for the pasteis da nata. It seems the monk who invented them was originally in France where he must have picked up the knack of making fine pastry (of a million or mieulle fieulle buttery folds!).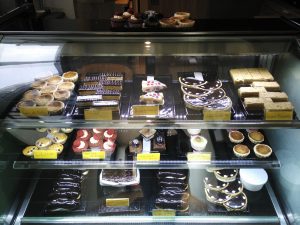 There's more to the story. The Bellem monks fell into hard times post-Liberal Revolution of 1820 and started selling their pasteis near a sugar refinery factory to earn some money, and eventually sold the recipe to the factory owners — who went on to establish Fabrica de Pasteis de Belem in Santa Maria de Belem in Lisbon (look it up if you're ever in Lisbon). The Guardian newspaper once rated pasteis da Belem/pasteis da nata as the fifteenth most tasty delicacy in the world!
I SUPPOSE it's the finesse of the fine French crunchy pastry combining with the fresh custard cream in a baked tart which makes for an irresistible marriage to live for! Anyway, this is also to say that pasteis da nata became so popular that they followed the Portuguese wherever they went… YUMMYout to all their colonies, including Goa. You may also find them in Hong Kong, Paris, Brazil, Britain, various Asian countries, Portugal of course. Interestingly "nata" in Polish means hope…so how about pasteis da nata being "pastries of hope"? I rather like the sound of that.
Hey, do you think we reach out for something sweet to pop in the mouth in perennial, mysterious hope… of something happening, whatever? Wishful thinking! Okay, this Christmas I'm going to order a dozen pasteis da nata for the folk around me at home and office. Let them too taste the joy of Christianity in these unusually creative lovely pale sunshine-touched pastries of Portugal!