AT THE COMMUNITY HALL, TALEIGAO: As usual we arrived too early when the evening still had to warm up!
Eating is Fun / Eating is Yuck! – A variety food column
By Tara Narayan
DON'T know about you but I have had one celebration too many and I don't want to see another one till next year! In any case I think we're a nation perpetually in celebration; come new year's eve and it was the same old sorry scene with me saying I don't want to go anywhere, I want to stay at home and enjoy the super moon and go to sleep after eating my favourite mushroom sandwich…I have nothing to celebrate blah, blah; and what's there to celebrate!
But my friend and hubby said whether I go or not he is going out for new year's eve and so I quietly accompanied him to what a Catholic friend of ours says  "is the oldest and friendliest New Year Eve's Ball" in town – the Clube Nacional (in collaboration with Clube Vasco Da Gama) New Year Eve's Ball organized at the Community Hall in Taleigao this year on Dec 31, 2017.
It was a tightly packed affair even if most of Panaji's Catholic revelers first went out to dine on Chinese delicacies at Goenchin before sauntering into the new year's do from 10 pm onwards as the clock ticked away to the witching hour on the dance floor. It's really what is called a paklo do, the friend enlightened me that the term paklo just refers to Catholic white-skinned folk of colonial times…amusing how words outlive their time!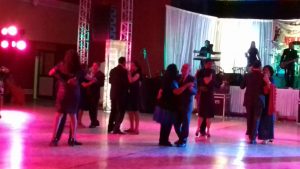 The plastic tables and chairs are dressed in silky white covers and most everyone comes formally dressed preferably in black cocktail outfits and the men in suite-boot-tie. The pecking, hugs and new year wishes exchanged, everybody settles down at their numbered tables, some bringing out their own premium liquor bottles and order for glasses, water, soda…and the evening starts warming up. The dancing gets under way in sets and master of ceremonies keeps urging everyone to come and make some wonderful memories on the dance floor!
The band's acoustics were not too good but the dancing as always is a delight and blue, pink, white, lavender colourful laser beams washed the dance floor…order your own snacks if you've too early and are hungry (like we were!), Cluck Tales was catering…bacon rissois, sausage pies, tuna fritters, spring rolls chicken/vegetables, chicken tenders, cheese fritters, mini chicken/beef burgers, sausage bread, poutine, chicken cafreal poi…as usual not too many temptations for veggies like us!
What's poutine…the friend enlightened, "some Canadian dish of French fries, cheese and topped with gravy." I can't stand soft drinks and even water was on sale at `50…as soon as the clock struck midnight we wished around and promptly left. Ohhh…brrr…it was cold and the super moon in the sky could have frozen me into a statue if I stopped to admire and moon moon with it about times past and present.
The smart phone was tweeting away with new year messages but I was happy to get home and snuggle into my fat comfy razai in search of sleep. Happy new year and may you have a jillion reasons to smile in 2018…I'm not smiling yet. Being a messed up foodie the next day while prowling around town I discovered these Tirupathi laddu tempting me at the counters of Big Mishra Pedha and nostalgically bought a quarter kilo (`130, about `520 kg) to sweeten myself up. How do they compare to the original Tirupathi laddu? Only somewhat in reminiscence and edible but the wee temple aroma of camphor in them was missing! Okay, neither to live for or pray for. I drop by at Big Mishra Pedha's occasionally for a pani puri..the pani is icy cold and cools the cockles of my warm heart!
ON and off my Gujarati taste buds wake up and when they clamour for something Guju when I'm in the vicinity of the G Mall in Panaji, I drop by at Vijaybhai's Navrang for the most decent frugal Guju thali in town. Say about five hot ghee-smeared phulka, two shaak, tuver ni dal (flecked with grated coconut, caju bits, leafy green coriander), kathor of chana/mung, drop of pickle, roasted papad, little katori of dahi…plastic glass of chaas (buttermilk, it's the best in town, not salty with salt and if you ask for some toasted jeera or cumin seed powder to stir in the maushi here will oblige, but you have to ask to get), then if I'm still hungry I ask for half katori of bhat (fragant rice).
The limited Navrang Gujarati veg thali is too limited so one invariably asks for more of this, that or other, and so it becomes an unlimited thali (from `150 to `190) by the time one's done. I usually return the gulab jamun piously. Navrang has been around for half-a-dozen years or so, say a hole-in-the-wall place really, loved mostly by visiting Guju tourists who place gargantuan orders before landing up at 3 pm after the sight-seeing and shopping in Panaji is over.
I always like to catch up with Vijaybhai here who has many inspirational stories to tell. He says he continues to survive through the skin of his teeth, "I can't find labour, it's a constant problem…I do the cooking myself to maintain the quality of my food, and that is why folk like you turn up for my tuver ni dal!" He doesn't believe in comprising and although it's tough for him and wife Jayshree, they will continue their thali meals as long as they can, "We pray to Lord Krishna…if you've noticed at least a dozen odd similar places like ours have closed down recently, for small businessmen it's become hard to stay alive."
I dare say he does better retailing his packets of Navrang thepla with green chili pickle enclosed…you may see them at local stores like Magsons in Panaji. Savory thepla are popular in most Guju homes for evening meals and if they come with a scattering of fresh green fenugreek or methi leaves in them, the better the nourishment (they're shallow fried though).
WHICH reminds me to note here that Vijaybhai takes orders for Guju foodie item numbers including the much loved winter time oondhiyu! In Mumbai they must be feasting on oondhiyu currently because field beans or "valor papdi" (both the stylish thin green crescents and  whitish fatso beany pods) are in season in the al fresco markets of suburban Mumbai. So are the accompanying veggies of yellow/purple yam (ratalu), baby eggplants, flavourful kacha pakka banana, new baby potatoes (just wash, don't scrape off thin skins), and green spring garlic and onion, thick-stemmed green coriander, fresh heady mint, etc.
There is oondhiyu and oondhiyu and at best it can be an ajwain-sesame seed flecked and groundnut oil fragrant affair to relish slowly….at worst it can be an oily, spicy, sweetish mélange to be mopped gluttonously with hot puri/phulka or enjoyed with rice/khichdi. If it's a really good oondhiyu I want to sit down quietly somewhere and eat it by the bowl full…the veggies nice and chunky… laced with fresh home curd!  
Of course, I wish I were in Mumbai to rejoice in Guju oondhiyu. But this is to say the genial Vijaybhai at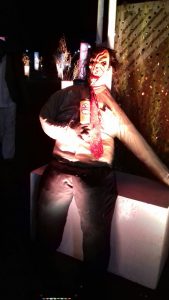 Navrang takes orders for it at `400 kg and many Panaji Gujarati families I know order it for a Sunday meal. Someone had come in to place an order for oondhiyu while I was there last week and I got to taste some of it in my usual limited thali order…in fact, he made me taste it, saying, "It may not be like Mumbai oondhiyu but I try to do a good match with whatever winter veggies I can find in the Panaji market…"
Okay, I'll give Vijaybhai's oondhiyu six out of 10 marks! My friend Saroj Bhatt out in Vile Parle (East) in Mumbai makes a mean combo styled baked/steamed oondhiyu and it's memorably scrumptious… (sigh)… all I can do is remember her and phone her, to which she'll say, "Mumbai avtireh, tarra mate nava style nu oondhiyu banao!"  (Come to Mumbai and I'll make you oondhiyu you will like!) Home-made oondhiyu with a few pinches of health-consciousness can make life worth living.
This reminds me it's time to make the same old familiar resolutions of the foodie kind here…don't say I haven't come too far yet with them! Hey, by and large I'm no longer a sweets person; fryums are also out and when did I last even sip from a bottle drink…I try to buy food only in glass and not plastics (very hard to do) and when I buy home from restaurants I take my own tiffin dabba, I'm almost done with plastic bags and containers and soon…soon…I'll be there a hundred percent.
Hey, let's all be more and more eco-friendly in 2018 and become a zero-garbage free smart city Panaji! If we clean up our part of it, the government powers-that-be too will clean up their part of it. My vote is for urban agriculture, rural agriculture, organic agriculture…the best culture to imbibe to keep the good earth alive and kicking!
Funny, this year I've been seeing quite a few old year personified old men dummies to be lit into bonfires to usher in the new year…there was one very realistic one propped up at the threshold of the Clube Nacional's New Year's Eve Ball 2018 but I didn't wait to see it burn…some folk, I'm told, were dancing past midnight, after which most went off for early mass in church, breakfast at Café Bhonsale ("a paklo favourite") and then home to sleep the first day of the new year away. Once again may you find a jillion reasons to smile through 2018, my friends!