One channel decided to recreate the scene of her death, placing their reporter beside the bathtub plastered with 'Maut Ka Bathtub'
HE invasion of Iraq brought us the horror of embedded journalism, in which pliant hacks were scooped up by the American war machine and made to report exclusively from within the belly of the beast. It produced journalism that was like a deodorised, low-sodium, alcohol-free version of Nicholas Tomalin's 1966 New Journalism classic from Vietnam, The General goes Zapping Charlie Cong.
Now, another tragedy elsewhere in the Middle East has given rise to immersive journalism far away in India. The untimely death of Sridevi in Dubai has newsreaders hovering around bathtubs and investigative reporters diving in like performing seals.
Local television channels have covered the 54-year-old actress' death relentlessly since she passed away unexpectedly Saturday night in Dubai while attending a family wedding.
Much of the criticism has focused on their use of elaborate onscreen graphics and recreations of the hotel room where she died as a means of speculating on the actress' final moments.
Despite the police ruling out any suggestion of foul play, the appetite for information regarding her death has intensified, leading some channels to begin promoting alternative conspiracy theories online with the hashtag #SrideviDeathMystery.
One local news station, not intent on using a mock-up, placed a reporter inside a bathtub during a live segment sparking outrage online.
Many in India have taken to social media to protest the coverage, labeling it "ghoulish."
On Tuesday, the hashtag #LetHerRestinPeace began to trend in India in response to the incessant media speculation.
Many of those registering their protest were fellow actors and directors in the film industry.
A forensic report found that the 54-year-old actress died Saturday from "accidental drowning following loss of consciousness"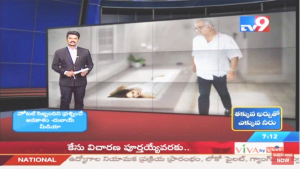 in the bathtub in her hotel room in Dubai, United Arab Emirates.
The story — the real story — is that a superstar loved by millions has died unexpectedly. At present, that is all. Whether it happened under botox, or under the influence, or under the confluence of constellations, or none of the above, is speculation.
The question of causality is addressed by forensic specialists, not by TV journalists trying their hand at amateur sleuthing. This is an electronic version of the 19th century freakshow, where digital wine-glasses are being stood on the rims of digital bathtubs, and real journalists are being made to slide into real bathtubs, while the dead actor's height is being measured up against the length of products in sanitaryware catalogues. This is mumbo-jumbo journalism, a ratings game in which Mumbo is trying to pull ahead of Jumbo.
This sport is generating media effluent in toxic volumes and the viewer is drowning under the information overload. We are being forcibly immersed in the story, embedded in the non-story.
For now, all we know is that the bathtub did it. And that immersive journalism has gone down the tubes.
Courtesy: Indian Express, CNN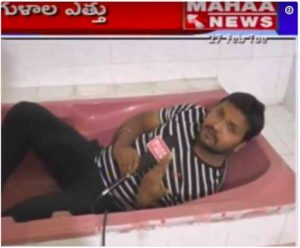 In this electronic version of the 19th century freakshow, digital wine-glasses are being stood on the rims of digital bathtubs, and real journalists are being made to slide into real bathtubs, while the dead actor's height is being measured up against the length of products in sanitaryware catalogues