IF YOU'RE fitness-conscious and eco-conscious you may want one of these E-bicycles! Call them E-bicycles or eco-friendly bicycles, they look lightweight, almost a dream come true…an expensive dream though for they're not selling for a song exactly. They are priced between `28,000 to `35,000.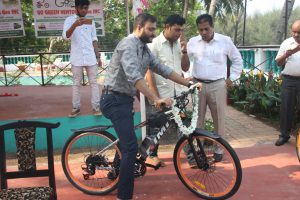 The E-bicycles are being launched in Goa by Go Green Ventures. The bicycles are all the rage abroad with citizens conscious of bringing down today's carbon footprint and one may see them in the big metros of India too. According to Prakash Upadhyay of Go Green Ventures "There are something like a hundred designs to suit everyone's needs but we are only dealing with a few models for the time being…the bicycles are being manufactured by a company in Navi Mumbai and we're assembling them in Margao."
Three versions of the E-bicycle were on  display and demonstration at the Swimsea Beach Resort down Miramar beach last Sunday morning, March 4, 2018, and advocate general Dattaprasad Lawande did the inaugural honors. He didn't have any problems getting astride one of the bicycles and doing a few rounds of the resort's lawn grounds!
The highlight of these come-lately to Goa bicycles is that they work both as ordinary pedal-pushing bicycles as also as electrically-charged bicycles – as in go bicycling to school as usual but return home "bike" or scooter-style! A gadget on the E-bicycle makes this switchover. The E-bicycles are eight-geared and can run 20 km on a single charge.
To quote Mr Lawande, the bicycles are "wonderfully versatile and once the solar-charged models come into the market they will be even better. I have seen them in Germany where there are charging points for them in public roads…I may buy one for myself or carry a model in my car while going on holidays!" Yes, some models are foldable and very portable.
Mr Upadhya added that E-bicycles are already hitting the roads in Delhi, Bangalore, Mumbai and Goa will soon catch up. Indeed, if everyone switched over to an E-bicycle and chucked the scooter or motorbike, it will make a sea change of difference for the better on our roads. Well, bring down the prices to be aam aadmi-friendly! Somebody present at the launch grumbled that the bicycle seats were too narrow and hard, and the bicycles not too women-friendly – but was assured that everything is apparently adjustable and bicycles may be custom-designed too.
TURTLE BABIES COMING UP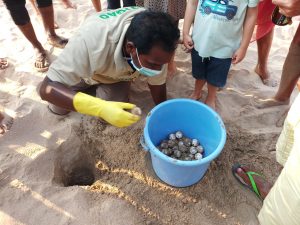 IN news that will make nature lovers smile, earlier this week Drishti Lifeguard Nilesh Velip spotted an Olive Ridley turtle who had laid eggs on the Agonda Beach. He alerted the Forest Department who rushed to the spot and collected a total of 122 eggs. Lifeguard Nilesh ensured that the turtle was not disturbed during the process. All 122 eggs were safely taken out from the pit and transported by the forest department to a safe area. Post the nesting period, after the baby turtles have been hatched, they will be released into the sea.
#TERAMERABEACH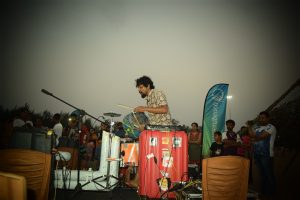 THE #TeraMeraBeach campaign celebrated 100 days with tourists and visitors drumming to the rhythmic beats of Djembes at the Miramar beach, followed by the adorning of the art installation at the beach with various items of waste collected during the clean-up drive.
The evening ended with a performance by Montry Manuel of Thaalavattam who produced splendid beats with instruments made out of waste, plastic and metal.