STRUCK DOWN: The Delhi HC struck down the order of the Election Commission disqualifying the AAP parliamentary secretaries on the ground that it was a violation of the principles of natural justice
BY RAJAN NARAYAN
The High Court verdict setting aside the disqualification of the parliamentary secretaries by the Election Commission, which was endorsed by the President, is the major victory of justice over lies
Ever since Narendra Modi became the prime minister of India, and Amit Shah became the president of the BJP, they have subverted every autonomous democratic institution, including the Election Commission (EC) and the judiciary. In the case of the EC they planted a Gujarati IAS officer close to Modi as the Chief Election Commissioner (CEC). Similarly in the case of the Supreme Court there are allegations that the chief justice of the country is the choice of the BJP. It may be recalled that the four senior-most judges of the Supreme Court accused the Chief Justice of lack of transparency in allotting cases and being reluctant to order an independent inquiry into the death of Justice Loya — the judge hearing the false encounter case in which BJP party president Amit Shah was implicated. The BJP now also has its own candidate as the President of the country.
WIN FOR AAP
The judgement of the Delhi High Court setting aside the order of the EC disqualifying 20 parliamentary secretaries appointed by Delhi Chief Minister Arvind Kejriwal is a slap in the face of the BJP. The Delhi High Court has exposed the EC for dancing to the tunes of the BJP in disqualifying the 20 Delhi MLAs without following due process. The MLAs were not even given a personal hearing. The ostensible reason for disqualifying the AAP MLAs was that the post of parliamentary secretary was an office of profit.
According to the EC no member of the Legislative Assembly can hold an office of profit in the government. Even the former Congress president Sonia Gandhi was targeted by the EC for being the chairperson of the Nehru Memorial Library and Research Centre, which was deemed to be an office of profit. But even before she could be disqualified, Sonia resigned, re-contested, and won the elections again.
NOT OFFICE OF PROFIT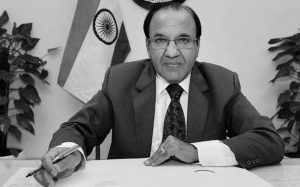 The Legislative Assembly of Delhi, which is controlled by AAP, had passed a resolution retrospectively claiming that the parliamentary secretaries post was not an office of profit as the MLAs were not drawing any salaries or per ks. It was bad enough that the EC, on the last day in office of Jati, the Chief Election Commissioner hand-picked by Narendra Modi, disqualified the 20 AAP MLAs, but even worse the President was very quick in endorsing the disqualification by the EC.
The Delhi High Court in its judgement overturned the decision of the EC in disqualifying the 20 MLAs of the AAP who had been appointed as parliamentary secretaries. The Delhi High Court passed severe strictures against the EC. In its judgement the High Court pointed out that the EC violated the principles of natural justice which required that the MLAs should have been given a personal hearing. Which also required the EC should have cited evidence that the post of parliamentary secretary of Delhi Government was an office of profit. That the 20 MLAs who had been appointed parliamentary secretaries were drawing salaries and allowances from the Delhi Government.
PRESIDENT UNFAIR TOO
More importantly the judgement of the Delhi High Court is a slap in the face of the President of India. There have very rare instances of even the Supreme Court, leave alone the High Court, striking down a decision by the President of India. By restoring the post of parliamentary secretary of the 20 MLAs the High Court implied that the President has also not acted in a fair manner. Irrespective of which party a candidate for the President's post had belonged, on his election to the post he should be the guardian of the Constitution. He should be above petty political considerations. By and large, the Presidents of India, with the exception perhaps of Fakruddin Ali Ahmed and Ziyal Singh, have maintained the dignity of the office of the President. Ahmed was guilty of colluding with Indira Gandhi in suspending the Constitution and declaring an emergency. Ziyal Singh on his part came close to dismissing the same Indira Gandhi for Operation Blue Star during which the army entered the Golden Temple to liberate it from militants, in the process causing considerable damage to it. As a mark of penance the President went to the Golden temple and wiped the shoes of pilgrims visiting the temple. The Delhi High Court judgement in the Parliamentary Secretary case is as much as indictment of the EC as of the highest office in the country — that of the President of India.
MEDIA SILENCE
What is most disturbing, particularly in the context of the Facebook election-fixing scam, is the fact that the ruling party has subverted the media also in the country. The Delhi newspapers and TV channels in particular choose to highlight news favourable to the ruling party and underplay or omit any news that may be against them.
By any yardstick the High Court judgement on the parliamentary secretaries should have been the lead item in all newspapers and media channels which believe in objectivity. Not surprisingly, on the day after the Delhi High Court delivered the judgement, all newspapers, except the Indian Express, chose to highlight the BJP winning more seats in the Rajya Sabha than other parties. Even Goan papers, following the examples of their Delhi counterparts, highlighted not even local news developments, but the BJP victory in the Rajya Sabha.
MANIPULATION
It is alleged that among the customers of Cambridge Analytica, a British political consulting firm which is alleged to have 'fixed' the victory of Trump in the US, and the Brexit vote in the UK, were the BJP, the Congress, and the JD(U). There have been charges that the Cambridge firm had been approached by both the Congress and the BJP for 'fixing', or to use the favourite Goan phrase 'setting' the parliamentary elections due either the end of the year or early next year.
What this means is that all the trouble you take to go to the polling booth and cast your vote, and whom you vote for, often depends not on the truth but on fake news on social media. On the eve of the presidential elections in the State and the parliamentary elections in 2014 there were literally millions of posts praising Modi and saying nasty things about Rahul Gandhi and the Congress.
The frightening part is that it is not even human beings who are doing the fixing. All that is needed is to create a programme which will then be operated by bots. It is the bots which generate the millions and billions of nasty Facebook posts. The technical expression for personal attacks on individuals or a party is trolling.
DEMOCRACY AT STAKE
The future of democracy is at stake because of the lack of control over social media. At least in the case of newspapers and TV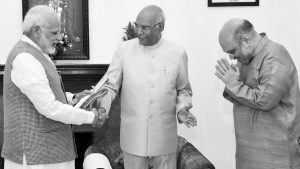 channels there are some regulatory mechanisms. Whatever appears in a newspaper or the TV channels is checked by human beings. It is another matter that the human beings may be biased. That most of the major newspapers and TV stations have either been taken by Modis friends or have been forced to chant jai Shah.
Some of the best journalists of the country, whether print or TV, are out of a job because the organisations which they work for have been bought by industrialists close to Modi.
This is true of newspapers like the Times of India and the Hindustan Times and TV channels NDTV and CNN 18. The owner of the Zee Group, Subhash Chandra has always been a chaddiwala devoted to the RSS.
Which is why it is important that the small pockets of resistance offered by digital media like the Wire, or small newspapers like Goan Observer, should be protected.