CONFESSION: Mark Zuckerberg, the founder and largest share holder in Facebook, has admitted that data may have been misused for rigging elections and has promised to tighten security. On Sunday, March 25, the company released a full-page print advertisement in newspapers in the UK and America in an attempt to regain public trust. In the ad, Zuckerberg called the Cambridge Analytica leak a "breach of trust" and apologized, reassuring readers that "we're now taking steps to ensure this doesn't happen again," but so far it seems to have missed the mark. According to a poll from SurveyMonkey and Axios published on Monday, Facebook's already-low favorability rating has dropped twice as much as that of other tech giants from October 2017 to March 2018
Compiled By GO Staff
The Cambridge Analytica scam has exposed how the data of over 50 million Facebook users was misused to influence the US elections and the UK vote to quit the European Economic Community
Cambridge Analytica first got attention in the run up to the US Presidential election. It claimed to possess detailed profiles on 230 million American voters based on up to 5,000 data points, everything from where you live to whether you own a car, your shopping habits and voting record, the medications you take, your religious affiliation, and the TV shows you watch.
This data is available to anyone with deep pockets. But Cambridge professed to bring a unique approach to the microtargeting techniques that have become de rigueur in politics. It promised to couple consumer information with psychological data, harvested from social-media platforms and its own in-house survey research, to group voters by personality type, pegging them as agreeable or neurotic, confrontational or conciliatory, leaders or followers. It would then target these groups with specially tailored images and messages, delivered via Facebook ads, glossy mailers, or in-person interactions. The company's CEO, a polo-playing Eton graduate named Alexander Nix, called it "our secret sauce."
Cambridge Analytica allegedly used its "psychographic" tools to make targeted online ad buys for the Brexit "Leave" campaign, the 2016 presidential campaign of Ted Cruz, and the 2016 Trump campaign. If any British Cambridge Analytica employees without a green card worked on those two U.S. campaigns, they did so in violation of federal law.
But authorities are now investigating bigger violations.
ORIGIN
In 1992, Nigel Oakes, a former Monte Carlo TV producer and ad man for Saatchi & Saatchi, was running the Behavioural Dynamics Institute, a "research facility for understanding group behaviour" and for harnessing the power of psychology to craft messages that change hearts and minds. In reality, Oakes' institute was a stalking horse for the company he would launch the year after the interview — Strategic Communication Laboratories, the public affairs company that would later spawn Cambridge Analytica.
It began small, applying its behavioral-science-minded approach to public influence campaigns in the United Kingdom, including one that, it boasts, rescued Lloyd's of London by convincing Britons to invest another $1.5 billion in the ailing insurance market.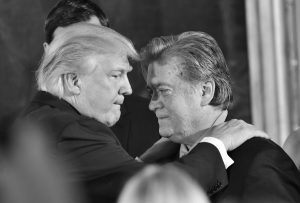 But SCL soon branched into politics. Oakes says he advised Nelson Mandela's African National Congress on how to prevent violence during the 1994 elections, as well as politicians in Asia, South America, and Europe.
In 2005, SCL expanded into military and defense, pitching the use of "psychological operations" and "soft power" in the war on terror. The firm began picking up major clients, including the Pentagon and the UK Ministry of Defense, advising them on which Afghan leaders to target with counterinsurgency messages or how to dissuade teenage boys from joining Al Qaeda.
The company had meanwhile hired Nix, a former financial analyst, to grow its nondefense business. Former colleagues say he was just the man for the job. "Nix the salesman is an artist, to be honest," one told me. Another referred to him as a "chancer," the British term for a consummate opportunist.
Nix had an eye on the United States, where the courts were stripping away restrictions on political spending and empowering a new class of individual megadonors. He traveled there in 2010 to get the lay of the land but came away discouraged. Political consultants picked sides in America, he learned. A British outfit that worked with both left- and right-of-center clients might struggle to break into the market.
Then, on Election Day in November 2012, Republican presidential candidate Mitt Romney watched as his campaign's voter-turnout app, code-named Project Orca, crashed. It was humiliating but indicative of a larger dynamic: Democrats, powered by President Barack Obama's 2008 and 2012 runs, had gained a huge advantage over their Republican counterparts in the realms of data and technology. The GOP's 2012 postmortem report called for a cultural shift inside the party to embrace new tools and methodologies to win.
Nix saw his opening. SCL had recently rebranded itself as an expert in data analytics, the sifting and distilling of vast amounts of information from different sources into actionable outcomes. That skill set, combined with SCL's previous work in microtargeting and psy-ops, made it an ideal candidate to find an audience in the world of Republican politics. "The Republicans had been left behind," Nix later said. "By the time Romney lost in 2012, there was a vacuum. And so that was the commercial opportunity."
Nix was soon introduced to Chris Wylie, then a twentysomething Canadian technologist. Wylie had worked under Obama's director of targeting and consulted for Canada's Liberal Party. Nix hired him and put him to work building a company that could attract clients in the hypercompetitive US political market. Wylie, for his part, had an idea about how his new employer, SCL, might gain an edge.
THE FACEBOOK EDGE
In 2007, David Stillwell, then a PhD student in psychology, stumbled onto a digital gold mine. He'd always wondered about his personality and how he would score in the five-factor model, a personality test that measures openness, conscientiousness, extroversion, agreeableness, and neuroticism. Known as Ocean, this model is widely used by psychologists. But one challenge they encountered when applying it to different areas—marketing, relationships, politics—was gathering sufficient data. People naturally hesitate to give personal information about their fears, desires, and motivations.
Stillwell knew a little code, so he pulled certain Big Five questionnaires off the internet, stuck them in a quiz format, and uploaded an app to Facebook called myPersonality. It quickly went viral. Millions of people took the quiz, and with their permission, Stillwell went on to accumulate data on personality traits and Facebook habits for 4 million of them.
Using this data, Stillwell, now working at the University of Cambridge's Psychometrics Centre, and two other researchers published a paper in 2013 in which they showed how you could predict an individual's skin color or sexuality based on her Facebook "likes." They found a correlation between high intelligence and likes of "thunderstorms," "The Colbert Report," and "curly fries," while users who liked the Hello Kitty brand tended to be high on openness and lower on conscientiousness, agreeableness, and emotional stability.
Stillwell told me that as an afterthought, he and his co-authors threw in some language at the end about the commercial possibilities of their findings. The paper attracted the attention of companies looking to leverage Facebook and other social-media data for their own purposes. One person who took a keen interest was SCL's Chris Wylie.
According to emails obtained by Mother Jones, Wylie approached Stillwell and a colleague via a fellow faculty member, a young Russian American professor named Aleksandr Kogan, hoping to cut a deal in which the firm would get access to Stillwell's data.
Stillwell hadn't heard of SCL. But he agreed to a meeting. When dates were circulated between the Cambridge academics and the SCL representatives, the title wasn't subtle: "Panopticon meeting." (Panopticon refers to a prison or building constructed so that all parts of it are visible by a single watchman but the surveilled can't see who's viewing them.) In the end, Stillwell decided not to partner with SCL.
Undeterred, SCL instead hired Kogan, who went on to create his own Facebook app, "thisisyourdigitallife." As detailed in a class-action suit against Facebook and Cambridge Analytica, the app — which purported to be for academic research — not only collected personality data on the 270,000 people who took the quiz but also let Kogan vacuum up Facebook user data on all their friends. The Washington Post reported in late March that Facebook separately provided Kogan with data on 57 billion friendships as part of his work with two of the company's data scientists between 2013 and 2015. Around the same time he was mining Facebook data, Kogan also forged a relationship with Saint Petersburg University, which hired him as an associate professor and provided him with research funding. He denies this research had any connection to his work for SCL.
According to Wylie, Kogan acquired more than 50 million profiles. He says Kogan then passed that data to SCL—in apparent violation of Facebook's terms of use—in order to build its psychographic profiling methods. "Everyone knew we were wading into a gray area," Wylie later said. "It was an instance of if you don't ask questions, you won't get an answer you don't like."
Kogan denies any wrongdoing, saying: "My view is that I'm being basically used as a scapegoat.")
Nix now had his calling card. SCL would break into the $10 billion American political market by pitching itself as a "cutting-edge" consultancy using "behavioural microtargeting"— that is, influencing voters based not on their demographics but on their personalities — and sophisticated data modeling to win elections. His timing couldn't have been better.
FATE STEPS IN
A chance meeting between a Republican political consultant named Mark Block, and a subcontractor of Alexander Nix led to Nix getting a chance to pitch to the Mercers, who were quickly becoming the biggest donors in Republican politics.
In a meeting aboard the Sea Owl, the Mercer family's 203-foot superyacht, Nix took a seat next to hedge fund billionaire Robert Mercer, opened his Mac, and launched into his spiel. Rebekah Mercer, Bekah, as she's known to friends, sat next to her father on the couch. Behind them stood Steve Bannon, the investment banker turned Hollywood producer and conservative activist who took over Breitbart News after the death of Andrew Breitbart.
Whatever Nix told the Mercers that day in 2013, it worked. : They agreed to invest a reported $15 million in a new company that would be the face of SCL's American political work.
Bannon was given a seat on the board and a stake in the new company to help, as Nix later said, the firm navigate the US political scene. Nix installed himself in Mercerworld, presenting himself as Bekah Mercer's political guru and taking meetings at the Breitbart Embassy, the Capitol Hill row house that served as the conservative website's offices and Bannon's crash pad. The company was incorporated in Delaware on December 31, 2013. The name was a mix of old and new: Cambridge Analytica. Rebekah Mercer, a Republican donor and a co-owner of Breitbart News, sits on the board of Cambridge Analytica.
SHODDY PERFORMANCE
But if the Mercers had paid closer attention to a test run of Nix's venture in the 2013 Virginia governor's race, they might have reconsidered going into business with SCL.
A PAC, the Middle Resolution, had paid Nix's company several hundred thousand dollars that year for a list of persuadable voters to help elect Republican Ken Cuccinelli, who was running for governor. Months passed, and the list never arrived. When the group's founder, Bob Bailie, demanded the list, Nix asked for more money and Bailie cut bait.
Another Virginia-based group, Americans for Limited Government, then paid SCL $100,000 to create a list of suburban female voters who traditionally supported Democrats but might be swayed to vote for Cuccinelli if shown the right message. Late in the race, the group's canvassers took Nix's list into the field and returned with a perplexing result: The people on it were already Cuccinelli supporters. The higher-ups at Americans for Limited Government asked another firm to analyze the list. It turned out SCL had handed them a roster of die-hard Republicans.
GROWING INFLUENCE
Despite these early missteps, Cambridge Analytica quickly signed on a host of new clients thanks to the Mercers, who leveraged their position as megadonors to effectively strong-arm politicians into using their new firm.
After Carson and Cruz dropped out and Trump all but clinched the nomination, the Mercers quickly shifted their alliance to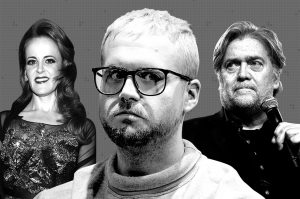 Trump, and his campaign hired their data firm over Trump's campaign chairman Paul Manafort's objections. Eventually, Bannon replaced Paul Manafort as campaign chairman.
The Cruz campaign was still in the process of unwinding when Cambridge, following the lead of its investors, the Mercers, offered its services to the Trump campaign. Cambridge had previously reached out to Trump's team, but his advisers didn't want to hire the firm if it was also working for his rivals. Now, this was no longer an issue. Nix sent three employees to Texas to meet with Brad Parscale, Trump's head of digital operations, who had no political experience and had gotten to know the Trump family while building websites for their company. (Parscale was recently named Trump's 2020 campaign manager.)
As Nix courted the Trump campaign, he came up with an idea to boost the GOP nominee-in-waiting—one that was more in line with the political dirty tricks he and his colleagues would later discuss with Channel 4's undercover reporter. WikiLeaks' Julian Assange had recently told a British TV station that he had come into possession of internal emails belonging to senior Clinton campaign officials — the result of a cyberattack later revealed to be the work of Russian hackers. Nix reached out to Assange via his speaking agency, seeking a meeting. Nix reportedly hoped to get access to the emails and help Assange share them with the public—that is, he wanted to weaponize the information. According to both Nix and Assange, the WikiLeaks founder passed on his offer. Nevertheless, by late June Nix had landed a contract with the Trump team.
TRUMP CAMPAIGN
What exactly Cambridge Analytica did for Trump remains murky, though in the days after the election, Nix's firm blasted out one press release after another touting the "integral" and "pivotal" role it played in Trump's shocking upset.
Come November 9, 2016, post Trump's election, Cambridge wasted no time touting itself as a visionary that had seen Trump's path to the White House when no one else did. Nix took an international victory lap to drum up new political business in Australia, India, Brazil, and Germany. Another Cambridge director gushed that the firm was receiving so much client interest that "it's like drinking from a fire hose."
Nix later told Channel 4's undercover reporter that Cambridge deserved much of the credit for Trump's win. "We did all the research, all the data, all the analytics, all the targeting. We ran all the digital campaign, the television campaign, and our data informed all the strategy," he said.
Another Cambridge executive suggested the firm had delivered Trump victories in Michigan, Pennsylvania, and Wisconsin—states crucial to his ultimate win. "When you think about the fact that Donald Trump lost the popular vote by 3 million votes but won the Electoral College vote, that's down to the data and the research."
Cambridge helped run an anti-Hillary Clinton online ad campaign for a Mercer-funded super-PAC that paid the company $1.2 million. The ads stated that Clinton "might be the first president to go to jail" and echoed conspiracy theories about her health.
But according to multiple Republican sources familiar with Cambridge's work for Trump, the firm played at best a minor role in Trump's victory. Parscale has said that $5 million of the $5.9 million the Trump campaign paid Cambridge was for a large TV ad buy. When Cambridge bungled that—some of the ads wound up running in the District of Columbia, a total waste of money—the firm was not used for future ad buys. During an interview with 60 Minutes last fall, Parscale dismissed the company's psychographic methods: "I just don't think it works." Trump's secret strategy, he said, wasn't secret at all: The campaign went all-in on Facebook, making full use of the platform's advertising tools. "Donald Trump won," Parscale said, "but I think Facebook was the method."
Even as Nix jetted around the globe and Cambridge opened new offices in Brazil and Malaysia, the company found itself with few allies in the United States. Trump campaign alums and Republican Party staffers distanced themselves from the company—especially after news broke last October that Nix had communicated with Assange. Cambridge Analytica's reputation for spotty work had circulated widely among Democratic and Republican operatives, who were also put off by Nix's grandstanding and self-promotion
For any upstart company, this would have constituted a crisis. But being shunned from the American political scene, it turned out, was just the start of Cambridge's problems.
The extraordinary series of developments that unfolded recently and that led to Nix's suspension as CEO have left the company's future uncertain. The whistleblower's allegations that the company had used unethical methods to obtain a massive trove of Facebook data to fuel its psychographic tactics, have since been cited in a class-action lawsuit.
"We exploited Facebook to harvest millions of people's profiles. And built models to exploit what we knew about them and target their inner demons," Chris Wylie, who helped launch the company, told the British Observer. "That was the basis the entire company was built on."
The fallout was swift. Facebook, already under fire for facilitating the spread of disinformation, suspended Cambridge from its platform. British officials sought a warrant to search the company's office. Lawmakers on both sides of the Atlantic demanded answers.
NEW REVELATIONS
Worse was to come. An undercover investigation by Channel 4 News, in association with the Observer, broke on March 19, where Cambridge executives claimed to offer a much darker range of services.
In a series of meetings with a reporter posing as a representative of a wealthy Sri Lankan family seeking political influence, Cambridge Analytica executives initially denied the company was in the business of using entrapment techniques.
But Nix later detailed the dirty tricks the company would be prepared to pull behind the scenes to help its clients.
When the reporter asked if Cambridge Analytica could offer investigations into the damaging secrets of rivals, Nix said it worked with former spies from Britain and Israel to look for political dirt. He also volunteered that his team were ready to go further than an investigation.
"Oh, we do a lot more than that," he said over dinner at an exclusive hotel in London. "Deep digging is interesting, but you know equally effective can be just to go and speak to the incumbents and to offer them a deal that's too good to be true and make sure that that's video recorded.
"You know these sort of tactics are very effective, instantly having video evidence of corruption."
Nix suggested one possible scenario, in which the managing director of Cambridge Analytica's political division, Mark Turnbull, would pose as a wealthy developer looking to exchange campaign finance for land. "I'm a master of disguise," Turnbull said.
Another option, Nix suggested, would be to create a sex scandal. "Send some girls around to the candidate's house, we have lots of history of things," he told the reporter. "We could bring some Ukrainians in on holiday with us, you know what I'm saying."
He said these were hypothetical scenarios, but suggested his ideas were based on precedent. "Please don't pay too much attention to what I'm saying, because I'm just giving you examples of what can be done, what has been done."
Any work may have stayed out of the spotlight partly because Cambridge Analytica works hard to cover traces of its operations, Nix said, using a shifting network of names and front groups.
"We're used to operating through different vehicles, in the shadows, and I look forward to building a very long-term and secretive relationship with you," Nix told the source in a first phone call.
Cambridge Analytica sometimes contracts under a different name, so that there are no records of its involvement, Turnbull said. That does not only protect the company, but also makes its work more efficient, he is recorded saying. "It has to happen without anyone thinking it's propaganda, because the moment you think 'that's propaganda' the next question is: 'Who's put that out?'"
He added: "It may be that we have to contract under a different name … a different entity, with a different name, so that no record exists with our name attached to this at all."
In a recent project in eastern Europe, the company sent a team but "no one even knew they were there, they were just ghosted in, did the work, ghosted out", Turnbull said.
Covers include the setting up of fake academic projects, sometimes simply going in on tourist visas, as former employees have told the Guardian they did for US elections – apparently employed in violation of Federal law.
Nix also offered details regarding the services of professional ex-spies from Britain and Israel. "We have two projects at the moment, which involve doing deep, deep depth research on the opposition and providing source … really damaging source material, that we can decide how to deploy in the course of the campaign."
Denham told Channel 4 News that she had issued a demand for access to Cambridge Analytica earlier this month. They were given until 6pm on Monday to respond to it, but she said the company had been "unco-operative" with the investigation and that she would be applying to the courts on Tuesday for a warrant. "We need to get in there. We need to look at the databases. We need to look at the servers and understand how data was processed or deleted by Cambridge Analytica. There are a lot of conflicting stories about the data," she said.
Cambridge Analytica said the Channel 4 News investigation contained false claims, factual inaccuracies and substantial mischaracterisations.
It accused Channel 4 of setting out to entrap staff by initiating a conversation about unethical practices. It rejected any suggestion that the company used fake news, honey traps, bribes or entrapment.
It said: "We entirely refute any allegation that Cambridge Anlytica or any of its affiliates use entrapment, bribes or so-called 'honey-traps' for any purpose whatsoever … Cambridge Analytica does not use untrue material for any purpose."
Of the suggestions they used honey trap techniques, the company said: "Our executives humoured these questions and actively encouraged the prospective client to further disclose his intentions."
In a later statement Cambridge Analytica accused Channel 4 News of attempting to entrap its executives by initiating a conversation about unethical practices, which it insisted the company did not use.
Admitting he misjudged the situation, Nix said: "In playing along with this line of conversation… we entertained a series of ludicrous hypothetical scenarios. I am aware how this looks… I deeply regret my role in the meeting and I have already apologised to staff. I should have recognised where the prospective client was taking our conversations and ended the relationship sooner."
On Saturday, Cambridge Analytica denied it had done anything wrong in relation to the handling of Facebook data.
"Cambridge Analytica only receives and uses data that has been obtained legally and fairly. Our robust data protection policies comply with US, international, European Union, and national regulations," it said.
Cambridge Analytica suspended Nix on March 20. Investigations are still ongoing.