FINAL GOODBYES: At Panchavati in Nasik district by the banks of the Holy Godavari river where most people of Maharastra go to immerse the asti of their departed family members. This is also a pilgrimage point where all kinds of Puja are conducted… locals obviously find the river waters a cool place for bathing. At Ram Ghat people gather for sponsored charity meals and all kinds of other pickings
BY TARA NARAYAN
LIFE is here today, gone tomorrow and one may think saying goodbye to the body of a loved one is easy, compared to saying goodbye to the soul! Not so, the finality of death hits one post-cremation of the body and then come all the beliefs which say the soul hangs around its familiar places until you give it a fitting send-off by a riverside with more rites and prayers; letting go is not just for the departed soul but the souls which are still enshrined in the mortal body.
Cremation over with, most Hindu families think of places to deposit the residual mortal remains of "asti" (the mix of bones and ashes post-cremation), the belief is that some bones like the navel bone never really burn to ash, these remains have to be immersed in the waters of one of Bharatdesh's many rivers, most of which are named after the goddesses of Hindu religious mythology, very few are named after gods.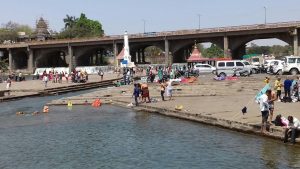 The ancient city of Benares by the banks of the holiest of rivers, the Ganga, would be ideal, but oftentimes too far away to go for post-cremation immersion of "asti." In Maharashtra people like to go the pilgrimage town of Panchavati in north-western Nasik. This is all Ramayan country associated with the legends of Lord Ram, Sita and Lakshman as they wandered through the forests during their 14 years of vanvaas or exile from the throne of Ayodhya…in fact, there's a Sita Ghoofa here from where it is said the villainous Ravan abducted Sita.
Here by the Godavari river ghat, an undending series of rites and rituals take place with the help of the Brahmin community residing here. Since we had immersed our father's mortal remains here we decided to immerse our mother's mortal remains here too. Post-death rites and rituals may be never ending but everyone takes a call on that and most stay with the primary ones performed by a priest who will of course, ask you first what your gotra (caste sign) is. Mercifully, my trio of mami from Ahmedabad who were along with us knew to which gotra we belong, Kashyap!
It is a fact that many long since scattered across the world family members who have lost touch with family back home, tend to be amusingly ignorant about religious tenets and want to learn what's this, that and the other for and how much it will cost! Left to himself my brother dear would have said, "Let's just forget all this and make a donation to an orphanage or old people's home in mummy's name!" The women in the family are more adamant about performing the final rites at Panchvati and don't mince words about this.
There are as many who maintain closely-knit ties with kith and kin in their home country and are more or less familiar with post-death rites and take the pains to be present to perform them when a parent passes on into oblivion.
We started off at 6 am from Juhu in Mumbai and it took three-and-a-half hours to get to Panchvati where the scene-scenary, as I like to put it, offers much food for thought. Usually, some smart priests look-out for cars coming in at the Godavari riverside, here the river has been re-arranged with terrace spaces built alongside the river for puja ceremonies to be conducted. In the flowing waters there's a special Ram Kund where the asti may be deposited under the guidance of your priest. The moment we arrived we got picked by a comely-faced priest who refused to bargain, "First we will do the puja and then I'll leave you to make whatever donation you wish afterwards."
Perhaps we should have looked around the place a bit first but when the priest said it would be uncomfortable out by the open ghat platforms in the heat and he could take us to a nearby ashram where there would be shelter and some privacy, we agreed. He deposited us inside a rudimentary "dharamshala" space where puja could be performed. He called his son (an engineer) on his cell phone and soon the samagri or puja ingredients arrived and the puja got under way, with several other puja happenings alongside, for others too had arrived like us.
My "Amrika" sister Mala was not in favor of all this religious shenanagins and preferred to drape herself in a dupatta and sit under a peepal tree in new coppery green leaf outside by the river, watching and clicking pictures. We wandered around Ram Ghat to get a feel of the place and find Ram Kund located amidst the rushing waters of the river, here the asti tray has to emptied after puja with the pujari reciting prayers. Family members present touch the tray before son empties it where he is directed.
Someone chants that at Ram ghat "All wishes are granted, be it for food, water, clothes, shelter or just blessings!" Our priest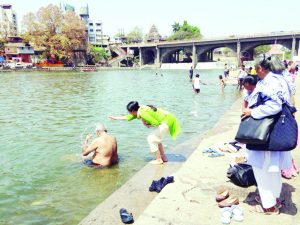 warned us not to fall for the hordes of poor seeking to make a make a fast buck courtesy their better-offs. There's the usual motley collection of folk in search of sustenance of some kind, mainly cash.
A wada-pau vendor appealed, "For `100 I will distribute wada-pau to 11 beggars…" My much confused brother said okay and since I had money on me I dished out `100…and while he went off for his "washing away of sins dip" in the river, I watched as only three wada-pau were distributed, and admonished the wada-pauwallah, who sheepishly handed out the other eight portions to those who had already collected several wada-pau and were in no mood to keep on consuming wada-pau! For a while there I wondered if they sold back their extra wada-pau to the vendor?
Similarly, a tea-wallah came along and repeated, "For `100 I'll distribute tea to 15 badnaseeb lok…and my tea is the best with adrak!" I tasted the tea which was just plain old ditchwater tea but parted with another `100. An aggressive young woman followed us around refusing to accept mother's clothes which we had brought along with us to distribute to whoever wanted them…no, clothes, this feisty one said, give money only. I realized the importance of putting one's foot down. It was such a poignant charade but one has to draw a line somewhere, this much and no more.
Funny, feeling parched I purchased a cucumber from a cucumber vendor to crunch myself into feeling cool, a salty mixture smeared into the cracks of the cucumber. Seeing me patronizing the wada-pau and tea vendors she asked, "If you tell me I can also distribute cucumbers to everyone and it would be better for them!" Wonderful idea, I agreed, but I'd done my good deed for the day and refused her offer, another time.
Then I kept urging various folk trailing us to go eat the "khichdi and sabzi" being served at the Shri Sai Kiran Dham here – it's really the sensible thing to do, deposit some cash here if one is in a charitable mood and cover food for 100 folk or so. One is given a receipt. Anyone in need of a meal may come and sit here alongside the riverside ghat and be served breakfast, lunch, dinner …gratis. In fact, one sees a lot of working folk gratefully picking up a meal here.
I too would have sat down and savored the khichdi but the rest of the family frowned and said, nothing doing! I tasted some of the khichdi and thought it was pretty good, over-spicy, and the lady in charge offered, "The poor like their food spicy!" Like I said before all the areas around the pilgrimage town of Panchvati is described as Ramayan country and there're lots of places to sightsee if one has the time and inclination. There are several temples which hardcore pilgrims would visit for darshan. There is a beautiful Jain mandir and I had half a mind to visit Panchavati Hotel, but my Ahmedabad aunts Hansa mami, Pravina Mami and Vasumati expressed a desire to go to Trimbakeshwar temple nearby. Since I'd never been to Trimbakeshwar during my younger junketing around India days, I fell in line with everyone's wish. En route we took in the remarkable hillscapes of Brahmagiri hills where the river Godavari river rises.
Wow, our temples are becoming expensive places for those seeking a quick darshan! At Trimbakeshwar temple there's a public queue (free, can take three hours any ordinary day) and a private queue (priced at `200 per person, for better endowed folk, can take an hour or more to get into the temple for darshan). Unfortunately, once you're inside, the two queues merge and become one and here's when rude things are muttered if not an outright quarrel breaking out.
It's about who stood in queue for three hours and who for only one hour…and so it went, ordinary pilgrims are not permitted into the sanctum sanctorum and once before the jyotirling shrine (reflected in a huge mirror), a woman in charge here hurries you along and even puts a hand on your head for a lower "matha teka!"
It's annoying and I shrug her off, tell myself I never want to stand in a temple queue again no matter how powerfully sacred the temple! A chandelier glitters brilliantly in the temple hall and attracts curious attention, I wonder who gifted it? The Trimbakeshwar temple has one of the 12 jyotirling and this is the eight in the series considered the most important, the temple was built by Raju Balaji Baji Rao, one of the Maratha kings.
But after this horrible experience of visiting Trimbakeshwar temple courtesy the special `200 queue, I think my mahadeo can't possibly be residing here anymore! In any case, any future visits to temple will be organized so that I am there at the crack of dawn when presumably no fights take place and one may find one's moment of peace…nobody gave us any temple prasad either! What kind of a temple management is this? I seethed silently to mahadeo and imagined him agreeing with all my sentiments!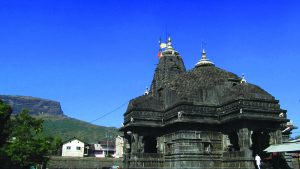 Otherwise it's a small beauty of a temple but once outside the stony pavements are another story altogether. In the hot afternoon one's literally performing a dance on hot stones! Since our footwear was deposited at the main temple entrance quite a bit away for a deposit of `50 for a "flower tokri", getting back there became a major issue and blisters bloomed on the soles of our feet as we negotiated the hot stony ways and yowled… Fortunately Mala and an aunt managed to hotfoot it back to the main entrance and race back in an autoriksha with our footwear and a bottle of cold water to cool our feet. Ooooh, the chilled water was such blissful torture.
There's considerable shopping for religious paraphernalia in the bazaar here but I was in no mood to go looking for copper rings coiled in snake formation to wear (the believe is that wearing such a copper ring helps keep blood pressure down and I had several requests to get these rings, there were all kinds of other copper rings though).
I purchased a sheer mal mal scarve to wipe the sweat of my face! The car parking lot was further off and the walking was inevitable past stacks of shops, fruit baskets of guava, prayer books, mithai, all kinds of cloth for religious use, eateries with interesting menu, etc.
Next time if you're visiting a temple in the hot afternoon hours be sure to slip your footwear in your handbag, you'll thank me for this bit of advice.
In any case I've quite made up mind that we need not visit temples to be a good Hindu, if I stop by at a banyan or peepal tree mahadeo shrine it's fine for me! Hey, there're several Café Coffee Day stops on enroute and here are the best washrooms. So instead of stopping for a break at one of the desi dhaba type stops, look out for a Cafe Coffee Day stop. One may even park one's vehicles here at the parking lot and distribute whatever snacks one may have packed for the trip, We had made cucumber and peanut-jam sandwiches, and thepla-chundo, and "ookaro" (my favorite Guju herbal tea) and normal tea flasks. All were happy and I day say if mother had been around in our midst she too would have enjoyed the trip to Panchvati!
India is truly a country of many splendored feasts for the mind and body, heart and soul, and which I "love to death", as my sister Mala would say.