GUJARATI DELIGHT:(left) Outside Swati at Tardeo, Central Mumbai… an iconic eatery for Gujarati traditional fare; (below) Soam is the other eatery competing with Swati. Both are great places to eat for vegetarian food lovers!
BY TARA NARAYAN
ONE more time in Mumbai and in a stressed moment all of us family were looking for a place to have lunch. Up Walkeshwar and elsewhere in Central Mumbai it looked like all the eateries were chok-a-blok with long waitlists outside during lunch time.
Working Mumbai does a lot of eating out and I found myself at Tardeo where for several years I'd worked at the old Mid-Day offices (never got my provident fund money from them despite chasing it for a few years before giving up in despair!)… Lots of places here to lunch and humble Sardar's pau-bhaji place has grown multifold. Mercifully, Mumbai has many vegetarian eateries.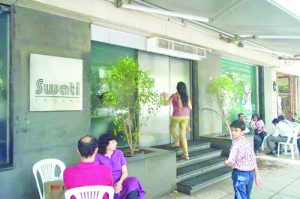 If I want to catch up with traditional Gujju food I generally brainwash my friend Madhu and we head to Shree Thakar Bhojnalay at Kalbadevi (where they do a timeless authentic Gujju thali and mango ras during mango season); there's also A Rama Nayak's Udipi Shri Krishna Boarding just outside Matunga (East) railway station, here a banana leaf meal awaits, real South Indian item numbers. Both places are old haunts of mine and I've seen them refine themselves from original holes-in-the-wall to today's presentable ethnic eateries which many a tourist from abroad and home comes looking for with the help of guidebooks. But to stay with Gujju eating out for the present, during my recent trip to Mumbai-that-was-Bombay (it will always be like that for me) we looked up Soam at Girgaum chowpatty but it was so packed that rather than hang around we decided to make it to Swati — that other place which I've seen grow up and go places.
There's a wait of a few minutes here too but we waited getting hungrier and hungrier! Swati and Soam are now à la mode places to see and be seen. At Swati one may find such homely Gujarati pièce de résistance vegetarian fare as various khichdi (fada ni khichdi, baked masala khichdi), satpadi roti and ghata nu shak, the Maharashtrian thalipith-pitla combo, chola methi dhokla-amti…of course, shrikhand-bedai roti- alu shak. Be sure to order a chilled masala chaas (green buttermilk) and one of the chaat numbers like dahi shev puri while studying the menu!
Asha Zaveri who got this iconic eatery going, started off with panki, which were a big hit, and now they come in various flavors – panki chatni, suva panki, pudina panki. Panki is steam cooked in banana leaf savory thin rice batter pancakes… you peel panki off steaming hot leaves and relish them! Other things of interest are mung dal or paneer chilla, bajri kichu, even bajri uttapam, dal dhokli, makai handvo … all time favorite Guju combo comfort food of khichdi-kadhi-batata shak.
We fed ourselves to the gills before tottering out to the celebrated paanwallah outside to buy some of his digestives – I picked up little packets of salty lemon ginger strips. Our range of digestives are superlative now and they do help digest heavyweight meals, okay – there will be crunchy dhana-ni-dal (coriander seed kernels), the ever popular valyari (aniseed roasted crisp with bit sea salt, turmeric and lemon juice); jeera and hing goli of course, plus, plus…silvery cardamom seeds and aonla bits sweet, salty, savoury! Our digestive range has become dazzlingly prolific… digestive mixes with alsi or flaxseeds are a big hit. A mix may have dhana-ni-dal, ajwain, sesame seeds ivory/black, pale dry little green oval tamarind leaves. One may even find very exotic betal leaf or paan beeda item numbers sweet and not so sweet. Be selective, be very selective.
If you're crazy about vegetarian Gujarati food catch up with Swati the next time you're in Central Mumbai; also look up Soam. Both Swati and Soam compete with each other to offer the best of Gujarati traditional food…at Soam you will find the stress is on Kathiawadi bajra or pearl millet fare…rotla and tamatar sev nu shak, also ask for lilva dhokli with bajri biscuit bhakri, bajra churma, bajra rotla-bhinda kadi, vagareli bajra rotla and such. They do quite a lot of oondhiya-puri/phulka. They have kanda ghatiya nu shak and…and if I remember right, they have a to-live-for badam sherbet. All this and much more to put the dead behind us and celebrate those who eat to live and live to eat.
WELL, no more, like I always say, I should have been a vegetarian culinary guide to Mumbai traditional Gujarati eating out and this time around it was a very Gujju affair of the tastebuds!