(left) Mario Dias (brother of Fr Bismarque Dias) along with friends Jacinto D'souza and Pritam Keluskar speaking to media people on April 13, 2018. Hema Sardessai, who along with hubby Xavier was a close friend of Fr Biamarque, also spoke. Friends and family are calling for the case to be taken up by the CBI
TWO years on the family of the late Fr Bismarque Dias is still grieving and running from pillar to post for justice. While his body lies unclaimed in the GMC's morgue showing "sign of mummification with black and white colour moulds infesting the whole surface of the body" (according to GMC dean Dr Pradeep Naik's report), Fr Bismarque's brother Mario Dias, speaking to media people on April 13, 2018, expressed his anguish over the manner in which the case has been bullied into closure by the authorities.
Alas, their 85 years old mother is still praying and waiting for her son's body to come home for final rites to be performed so that her son may rest in peace. But, says Mario, this is something the family find hard to do until the authorities wake up to the truth of a case in which justice has been subverted. Fr Bismarque's case is no innocent drowning case as made out to be, there is enough evidence to indicate this, Mario remembers with vivid recollection how his brother's body had an injury on his forehead and strangulation marks around his neck, but first autopsy reports have not stressed on this seriously.
It is not for nothing that family and various friends of Fr Bismarque, including singer Hema Sardessai and hubby Xavier who are family friends, have been continuing the good fight for justice and asking various wrongdoings to be righted for the peace of mind of many.
According to Mario while the second autopsy was conducted on his brother's body on November 11, 2015, by Dr Sunil Chimbolkar, Dr Andre Fernandes and Dr E J Rodrigues, no cause of death was concluded and the family has not got a copy of the recommended "reserved/pending chemical analysis and diatom study report."
Without the availability of this chemical analysis report cause of death is difficult to confirm. Despite many lacuna in the case the Goa Police has closed the case, but it continues to haunt family members and friends, who refuse to accept Fr Bismarque's remains from the GMC morgue. They want the case to be handed over to the CBI for a renewed fairer investigation, this time with the two boys who were witness to Fr Bismarque's death — who are no longer minors — put through a lie-detection test.
Hema Sardessai says these two witnesses are the key to cracking Fr Bismarque's case and putting to rest what happened that fateful evening when he went on a fishing and swimming trip two years ago. The case comes up for review on April 15, 2018, and a lot of people are following it. Sympathy is clearly with Fr Bismarque, a social activist and a fearless campaigner against real estate mafia dons seeking to grab land illegally for development in Goa's vulnerable green island zones.
"We want justice and are still looking for it… We want CBI to take over my brother's case," were Mario Dias' final words along with friends Jacinto D'souza and Pritam Keluskar at the press conference.
It is still early days to say RIP to Fr Bismarque.
IN HONOUR OF MONTE CRUZ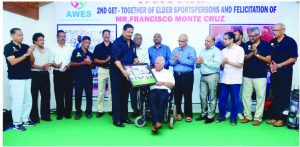 Close to 30 years after he helped build the Pandit Jawaharlal Nehru Stadium at Fatorda in a record time of just six months, former sports minister Francisco Monte Cruz was left weeping tears of joy as former sportspersons, officials and administrators walked up to him and acknowledged his remarkable contribution that gave Goa its first multipurpose stadium during the second get-together of players, officials and administrators — all above the age of 60 — organised by the Association for the Wellbeing of Elder Sportspersons (AWES) at Coco Loco in Agassaim.
THE BATTLE OF THE FASTS
In response to the nationwide call given by All India Congress Committee(AICC), the Goa Congress had a one day token fast on April 9, 2018, at Azad Maidan in Panaji. AICC has given a call to hold one day fast to protest against atrocities on Dalits in the country and also highlight the need for protection and promotion of communal harmony between different sections of society.
Not to be outdone, BJP Members of Parliament held a day-long fast and 'dharna' on April 12, 2018, at Azad Maidan in Panaji, along with other BJP leaders and members, as a mark of protest against frequent disruption of parliamentary proceedings by Congress and other opposition parties.
GOANS IN DUBAI MAKE HEADLINES — BUT NOT IN A GOOD WAY
A Dubai court on Sunday sentenced two Goans — 37-year-old Sydney Lemos and his senior accounts specialist 25-year-old Ryan De Souza — to over 500 years each in jail for duping thousands of investors in a $200 million scam. Lemos lured the investors by offering them 120% annual returns on a minimum investment of $25,000 through his company Exential. Lemos, a junior football player who went on to sponsor FC Goa club in 2015 and owned FC Bardez club in Dubai, cheated investors out of their retirement and lifetime savings under a Ponzi scheme that was disguised as a forex scheme.