WORTH A WATCH: A still from producer-director-writer Miransha Naik's Konkani film Juze… it's all about agricultural migrant labour fighting for basic human rights
-Mme Butterfly
IT'S hot, hot, hot outside and inside, and if only I could be ensconced all day long in a cinema hall watching films! (Sigh) Life is not the movies, okay, as I realize every time I run away from life to seek refuge in a film for an hour or two. The 9th Goa State Film Festival 2018 was a kaleidoscope of nine Konkani films, one Marathi film and two documentary films…this year there were quite an interesting bunch of films, but the closing ceremony on Sunday, May 6, 2018, could have done better. It was a long drawn four hours affair with needless item numbers in between the drama of announcing a myriad awards!
Must a State film festival compete with IFFI? I guess I'm feeling out of sorts because the audience waited for almost an hour for the political VIPs to arrive for the show to get underway…then it dragged on and post-8pm I decided to skip seeing 'Mahaprayan' which won for best film of the festival. It was scheduled for screening after the concluding function. But it would be nice if our filmi powers-that-be (if anyone in ESG is listening) understand that Goa is a public transport-unfriendly state after 8 pm and private transport an extortionist affair!
Apart from khaas aadmi who attend film functions, a lot of aam aadmi too are engaged in their presentation — like the folk working behind the scene, media too can rarely afford to hang around given the nature of their reporting duties. Anyway, it's nice to know that the Goa government has oodles of funds for entertainment, entertainment and more entertainment. I mean, what is more important, my dears? Top notch public utilities and services or entertainment?
Entertainment in Goa always smacks of the old story of some French queen telling her people to eat cake if there is no bread! If you're asking me there's too much cake around in Goa and too little asli honest to the soul bread to live honourably. I say all this without taking away any of my pleasure in the arrival of Konkani cinema…there's quite a Konkani cinema revolution and Konkan film fraternity now, albeit intermingling uneasily with the more burgeoning long since arrived Marathi film fraternity!
As always in Goa, Konkani mai has to compete with Marathi maushi who probably collects much of the cream! And there was Dada Jackie Shroff of Bollywood fame but half-settled in Goa, who with his special jury's award appealed for more Bollywood cinema folk to be invited for cinema functions in Goa.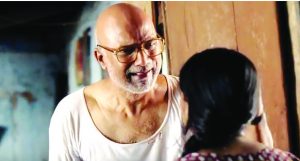 WELL, I missed 'Mahaprayan' but managed to catch 'K Sera Sera' and the lovely sounding 'Mogaan' during the three-day festival which I think deserved an award for being a short, sweet and crisp; all about a young shack owner falling in love with a young foreign tourist and they get married, only to discover that they don't share common values (he loves and respects his mother, she loves and respects only herself). 'K Sera Sera' has a lot to say but maybe over-stylized and could benefit with less indulgent editing. I wanted to see 'Connection' which I'm told is every bit as good as blockbuster 'Nachom-ia-Kumpasar'… which seems to have become the gold standard for commercial success for Konkani cinema!
THE film to see, my dears, is 'Juze', currently screening at INOX and elsewhere. A friend said, let's go see the 5.30 pm show at INOX in Panaji and we went…barely a dozen folk in the auditorium, but I have some words to share my feelings for 'Juze'! This is no escapist la di da film. If you seek to understand some of what ails modern-day Goa with its agricultural background you must see this film. The film is about migrants eking out a living in yesteryear Goa's coconut and cashew estates.
They're at the mercy of good, bad or ugly bhatkar/patrao who use and abuse them till their lives are steeped in miserable catch 22 situations — damned if you do and damned if you don't. Meet young schoolboy Santosh brimming over barely contained resentment, he is pitted against their patrao Juze and wife who think it's okay to bully, exploit, cheat their migrant labour. This migrant community has as good as settled on their estate and merged as part of Goan settlements in which a curious mix of socially exploitative overt and covert relationships develop…every now and then someone gets beaten up or killed or thrown in jail!
It is only the revolution of education in the government schools which rescues the younger generation somewhat. Our friend Santosh, brightest boy in school, sees it all and too much, in the end makes up his mind to take both revenge and escape to the far away freedom of beach side shack employment. Juze is gut-wrenching, offers insight into Goan history's life and times gone by but which I dare say continues to impact the present. 'Juze' deserves all the awards there are in Goa and beyond Goa!
I think I'll see more Konkani films, my dears, to improve my Konkani! Mercifully, the Konkani films are doing good and beginning to hold their own against the Marathi films, English subtitling makes a difference if this segment of cinema wants to attract a wider viewership at home and abroad. On that note it's avjo, selamat datang, poite verem, au revoir, arrivedecci and vachun yeta here for now!
­— Mme Butterfly