AT THE GONSALVES MANSION MANGO FEST: (Clockwise from top left) Farmer Anthony Lobo and friend John De Sa promoting Goa's mancurad; Bowlful of gauti papaya (notice the seeds of life within); The Konkan wild berry — Chirputtam… latest love of my life!
By Tara Narayan
HOW would Goa Tourism like to host a mankurad festival? Or a mango or summer fruit festival with only the fruit of the Konkan, cultivated and wild, on sale to Goans and tourists who come on culinary tours? It's an idea. One man who is very keen to promote a mankurad tourism festival is John De Sa of Desa Goa who divides his time between Qatar in the Gulf and his beloved Goa!
I met John last Sunday at the mango festival hosted by Armando Gonsalves of Gonsalves Mansion, a lovely home down the leafy back lanes of the Campal enclave of old time residences off the Campal promenade. Apart from the Gonsalves mancurad tree fruit, there were others who'd come down from far places to put their orchard mankurad stocks on show and retail sale — very good quality premium mankurad (organically cultivated) available for `600-700 per dozen, along with mangada (fresh mankurad jam) and mango pickle. The very genial John and friend Anthony Lobo of Pomburpa were here waxing lyrical over the Goan mankurad. John tells me he grew up eating mankurad for breakfast, lunch and dinner "till we got boils in the hot summer and our mother had to stop us from getting close to any mangoes!"
He has over the years gifted mankurad to friends from Australia, South Africa, Europe and all say, "Oh, taste of this mango is the best!" He says a lot of mangoes are imported in the Mid East countries from the world over but they are tasteless mangoes compared to the Goan mankurad. Somehow the best mankurad doesn't get exported, why?!
I exclaimed so that the folk of Goa can enjoy them of course, thank the Lord for small mercies! He smiled. Anthony Lobo who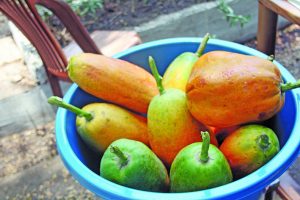 has two mankurad trees shocks me by telling me that mankurad doesn't grow in the wild anymore from thrown seeds! Because mankurad is a grafted fruit and everyone knows how the Portuguese taught the art of grafting mango trees to Goan farmers. So if you want to grow a mankurad tree yielding fine mankurad mangoes "you have to buy one of my mankurad graft saplings!" He was selling them at `1,500 or and I'd have bought one, except that I don't have a home of mine to live in, having lived in rented accommodation all my life.
Nobody is growing mankurad any more in Goa, sighs John De Sa, "If I can get more Goans to plant a mankurad tree in their garden or compound in five to six years they would be eating fruit for free and more left over to sell off for good money…" Unfortunately, nobody is promoting the planting of mankurad in Goa and the Agricultural Department of the Goa government may have several schemes but they make them too difficult to access "and unlike in other places everybody thinks you're a bhatkar even if you have a 500 sqmt plot! Where is the land to grow mankurad trees?"
Why not turn all the mining badlands of Goa into mankurad orchards? Yes, he says, that's a great idea, it's worth checking out. In the meantime he urges all true blue Goans to plant a mankurad or two in whatever garden, backyard, or plot they have, it will pay dividends in time to come and enable them to retire happily ever in old age! I learn that 56% of mangoes exported are from India. I look around the Gonsalves Mansion grounds and bought four aromatic mankurad for `250! They were selling in baskets and boxes at `700-800 a dozen. I also bought some papaya which Anthony tells me like jackfruit comes in two versions, a softer flesh papaya and a firmer ripe papaya.
Honestly, Goa could be the fruit state of the Konkan coast if it wants to be. If the powers-that-be who are so keen on progress and development of the concrete kind would stop and think along truly selfless lines in the larger and long-term interests of Goans and Goa…
I'm still thinking over what Anthony Lobo told me… If I dig a hole and plant the seed of a mankurad mango I've relished, "it won't give you similar fruit…all you may get is funt!" What's that? Only hard green fruit which will never ripen. It's a mystery to be sorted out but I see the tragedy of mankurad dying out in its original home state of Goa and sympathize with John de Sa and Anthony Lobo.
ALTHOUGH folk talk like mankurad is a table mango, in my experience it has never been! Mankurad is a rich distinctively sweet fibrous mango which one may not serve as cut fruit at table… I always turn my mankurad into thick pulpy mango ras as sweet as summer time love story in the month of May!
Monday morning I visited the Panaji market and hey, mankurad is no longer selling at `1,000 but at anything from `250 to `500 dozen. Buy and enjoy the mango season before the rains arrive and other mangoes arrive in the market.
Actually, I've a very soft corner for the Gujarati kesar and totapuri (which is not cloying sweet and tastes great in salad), the thinner juiced pairee combines well with thick pulped alphonso or afoos for a ras. I always say, the way to eat mango ras is thick enough to dip a ghee-laced rotli or a hot puri in it. In Gujarati homes it's traditional to add salt, soont and a tablespoon full of melted warm desi ghee in a bowl of freshly sieved mango ras…stir, stir, and enjoy.
Hey, ripe mango makes for a great thin chilled sherbet on the rocks, or think mango buttermilk, or lassi, add in fresh ginger juice and/or fresh lemon juice to get a terrific combo. Mango makes for a refreshing summer drink…how about diced afoos (alphonso or afoos is a table mango)? The classical thing to serve is diced mango tossed in fresh dairy cream (try yogurt, it's the season for yogurts).
Goa is a mango state but I don't find too many eateries out there serving a galaxy of mango something or another in the merry mango month of May. What's wrong! Unless the 5-star restaurants are doing it — must find out. Anyway, this is to say the steamy month of May is for mangoes and especially mankurad. Think mango rice/pulao, sasav, firnee, custard, jelly, salad and of course mango ras pure, simple and absolutely minimal food for the soul. Apart from the flood of mankurad at the Panaji market, vendors around about hang around with their baskets of mankurad and are selling the mangoes as little as `150-`250 per dozen. Lots of pairee too and of course a lot of little "ghotam" going at `100 per 12 or 15 fruit that go into making savoury tart sasav or curry.
COME summer it's fruit season and there's jackfruit, jamun, rose apples, pineapples, melons…one may live on a diet of fruit alone. In good Swiss sanitoriums of old do you know they still serve a fruit rice meal to TB and ailing patients? I wonder what kind of food the GMC's kitchen gives its patients (but then the GMC is not a sanitorium)!
All this reminds me my friend Karen brought to office one day a pile of what she called "chirputtam"….they look like mini gooseberries, each tucked in a pale green sheath of a covering. Gently open the lovely rustling covering and behold these greeny-orange little berries which taste deliciously of je nai sais quoi, I don't know what! In the mouth they burst with a teeny weeny crunch of seeds…I've fallen for them.
Karen says an uncle got them from the Margao market. I don't see them in Panaji but would love to get these wild mini gooseberries to toss in a salad. Apparently they grow wild in patches on the roadside or tumbled down gardens. A bit of homework later I learn they're Physalis Peruviana/Cape Gooseberries/Chinese lanterns (how lovely). Whatever, they're the latest love in my life and bet they'd taste divine in a wild salad (whatever that means…you know, silverskin onions sliced very fine, arugula lettuce and lots of chirputtam laced in lemon juice…definitely a to-live-for summer salad. Go find these chirputtam for me!