Reviewed By Norma Pereira
Requiem for Goa is both, an elegy and a memoir, for a way of life fast disappearing on the horizons of time and the onslaught of modernity. It is a nostalgic trip down memory lane for the author Joseph C Fernandes as it records in little vignettes what it was to be young and carefree in a Goa of the 50´s, 60´s and 70´s. It is a series of snapshots of a rustic Goa of no electricity, few paved roads, no indoor plumbing and a social structure still deeply rooted in the castetist divides that had existed here for centuries before the Portuguese sailed up the Konkan coast and into the mouth of the Mandovi in their search for spices, gold and souls.
As it happens with every generation, whenever a parent or grandparent began on stories that started with, 'Ín my day….´ there is a tendency of eye rolling and a tuning out, and it´s only later that we wish we had paid more attention to what was a first person , living historical account which can give us an insight and understanding to who we are and how we came to be.
The stories told in a simple easy style, fills in the gaps in our collective memories ,with which we can identify with even today. It is a tale of how history unfolded in the timeless little state of Goa and its impact on society. In the telling though, the author makes liberal use of Konkani and Portuguese words, it´s earthy sayings and slang and therefore the book would perhaps be understood and appreciated to its full extent only by Goans of a certain age and generation.
The English used is the lilting Goan English and if one can overlook the occasional spelling and grammatical errors, the book is a delightful read as the author lightly weaves in historical and anecdotal evidence to keep you skimming across the pages to add to your storehouse of knowledge and understanding of Goa and its customs
For instance, it is from this book that I learnt the origin of the word ´pilot´ that is used to describe the taxi motorcycles found only Goa. I also encountered the fact that a 'bezoar' was an object that was routinely kept under lock and key in rich Goan households and not a made up word from the Harry Potter books as I had imagined! Or that the monsoon rains in Goa were not just rains and had distinct names for the various traits the showers exhibited!
Just like the Goan feni, perhaps one has to be a true blue Goan to appreciate the book and taken in little doses or a chapter a day… Together with the illustrations the book will transport you back in time and leave you feeling that you´ve just spent a long lazy afternoon on a breezy Goan balcao as your elderly uncle regaled you with his humorous tales and in doing so infused you with the need to preserve this unique land and lifestyle.
GBA CALLS FOR PEOPLE'S PARTICIPATION IN PLANNING
Sabina Martins, Convenor, GBA
The Goa Bachao Abhiyan has demanded that the Minister for Town & Country Planning, Vijai Sardesai initiate immediate action to amend the Goa TCP Act, 1974 and the Goa Municipalities Act, 1968, to bring them in tune with the Article 243 of the Constitution of India and the Eleventh & Twelfth Schedules thereto as per the 73rd and 74th Amendments of 1992. Sabina Martins, Convenor of the GBA, underlined the importance of the planning process which must allow peoples' participation by legal mandate instead as a one-off exercise of the RP 2021. The amendment of the Acts must be taken up on a priority basis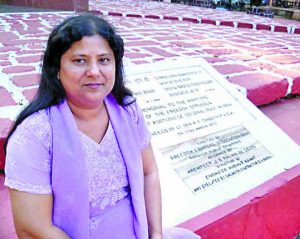 instead of sidetracking the issue with suggestions of probes into allegations with respect to RP 2021. Probes are potentially infinite and are an opportunistic way for the government to keep people engaged with the Regional Plan while it continues to destroy Goa with devious, unconstitutional Acts, Orders and Committees.
One of many such Acts is the Goa Investment Promotion Act, 2014, that gives the IPB overriding powers on land use, and now, even more suspicious, is the planned bill for regularisation of unauthorised structures. After it's passed, many of the 'suspect beneficiaries' of the RP 2021 will become legal, making a mockery of ongoing debates.
Common to all issues, whether unconstitutional PDAs, RP 2021 still waiting for rectification and removal of last minute "insertions", additional coal berths in Vasco despite pollution; and unwanted river nationalization, is that people of Goa have not been involved in the planning process as mandated by the Constitution of India. The Constitution clearly defines the method of bottom-up planning with the TCP department's role as a guiding technical body to the people.
The problem today is the continuation of the outdated TCP Act of 1974 without acknowledging the 73rd & 74th Amendments to our Constitution for the last 26 years, compounded by a body of people who still do not understand how their rights to planning have been withheld from them. The people's unrest is a response to the symptoms that erupt, Martins added.
We have seen the government move fast to serve narrow interests, with ordinances passed to save Cidade de Goa from demolition of illegal parts as ordered by the Supreme Court in January 2000, and the coconut tree removed from tree status in January 2016 to allow mass felling of trees for setting up of an industry under the IPB Act. Yet, despite the Constitutional amendments for participative planning made in the year 1992, the very same government dithers on its critical implementation at state level 26 years on.
After notifying withdrawal of the fraudulent RP2011 in January 2007, Sabina said the Government notified a bill for amendment of the Goa TCP Act in 2009 to involve people in planning as per the 73rd and 74th Amendment to the Constitution. However, for as yet unknown reasons, it was allowed to lapse, and is continuously ignored by successive governments. The said amendment bill needs to be re-introduced, debated upon and enacted as an Act.
The struggle for participative planning is more than a decade old, and the TCP minister would do well to look at Goa's interests. The GBA demanded scrapping of all PDAs with immediate effect as they are in contravention to our Constitution; Amendment of the TCP Act to implement the 73rd & 74th Amendments, with the TCP remaining the guiding technical body to provide support to villages and Municipalities to plan for themselves. All planning laws must incorporate the amendments.
The GBA also demanded the notification and implementation of proper planning guidelines, including primary data collection and accurate mapping procedures. This includes mapping of communidade lands, forests and water bodies, using drones and satellite imagery.
Swachh Bharat Summer Internship Program for Students
The Ministry of Drinking Water & Sanitation and Ministry of Human Resources Development & Ministry of Youth Affairs & Sports has launched a Swachh Bharat summer internship program.
This internship is for college and higher secondary school students for at least 100 hours during May 1 to July 21, 2018.
Students/NSS volunteers will be guided through the internship by a nodal officer. All participants will get certification on completion of internship and two curriculum credits will be given to college students. There are awards of shield/cup/cash award from `10,000 up to `2 lakh. Register online at http://shsi.mygov.in and upload photos and report.
All NSS program officers from college and higher secondary schools may contact students on vacation and get them to register on above portal before May 15, 2018.