A monument honouring FC Start players who faced a Nazi team in Kiev nearly 70 years ago
By JERÉ LONGMAN and ANDREW W. LEHREN
In the context of Russia hosting the 2018 FIFA World Cup, we recall a story when Russia was under Nazi Occupation. An Ukrainian team, then part of Russia, defied orders to lose to the German invaders, and lost their lives for upholding the honour of Russia
KIEV, Ukraine — There are few striking features about Start Stadium except its disrepair. Wooden planks in the grandstand, like neglected teeth, are mostly loose or missing. Behind the tiny seating area, though, a sturdy column rises and supports a statue. It depicts a muscular, naked man heroically kicking a soccer ball into the beak of a trampled eagle.
Seventy years ago, on August 9, 1942, the stadium became the site of one of soccer's most infamous and disputed games, the so-called Death Match. With Kiev under Nazi occupation during World War II, a group of Ukrainian players defeated a military team of Germans thought to be from artillery and perhaps Luftwaffe units.
According to legend, the Germans warned the local team beforehand or at halftime that it had better lose the match, and when the Ukrainians ignored the threat and prevailed, key members of the team were killed in retribution.
The final score was 5-3. That much seems widely agreed upon. And four or five Ukrainian players did die within six months of the game, according to various accounts. Were they killed because they won a soccer match? All the participants are believed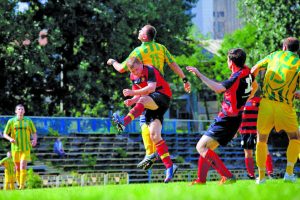 to be dead. The truth remains elusive. One player who popularized the legend seemed to tell as many versions of the story as there were goals in the match, both burnishing the myth and betraying it.
That long-ago game is gaining renewed attention as Ukraine serves as a co-host for Euro 2012. The match has grown far beyond a sporting contest into myth and folklore, immortalized in landmarks around Kiev and in articles, books, documentaries and movies, even a version featuring Sylvester Stallone. The latest film, called "Match" and made by Russians, was released before Euro 2012 and raised an outcry for portraying Ukrainians as Nazi sympathizers.
Some believe the 1942 game was, or could have been, a death match. Many academics and journalists dismiss the legend as Soviet-era propaganda and have sought to refute it. Still others seem unconcerned with the truth. They embrace the myth as an enduring symbol of Ukrainian patriotism and defiance in a country where 8 million to 10 million citizens died during the war, a country where starvation diets included tree bark and cow dung, a country whose national World War II museum displays a machine used by the Nazis to grind human bones into fertilizer.
"The facts say the match took place, but there was no death match as such," said Marina Shevchenko, a historian who works at Kiev's National Museum of the History of the Great Patriotic War, as World War II is known in the former Soviet Union. "People want their legends, like Robin Hood."
If the game and its legend did not exist, Alexander Dovzhenko, a pioneering Ukrainian film director of the first half of the 20th century, once said, "We would have had to invent it."
Under Occupation
On September 19, 1941, the Nazis occupied Kiev. Days later, more than 33,000 Jews were killed at Babi Yar, a ravine on the outskirts of the battered capital. In a footnote to the German invasion of the Soviet Union, the Ukrainian soccer season was abandoned. But by June 1942, a kind of soccer tournament was apparently organized, featuring two Ukrainian teams and garrisons representing Germany, Hungary and Romania.
The best team, FC Start, went undefeated. It was composed of Ukrainian bakery workers, most of whom had played or were to play for the powerful Kiev club Dynamo, which would later win 13 Soviet league championships. As the story goes, the owner of the bakery, also described as a bread factory, had been a big fan of Dynamo. He came up with the idea of forming an amateur team, providing extra food rations to the players and time to train.
On August 6, 1942, Start is said to have routed a German Flakelf team by 5-1. Flakelf translates to Flak 11, suggesting the German team was composed mainly of those who manned antiaircraft guns around Kiev. A rematch against a reinforced German team was held in late afternoon three days later. A copy of a poster announcing the August 9 game is displayed at the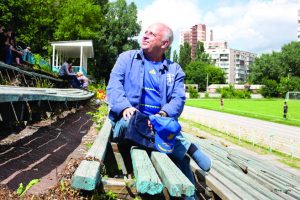 World War II museum.
An estimated 2,000 spectators, paying five rubles apiece, were said to have attended the rematch at Start Stadium, then known as Zenit Stadium. By some accounts, the stadium was ringed with soldiers, SS officers and police dogs, though others discount this. Makar Goncharenko, a star wing for Start, said in a 1985 oral history that some unnamed people warned it could be risky playing against and defeating the Germans in a rematch.
"Everyone told us: 'What are you doing? It's a real danger,'" Goncharenko said in the oral history, taped by the staff of the World War II museum, which also translated that interview from the Russian for this article.
The Start players listened, but ultimately decided to proceed with the match.
"Sport is sport," Goncharenko said. "We didn't want to lose."
He also said that a Gestapo officer visited the team before the match, introduced himself as the referee and told the players they should raise their right arms and make the Nazi salute on the field in a pregame greeting. The players agreed without intending to comply, Goncharenko said. Ultimately, they refused the order, he said, and instead gave a popular sportsman's yell, "Fitness, culture, hoorah."
According to this 1985 account, the game began roughly and the Start goalkeeper, Nikolai Trusevich, was knocked out. Water was poured on the goalkeeper to revive him, but while he was still dazed, the Germans scored three goals. Trailing at halftime, the Start team decided to play for a tie, believing the referee would never allow the Ukrainians to win. But competitive instincts prevailed. And after the match was tied at 3-3, Goncharenko said he scored the final two goals to give Start a 5-3 victory.
In a 1992 interview with a Kiev radio station, Goncharenko gave another version of the match, which is the most romanticized account. In this version, Start drew inspiration from its goalkeeper being kicked in the head and made woozy, taking a 3-1 lead by halftime. This is when an SS officer entered the locker room and complimented the skill of the Start players. But, in a tone both polite and resolute, the officer also said they should consider the consequences of victory, suggesting they throw the match to the Flakelf team.
Such a warning seems plausible, said Andy Dougan, a lecturer at the Royal Conservatoire of Scotland, an arts university in Glasgow, and the author of a book about the game, "Dynamo: Triumph and Tragedy in Nazi-Occupied Kiev."
The Germans must have by then regretted the rematch, Dougan said.
"It did turn out to be a nightmare because they had given the local people something to rally around," Dougan said. "I'm pretty certain there would have been a warning, that they had had their fun."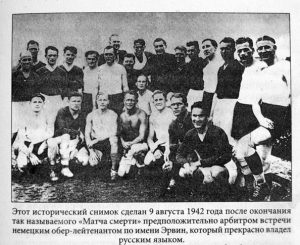 Yet Start apparently did not succumb. One eyewitness account in Dougan's book said that a Ukrainian player, Alexei Klimenko, dribbled through the Germans near the end, then kicked the ball upfield rather than scoring in a final act of humiliating the occupiers.
The most extreme myth says that the Start players were shot immediately after the match, lined up and killed on the field or put against a wall. This is clearly not true. Goncharenko said in 1985 that the Start players were "a little nervous," but showered and went home.
According to a widely disseminated photograph, players from both teams stood together for a postgame snapshot, some of them smiling. (Although, as with much of this tale, even the photograph is in dispute; some believe it was taken just before the match or at another game a month earlier.)
It is also not true that the Start players escaped en masse, as portrayed in the 1981 movie "Victory," reset in Germany and France with Allied prisoners of war and starring Stallone, Michael Caine, Pelé and a collection of professional players.
"Hollywood," Sergey Mikhaylenko, the president of the Dynamo Kiev fan club, said with a laugh. "Happy ending."
Aftermath
What actually happened after the match remains as murky in many aspects as what happened during it.
By many accounts, FC Start played again on August 16, trouncing another Ukrainian team, Rukh, 8-0. But in his 1985 oral history, Goncharenko said the Start players were arrested by the Gestapo at the bakery where they worked on August 10, the day after the rematch with the Flakelf team. Gestapo agents carried a poster or flier with names of other players from Dynamo — the pre-occupation team for many Start players — and wanted to know where they were, Goncharenko said.
He did not elabor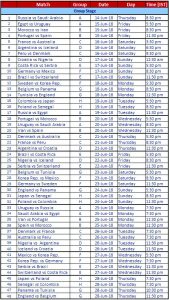 ate, but Dynamo was sponsored by the police. Perhaps the Gestapo suspected players of being members of the N.K.V.D., the police and state security precursor to the K.G.B. The players were separated and tortured for more than three weeks, Goncharenko said, before being taken to the Syrets concentration camp on the edge of Kiev, near the Babi Yar ravine.
Other accounts have the Start players being arrested on August 18, shortly after the match with Rukh. There are a number of possible reasons given for their arrest: They may have irritated a new occupation regime in Kiev and undermined the idea of German superiority by winning all their matches. They may have been betrayed by Georgi Shvetsov, the player-manager of Rukh, who was said by some to be jealous of Start's success. They may have been suspected at the bakery of putting ground glass into bread to be eaten by Germans. They may have been suspected of ties to the N.K.V.D.
One player, Mykola Korotkikh, is reported to have been killed several weeks after the match on suspicion of serving in Stalin's internal security force. Some accounts say that a photograph was found of him in an N.K.V.D. uniform and that he was turned in under duress by his sister.
Six and a half months after the match, on February 24, 1943, three Start players were reportedly shot to death: Trusevich, Klimenko and Ivan Kuzmenko. On February 23, a Kiev plant where the Germans repaired motorized sleighs was said to have been sabotaged in an arson attack by partisans. Around that time, a work brigade from the Syrets camp was also said to have been caught trying to smuggle in sausage; one of the workers may have tried to attack the camp commander or his German shepherd upon being caught. In retaliation, the Germans are reported to have shot one of every three prisoners in the work brigade.
Dougan, the Scottish author, said he believed the Start players were killed deliberately. "It may well have been sheer chance,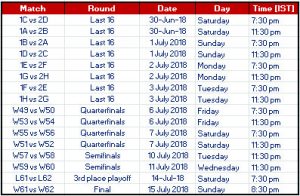 but these were not just three players, but three very good players," he said. "I think the odds are just way too long."
Prosecutors in Hamburg, Germany, investigated the episode. But they closed the case in 2005, saying they found a lack of any evidence that the Start players were purposely killed for defeating the Flakelf team on that late afternoon in 1942.