And Goa's celebrated caricaturist ALEXYZ pays a tribute to tiatr in his latest work 'Caricatures of 100 Tiatrists: 1892-2017' which is replete with caricatures of Goan Konkani tiatr's favorite tiatrists through the ages. Here's an illustrated treasury of folk who defined life and times, both entertained and amused, inspired and recorded the social-cultural history of Goa as played out on the Konkani stage…
REVIEWED BY TARA NARAYAN
IN Goa we do not say theatre, we say tiatr in Romi Konkani! Most of us know that Goa has a long, distinguished history of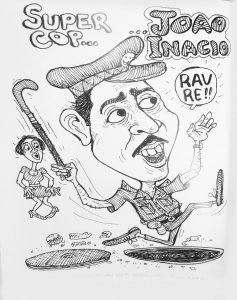 Konkani tiatr which has been at the heart of defining, recording and amusing the people of Goa through the ages. So Goa does have a large and vividly enterprising community of tiatr folk; tiatr has in no mean measure clued up and brought up several generations of Goans at home and abroad. Love for Konkani tiatr is enshrined in the hearts of most Goans to this day and especially in Catholic Goa — although there are several cherished names from Hindu Goa in Konkani Tiatr too.
Alexyz' `Caricatures of 100 Great Tiatrists' is a glossy publication to celebrate the 125th Anniversary of Tiatr in Goa and it is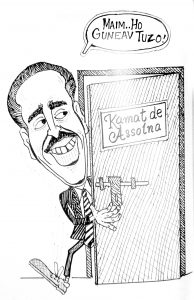 published by Sanskruti Bhavan, priced modestly at `200. Chairman of the 125th Anniversary of Tiatr Celebrations Committee.
Tomazinho Cardozo (veteran tiatr person himself) just about sums it up in his forward, "Goan Tiatr is a unique dramatic form that exists only in Goa. It is unique because it has prose but it is not a prose drama and in spite of having music it cannot be considered as a musical drama. Besides a good story, direction, acting, etc, which are ingredients of a good drama, a tiatr becomes successful only when there are comedy sequences in the play. Comedy plays an important role n tiatr. Tiatr lovers too love to see comic scenes because it helps them to be tension free at least for the time they enjoy the tiatr. I am confident that this book of caricatures of our tiarists of yesteryear will bring smiles on the faces of tiatr lovers and help them to forget their worries and tensions at least during the time they are reading this book…"
There's little to read but one may richly "read" Alexyz portraits of a hundred of Goa's tiatr greats beginning with Lucasinho Ribeiro and Joao Agostinho Fernandes to Regina Fernandes, Saib Rocha, Ermeline, Affonce, Minguel Rod, AMB Rose, Anthony De Sa….Kamat de Assolna, Srirang Pandurang Narvekar, Anil Kumar, Kamlakant Chari, JR Fithna, Kid Boxer, Young Menezes, Miss Julie, Alfred Rose, Felicio Cardoso, Xavier Mendes, M Boyer, Anthony Gonsalves and so many more! Brief biographical text accompanies each caricature to offer interesting insight into the personality of the tiatrist.
Several homegrown tiartrists joined up Hindi cinema too in later years to make a name for themselves, for example, Anthony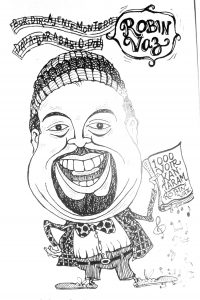 Gonsalves, "who was a superb musical composer, music arranger and teacher who during the mid-1950's, attempted to merge the symphonies of his Goan heritage with the Hindustani melodies and rhythms of the day." Here are a host of tidbits which Hindi cinema's stalwarts would appreciate as also fans of Konkani tiatr.
Thanks to Alexyz' eye for detail this compilation and more than just a compilation offers a fascinating background of nostalgia as also rudimentary insight into Konkani tiatr in Goa…perhaps as tiatr and tiatr folk increasingly look towards a career in filmmaking for the future, shifting their creative talents in search of larger audiences.
One can tell this book is a labor of love for Alexyz, it is not without reason he is designated "Goa's minister for laughs" and he has done a memorable job of "documenting" Konkani tiatr's greats for posterity, even if one may observe that that Konkani tiatr and its tiatrists deserve better, much better. Quite simply if you love Goa and want to understand it you need to have this book in your collection. It's a real gem and a tour de force for Alexyz who has contributed towards Goa's special and exquisite Goenkarponn!
Reviewed by Tara Narayan