POPULAR resentment against illegal encroachments is growing and the Aam Aadmi Party is taking up the cause of no more encroachment on public pavements. On June 21, AAP volunteers gathered to protest against Maharajah casino blocking the public footpath outside the Captain of Ports jetty in Panaji.
They forced the casino operators to remove gypsum walls which were being put up. According to a Panaji citizen when more than 50 AAP volunteers removed the walls they found an extensive amount of electrical equipment, wiring, plumbing and other illegal work being installed right in the middle of the public footpath, while pedestrians were forced to walk in heavy traffic this stretch of the city's main thoroughfare.
The flip side is now the casino operators themselves have assured that all structures will be removed including the raised plinth housing an entry lounge, ticketing and reception desk and even an ATM!
AAP has warned casino operators not to encroach on public spaces in the city and in the meantime, AAP's Valmiki Naik has accused the ruling BJP and opposition Congress of being hand-in-glove with casino operators so that casinos flourish while Panaji languishes in floods, garbage and traffic snarls, and crores of public money is provided for jetties, parking and other facilities for more and bigger casinos to thrive in Panaji and Goa.
He also accuses the CCP of flexing muscles only at AAM criticism while clearing gaddos without making alternate arrangements for them, and depriving people of their livelihood, or shutting down the popular Konkan fruit festival at the last minute under pressure from vested interests.
All this while flagrant violation of law goes on vis-a-vis encroachments which affect public safety!
CARITAS DEAFBLIND PROJECT
WHEN it comes to providing services to vulnerable sections of society Caritas Goa is up there on the list of good Samaritans. Their Deafblind project which started in 2012 has seen six fruitful years with over 65 deafblind children, young adults and the multi-sensory impaired too benefiting.
The good news is that the program has now resulted in a full-fledged Centre for Deafblind at Tahra vaddo, Saligao. It offers various facilities including educational, vocational and therapeutic services. The centre is being supported by Sense International India and the Hans Foundation.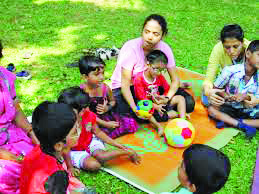 According to Caritas Goa's Fr Maverick Fernandes, "Our home-based services are a regular feature where functional activities like helping children to overcome their daily challenges, communication skills through sign language, vocational and educational training programs are covered through several activities. We are successful due to the active support of several stakeholders. Our advocacy programs have raised the issue of the rights of persons with deafblindness and this created a positive framework."
The Centre for Deafblind opened formally on June 14, 2018, in the presence of Consul General of Australia Tony Huber, the Hans Foundation Deputy Program Manager Kaveri Dixit, Sense International India Director Akhil Paul and Archbishop of Goa & Daman blessed the premises.
GOOD DEED INDEED
Khushi Saigal, a 16-year-old Grade 10 student from Miami, USA, donated $5,250 (`3.50 lakhs) to Sanjeevan Institute run by Mrs Asha Sawardekar in Bandora, Goa. The institute undertakes activities for the welfare of underprivileged youth, children, women and the aged.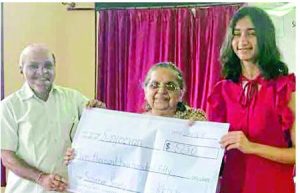 ​​Daughter of Dr Guarav Saigal & Dr Sudha Lolienkar, Saigal visited Sanjeevan Institute last year and was impressed by the humanitarian work being carried in the Institute.
When she returned to America, she started a "Learn to Live Club" in her school and raised money by selling donuts to school students. She also collected donations from her parents' friends.
Recently she visited the Institute and handed over cheque of $5,250 to Mrs Asha Sawardekar in the presence of the Principal of the Institute Auduth Kamat.
Khushi is grand daughter of leading Cardiologist from Margao, Dr Divakar Lolienkar. Her brother, Manav Saigal donated `2,500 out of his pocket money to the Institute.
NO TO PRIVATE HIRES
THE transport department has suspended registration of six four-wheelers and 15 two-wheelers as part of its drive against commercial use of private vehicles.
Last month a surprise drive resulted in seizure of 50 private vehicles illegally hired to tourists. In the first phase Asst director of Transport, Mapusa, Ivo Dsouza suspended registration of these vehicles for a period of 4 months.
"Further action and a drive against violators will be expedited in coming days — especially on weekends where this problem is found to be at its peak," says Director of Transport Nikhil Desai
This is the first time that the department has resorted to mass suspension of registration invoking powers under Section 53.