Packed lunches from Fortune Miramar: Meals Indian, Goan, Western and Oriental for local takeaways, an idea whose time has come and will quickly catch fire! (Inset) See what's in the vegetarian Western meal: Herb rice, vegetable Herb rice, Cajun stew, pasta, garlic loaf, home-style potatoes, piccalilli relish, salad, brownie (or option of atta ka halva on request)!
BY TARA NARAYAN
IN this dripping, drizzling, rainy day blues weather it is really a great idea which I love to death (as my Amrika sister would say)! I fall for words and I fell for the word Cajun, such a lovely soft sounding word and although I didn't quite know what it means…in my heart I knew it was interesting. I picked it up from the menu of the new service of pack lunches which the Fortune Miramar folk have introduced.
Hey, this idea of a takeaway lunch pack of the very best kind is a very good idea and just what I am looking for (seeing that the hubby no longer cares for what I cook, dahi-bhat and more dahi-bhat… never mind that it may have broccoli, mango or pineapple in it). Let me say takeaway Indian, Goan, Western, Oriental lunch is welcome and an idea whose time has come given the lifestyles we live from home to office and office to home (and even if Goa is a small state with a lousy public transportation system).
Is this the first time a five-star hotel's kitchen is offering such lunches? I don't know if Fortune Miramar is five-star yet but it am sure it's nearly there (don't forget the Fortune is ITC which has the second largest hotel chain in India)! Anyway, Executive Chef Pranay Mallick is brimming over with ideas this monsoon and offering a choice of four menus for packed lunches. Choose Indian, Goan, Western or Oriental, each offers eight foodie delights neatly placed in a designer plate, covered and ready for pick-up or delivery. Delivery in the vicinity only if you order more than five lunches or more, says affable general manager Ricardo D'Lima, "Order more lunches and we're doing delivery up to Verna!"
I live more or less next door to the Fortune at Miramar in Panaji, so it's easy to call at 12 noon, speak to whoever is at the extension desk concerned, "I want to book just one packed lunch, make it the vegetarian Western lunch but will you replace penne arrabiata with more Cajun stew and piccalilli pickle instead of salty Punjabi Indian pickle also, no brownie, give your atte ka halva please!" That's me putting in an order! The pack was ready when I got there by 1 pm to pick up, it has to be held horizontally though and mercifully I managed to fit it on my two-wheeler's footpad and was home in less than five minutes at Tonca.
SEE what's there: Tossed salad, garlic bread, home-style potato, vegetable Cajun stew, herbed rice, the "atte ka halva" I'd asked instead of brownie and …ahhh…a bunch of the piccalilli pickle aromatic with cinnamon. What's there not to like about a decent packed lunch! I could order this service every day for the monsoon months at least and share it with the hubby — as in you select what you want to eat and I will eat whatever is left! Actually, it's a shareable lunch if you like a more or less frugal lunch and I always have my home-made curd at home and leftovers in the fridge…don't laugh!
The Fortune's Western pack lunch lists Vegetable Cajun Stew and that's what got me excited enough to place my first order, something magical about the word "Cajun." The veggie filled stew is a mildly spicy affair reminiscent of Thai curry, but again may be not. Cajun has associations with New Orleans and Louisiana in the US of A…Cajun sauces/stews/beans/potatoes/etcetera are a big hit for their spiciness (not like our kind of spiciness but their milder flavourful kind of spiciness). The Cajun people are Americans of French Canadian origin…a bit confusing but they're perceived generally of racially mixed stock with Red Indian, Spanish, African roots and also called Acadians. Read up the history for fine differences and Cajun is not Creole, okay.
There are some famous Cajun sauces marketed out in the USA like one I read about called Jimmy Holden's Louisiana Cajun Sauce. People buy ready-made canned sauce or stew to savour with rice or bread, a quick fix working meal. But to stay in Goa basically Chef Pranay at the Fortune tells me he has a ready-made Cajun mix comprising of onion-garlic powders, paprika, some black pepper… and when he is preparing the stew he stirs in some Amul cream, then presumably the pre-cooked veggies/chicken is laced in and Vegetable Cajun Stew/Chicken Cajun Stew is ready.
If I like Cajun stew and herbed rice so much, let him know in advance and he'll make a special lot for me, "including the ate ka halva (made with water, not milk)." But don't get fixated on just the Western packed lunch like I am! Check out their other lunch pack options too, the Indian lunch has "matar paneer, dal tadka, adraki aloo gobhi, tawa paratha, jeera pulav, gulab jamun, pickle" (butter chicken in for non-veg order); Goan menu lists such things as "potato vindaloo, vegetable xacuti (chicken xacuti), dal tadka, tawa paratha, steamed rice." I rather like the oriental menu of "kimchi, veg spring roll, veg hakka noodles, veg Manchurian, veg Thai curry, steamed rice" and maybe order it another day when I've got over the Cajun veg stew.
I dare say the Fortune's packed lunches are picking up well with these rainy days. The lunches are reasonably priced at `200/`225 (plus taxes) and have to be cost effective although one may argue about what's cost effective forever. I usually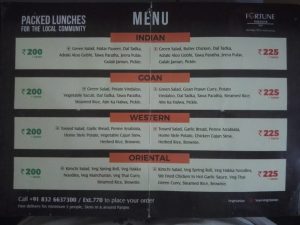 interact with Aditya at the Fortune but he has posted out to Haridwar I'm told. It's always like this in the hospitality business. One gets friendly with someone and the next thing you know they've flown to more exotic destinations! I suppose it's adventurous if you're seeking adventure in life, here today, gone tomorrow.
With gurgling water fountain near by the small lounge and adjacent Orchid restaurant…I find the Fortune Miramar soothing, peaceful, ideal to catch up with my thoughts on a rainy day. And no, do I hear someone saying let's go there and eat one of the packed lunches! You may not do that. The packed lunches are exclusively takeaway orders or delivered at office/home providing you make the order worthwhile.
Hey, call your best friends over some rainy afternoon and order home a dozen packed lunches, just peel off cover, sit back and eat! No washing up to do either and I will say this: It's advisable to invest in natural leafy plates of a designer quality, I once saw them at the Taj Vivante in Panaji and they're so cool. Plastic, no matter how designer, is plastic and evil.
NOTE: What's piccalilli pickle? A favourite old pickle of the British and I dare say it has its origins in India's British colonial years when Brits picked up many Indian tastes. Now there is British piccalilli and American piccalilli and it may be fruity tangy or fruity spicy….piccalilli may have a single veggie or a mix of cauliflower, cucumber, carrot, shallots, green beans (yard long beans), zucchini, green/red/yellow capsicum…cut in strips, salted overnight, rinsed out and smart cooked (that means Google and find the recipe you like). Piccalilli is to live for when crunchy, tangy, palate cleansing and makes for a perfect filling for a cheese sandwich of multigrain bread. I wonder if Chef Pranay will give me a bottle of piccalilli for love or for money…he tells me he is planning a burger festival now, one of the item numbers will be a black burger bun…"the black comes from burnt to black ash coconut shell!" Interesting.