BY TARA NARAYAN
SOME stories are worth writing. How can I forget this one! The life and times of Goan Observer – a political weekly on the stands every Saturday – it is also my life and times with one of Goa's most conscientious editors and I say this not just as Rajan Narayan's wife but as publisher of Goan Observer for the last 15 years. I have watched it grow, flounder and recover several times through good times and bad times.
We had just got married in 2001 when Rajan was still editor of the Herald and getting more and more restless. I was coming to terms with my jhat phat marriage at the tail end of my 40s (with an angry mother in Mumbai demanding why I have to get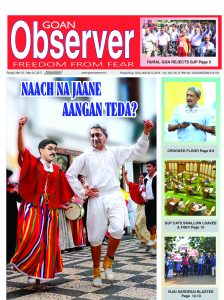 married so late in life). In Goa I found Rajan's maid Nalini was feeding the hubby with only boiled veggies and he said that was all he could eat because of his never ending health problems after the beating up he had got post-Dayanand Narvekar episode in 1989). It wasn't easy. Wondering what to do with my newly married self in his rented functional basement flat at Dona Paula, I decided to continue writing at least to stay alive and wrote occasionally for the Herald.
In 2002 at the peak of a gastro epidemic when the media was going on and on about the unsanitary conditions of gaddo eating out in Panaji, I wrote a tongue-in-cheek piece about Chief Minister Manohar Parrikar eating ros-omlet at the sleaziest gado outside Alankar cinema at Mapusa just before going home by midnight –"Is this where the Chief Minister of Goa dines?"
All hell broke loose the next morning with Herald proprietor Raol Fernandes calling me to say better apologize to the CM. Mr Parrikar himself clarified to me over the phone that he hardly ate outside Alankar cinema gaddo and if he did it was only coconut water that he drank! I was to say the least here quite terrified…although the hubby said you are not going to apologize and that is not it, it's quite another matter altogether more important. He decided to quit the Herald soon afterwards when he was told he may not carry a news item about how the CM had sent a legal notice forbidding the media from publishing anything about his family (media history really).
That is when he disgustedly walked the talk. Picked up his grubby jhola and walked out of the old fusty musty offices of the Herald at Fontainhas. Leaving memories of some 20 years of sometimes exciting, sometimes disgraceful life and times behind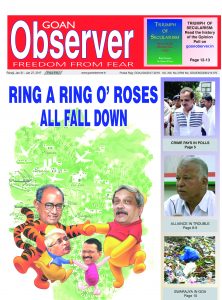 him. I wept for I felt so responsible, although he kept reassuring me his quitting had nothing to do with me or what I wrote, and actually it wasn't.
A few months later the tabloid sized weekly Goan Observer was born with some fanfare. I invested two lakh, his friends offered him some funds against share capital, small goodwill money. It was an exhilarating start and the editor of the Goan Observer was in his element for we had some very good reporters … of course, nobody could tell him not this or not that. We sailed along fruitfully, little to complain about, ten years on as the political climate changed a noticeable change began to creep in and affect the fortunes of the Goan Observer.
Print media was giving way to electronic and digital media. The cost of rented office escalated as did printing and newsprint costs, editorial staff fell prey to greener pastures with the newly arrived Times of India in Goa…plus, there was the covert and overt political vendetta to get even with Rajan Narayan. I don't know anybody who is as hated as much as loved as Rajan Narayan!
Some said why don't you make up with Chief Minister Manohar Parrikar? Others said there are more exciting newspapers in town, the Goan Observer's USP is boring and there's not enough entertainment value! With falling advertising revenue we had to cut down on pages to stay alive – and kicking. The good times were over and bad times were here, we changed premises, residential and office, went a little down market to continue to stay alive – and kicking.
A lot of criticism, some help, for a while there seeing his increasingly fragile health I thought okay, maybe it's time to say goodbye to the Goan Observer? But it was nothing doing. As wife I only see Rajan's unfailing evergreen spirit and the image of the boy who stood on the burning deck waiting to die with his boots, pants, everything on. After this or that elections, he would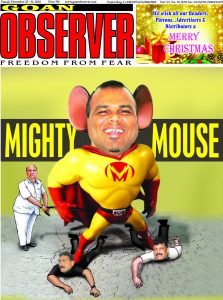 say, things will improve, in the meantime go find some tabletop books to do if I could and help him to do better marketing if I could!
Fifteen years later I notice that many of the readers of the Goan Observer, hard core readers, are old timers, those who followed his Stray Thoughts column faithfully in the Herald and in the Goan Observer to this day. Some reader in his 80s kept calling to tell me he didn't get last week's copy of the issue at Dabolim where he lives and what has happened? Please send him both last week and this week's copies!
Needless to say for Rajan Narayan's Goan Observer, part of small independent media in the country, it will always be an uphill struggle to stay alive and kicking. We survived from year to year through highs and lows and always at the mercy of advertising revenue. But the political times, they were a-changin' and now they've changed dramatically — some of our covers which depicted a host of politicians in the shape of various animals of the wild must have raised political hackles along with the covers stories of political use and abuse of power and vile chicanery. For a while there it was a "manimal world" for the weekly. We survived.
This Rajan Narayan is too much and there's too much repeat value now perhaps. He is black and white, no 50 shades of grey for him. Let me say he pays the price consistently for not being either a chappal-licker or back-scratcher in his own interests. As our advertising kept drying up it did appear like it was a political vendetta from the top, how dare Rajan Narayan get too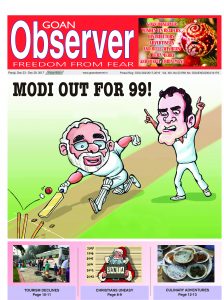 big for his status and all that. Who cared? A few did if not over the table, under the table ("Here's Rs20,000 but make it an anonymous best wishes advertisement, no names please!")
Another table-top publication brought in some revenue. We survived. In recent times I bailed the Goan Observer out with whatever little personal funds I had, warning the hubby, "This is it, forget it now…let's close down the Goan Observer!" It went on from month to month in the last two years but we survived through the skin of our teeth as it's sometimes said, to breathe for another week, another month.
The truth is the Goan Observer is all of 15 years old, a teenager, let's me say we have no kids and perceive the weekly as our only child. I would like to see it continue to live, alive and always kicking, keeping the spirit of Rajan Narayan alive for the cause of small media dedicated to opposition politics…of course we need younger blood with guts as well as sensibility, we need money, white money to stay alive and grow to be profitable.
I am not a political journalist by inclination. Through 40 years I've been a lifestyle journalist, writing about interesting people, human interest stories, about food and how it impacts our health, goings on in big city Mumbai or small state Goa for the last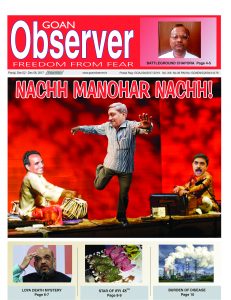 17 years. A very politicized hubby, however, has made me politically conscious for politics touches us all big or small, rich or poor.
It matters whether a country's political establishment is a democracy based on human values for all citizens, or an arrogant anarchy with the top brass forever fixing progress and development to feather their own private nests…the poorest of the poor pay the price for lack of real grassroots-based democracy. For any political sensitivity I have imbibed, I owe Rajan Narayan.
For his life has always been a challenge to just stay alive with the basics. While I don't know what it is to be rock bottom poor, he knows, what it is to be without roti, paani, bijli, kapda or makaan… for he was forced to grow up in a hurry in the school of hard knocks in some of Mumbai's slums, when education and friends were all he could cling on to, to grow up in a hurry. If children are still growing up in slums in this country after 70 years of independence, yes, like Rajan Narayan, I do blame successive governments in India — for lack of enough responsibility, accountability, imagination and shame.
As far as life and times in this country are concerned we are all in it together. The Goan Observer may be small fry in Goa but I still have to see it scrape and bow before the bullies of the government of the day; may be it is easy to trample all over it by targeting it courtesy non-payments of advertising dues, denying it advertising…but 15 years later we're still alive and kicking for another week, another month…and that's how it is going to be. Join us in the good fight if you wish both in our print edition or in our on-line edition!
— Tara Narayan, publisher,
Goan Observer