At the Navhind Times-Taj Exotica's 'Goan Woman Chef of the Year' Culinary Competition event….there were 130 dishes this year. Contestants presented their dishes with elegant touches of beauty and when the winners were announced they got a "big thunder" of applause!
BY TARA NARAYAN
IT was a final gold medalist moment for Ida Fernandes of Miramar, a 75-years-old something housewife walked away with the title of 'Goan Woman Chef of the Year 2018' at the Navhind Times-Taj Exotica event which took place with much punch and pizzazz on July 8, 2018. Proving anew that when it comes to cooking — housewives need not play second fiddle to chefs in starry hotels! Housewives can cook better! By Tara Narayan
And the spritely Ida Fernandes won all hearts when while collecting her award she disarmingly confessed that as the mother of five sons, life was akin to "feeding the multitudes!" Some son would invariably grumble that she made a dish larger by adding in more vegetables! As her doting hubby put his hand around her shoulders, she added, "My husband is my helper, he cuts things for me and does other things." Needless to say the audience put their hands together and applauded. Ida Fernandes's entry was No11 and evocatively titled Espumas (meaning "floating islands" or something like that in Portuguese one learned later).
This year's culinary competition was limited to the preparation of Goan dishes with each contestant entitled to submit two dishes — a main savory dish and a sweet recipe. The dishes had to adhere to three categories, namely Goan, Goan Portuguese and Saraswat cuisine and they were judged on the uniqueness of the dish along with creativity gone into it and taste. The dishes were prepared by the participants in their own kitchen at home and brought for final touches at the Taj Exotica grand ballroom on Sunday.
Clearly there were favorites as one took in the dishes laid out at long tables around the room, with several pork sorpotel/sannam entries, and feijoada, beef curry, Goan beef roulade, prawns stew, bolo de camarao….bharleli kurli, ansa pansa sasav with sungta, prawn uddamethi (No92, Medha Talaulikar's entry which won her a gold medalist prize), mussel fry, amadyache raite, etcetera.
There were the sweet dishes from caramel custard to tender coconut pudding (No, won a prize for Yogita Dalvi Yaji), tender coconut and mango pudding, sucurundde, mangane, pinaca, seven layered dosa (ghavan), aatwal, ragi sattva (won gold medal prize for Rucha Talaulikar)…and the incomparable bol sans rival (won Sarita Fernandes one of the runner-up prizes). There were seven winners along with the Goan Woman Chef of the Year award – all winners won desirable prizes by way of holiday stays and lunch/dinner at various Taj hotels in Goa and abroad, plus there were other prizes and certificates of participation.
The room was abuzz with tantalizing aromas as the judges went around tasting the dishes. Later on many of the guests in the hall also made a dash to congratulate the winners and taste their prizewinning dishes before they got polished off! The judges were familiar faces from the hospitality business with celebrity names like Chef Urbano Rego, Sunita Rodrigues, Sarita Carvalho, Suzie Martins, Anjali Walawalkar.
The Navhind Times' General Manager Pramod Revankar helped give away the prize awards, while Taj Exotica's General Manager Vincent Ramos had his sentimentally evocative last words in a vote of thanks, "The idea of this Goan culinary competition is to keep our culinary heritage alive, to appreciate the talented women in our homes…when someone says `This is my grandmother's recipe' there is an immediate emotional connect. This is to say we are Goans first!"
'GOAN CHEF OF THE YEAR' IDA FERNANDES
IT WAS pure fluke that I managed to find this year's Navhind Times-Taj Exotica 'Goan Chef of the Year' Ida Fernandes at home! Having missed her at the event at Taj Exotica I went looking for her at her home at Sand Dunes near Miramar, Panaji, and found her (without address in hand). A friendly woman, she promptly invited me in to share her thoughts about being `Goan Chef of the Year.'
She feels good about winning the title of being Goan Chef of the Year of course. As mother of five sons, perhaps she deserves it! So when is she going off to the Taj Dubai with her husband? She sighed, "My prize voucher is for the dish I presented called `Espumas' and is for a two-day free stay at the Taj Dubai with breakfast…but what about lunch and dinner?" And the air fare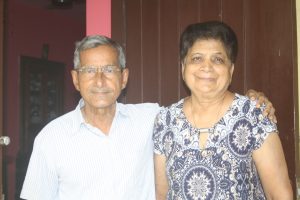 o go to Dubai!
Ida Fernandes says sweetly, "I would prefer just a two-day stay at the Taj Vivanta Panaji in Goa!" It's the principle of it, she argues, a prize must not come with strings attached, "and again my voucher for Taj Dubai is valid only from April to Nov 30 this year, there is so short a time left!" It is short notice even if she tries to drum up money to avail of her prize voucher.
Okay, let's not talk about it. She confides disarmingly, "I'm 75 years and my husband Sebastian 82 years, both of us are retired. I was a teacher at Don Bosco and he a pathologist with the Directorate of Health Services…but you must know I have five sons, I spoke about it that day at the competition function." Well, it is true that bringing up five hungry children can't be easy for anyone on government salaries and she had to learn how to make food go a longer way, "I used to put lots of carrot and green peas and a little meat!" One son or another would grumble.
They're all grown up now. Her eldest son is Father Edison with Don Bosco at Benaulim…but it is my youngest son Lavoisier, he is 38, he is an engineer in London, who encouraged me to go and participate in the Goan Woman Chef of the Year competition at the Taj Exotica… I read about it in the Navhind Times quite some time back." Her eldest son is a priest, two sons are in London, one son has passed away.
As for her prizewinning recipes, she had cooked two dishes, one main dish was Goan beef stew which too won a prize, and the dessert dish Espumas won her the Goan Woman Chef of the Year award…"Espumas is a dessert of French origin, consisting of meringue floating on crème anglaise (a vanilla custard)…it can be served with a drizzle of caramel on top but I prefer to sprinkle some cooled and crushed caramel since that adds some texture."
Yes, what she said about her husband helping her cook is true, "cutting was his work and he would do that and keep it ready for me to cook… I had to make it tasty so that they would feel like eating!" As housewife and mother she had to grow up as a cook too and soon she got interested in cooking a variety of dishes. In those days there was tea-time too and everyone would want to know what's there for tea-time, "We never bought food from outside in those days, I used to make some godshe, pancakes, or sweet potatoes boiled and filled with coconut and jaggery mix…"
As for entering the competition it was just something she did on the spur of the moment when she saw the advertisement in the Navhind Times and her youngest son's urging, "It was there last year too, this was the second culinary competition. Last year Sarita Fernandes (whom I am not related too) won a voucher to stay at Taj London, but I don't thinks she used it!" But she has won two prizes and one voucher is for a stay of two nights at the Taj Vivante Pune, "it is for room stay only, maybe we will go, I don't know yet!"
Concluded Ida Fernandes, traveling and cooking are two things she loves to do and she has travelled to 14 countries. That is good enough, for the time being the place where they are staying is going in for re-development and they are a little anxious about where they would go and stay. She does a little gardening and she would like to keep her plants with her.
RECIPES TO LOVE
Some of the women were only too happy to share their recipes…and we take pleasure in sharing them here with Goan Observer readers: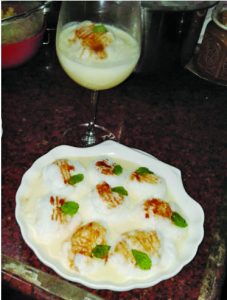 PRAWN UDIDMETHI
Ingredients: 1 cup prawns, de-shelled, cleaned; 2 tbs finely chopped onion; 1 small onion cut lengthwise; 3 tbs freshly grated coconut; 4 tbs freshly grated coconut to extract milk; 1 marble size ball tamarind; 1 tbs urid dal; half tsp raw rice; half tsp methi seeds; 8 red chili; half tsp turmeric powder; one-and-half tsp salt; quarter tsp coriander seeds; 12 to 15 peppercorns; 4 tbs coconut oil.
Method: In a pan take 2 tbs coconut oil and fry urid dal, methi seeds, raw rice and keep this aside.
In same pan fry red chilies, coriander seeds, peppercorns, and keep aside.
Fry lengthwise the cut onion in 1 tbs oil until light brown, now add 3 tbsp grated coconut and fry till light brown, let this cool. When cool grind contents of step 2 and step 3 along with tamarind into a fine paste. Add this to ingredients of step 1 and grind coarsely.
Extract coconut milk from 4 tbs grated coconut (about 1 cup milk). In a vessel fry two tbs of finely chopped onions with a tbs of coconut oil until reddish brown. To this add the ground paste, coconut milk, turmeric, salt and prawns. Cook to a simmer, adjust consistency of gravy by adding some water if required.
AATWAL
Ingredients: 1 cup of raw rice; quarter cup of methi seeds (soaked in water for 5-6 hours), 3 cups of scraped coconut; half cup of grated jaggery; half tsp salt.
Method: Wash and cook rice with five cups of water until very soft like kanji. To this add methi seeds and cook further. Meanwhile grind coconut scrapings with little water and extract thick milk, approximately 1 cup. Re-grind the same with more water and extract three cups of thin milk. Add this to rice and methi, along with jaggery and pinch of salt. When jaggery completely melts add thick milk and cook for five minutes.
(Recipe shared by Medha Talaulikar)
SUCURUNDDE
Ingredients: 1 cup chana dal; 2 cups grated jaggery; half cup rice flour; half cup wheat flour; half cup chickpea flour; salt to taste; oil for frying.
Method: Filling — Soak cup of chana dal for 30 to 40 minutes. Cook in pressure cooker for seven to eight whistles. In a pan add cooked dal and also add two cups of grated jaggery with salt to taste. Cook well until it comes together. Keep aside to cool.
Batter — Take another vessel add half cup of rice flour, half cup of wheat flour, half cup of chickpea flour (besan) and salt to taste. Add little water at a time until it forms a smooth batter of pouring consistency.
Frying — Make medium sized balls of the filling. Dip into the batter and fry in hot oil till golden brown. Serve hot with desi ghee.
SERRADURA
(Serradura in Portuguese translates to "sawdust pudding" because the pudding is layered with whipped cream and very fine Marie biscuit crumble. This dessert became famous in Macau which used to be a Portuguese colony and it is available in most restaurants and bakeries there. Serradura's deliciousness spread from Macau to Goa and it's here to stay. This much loved dessert with its tantalizing name sometimes comes layered with mascarpone cream cheese but whipped fresh cream is fine.)
Ingredients: 15 to 20 Marie biscuits; five to six sweet condensed milk; half tsp vanilla essence; 1 cup whipping cream; 1 tsp chocolate shavings.
Method: Powder or crush the Marie biscuits to a fine crumble. Whip the cream to soft peaks. Add in condensed milk and vanilla essence and whip again till stiff peaks form, do not over whip or you will end up with butter. In a bowl first put a layer of Marie biscuit crumble or powder. Add a layer of cream. Repeat with crumble and cream alternately, crumble coming last. Also sprinkle atop chocolate gratings. Place in a freezer for two to three hours. Take it out 15 minutes before serving.
(This recipe is courtesy Prasheela Mapusekar, Bicholim)