Pankajbala R Patel reviews the 65th National Award Winning Film Festival 2018 in Goa…
WORTH A WATCH: (top left) A poster for the offbeat Marathi movie, Kaccha Limbu. Stills from Bhayanakam (above) and Village Rockstars (below).
EVEN a short 25-minute non-feature film like Nagraj Manjule's Pavasacha Nibandha (the festival's inaugural film) is a memorable gem one could view several times over just to listen to the eloquent symphony of the falling rain (Prasad Oak and Nagraj Manjule who were felicitated may take a bow for this film). In between I managed to catch the Nagarkirtan (Bengali, directed by Kaushik Ganguly), DHH (Gujarati, director Manish Saini, 127 mins), Hebbet Ramakka (Kannada, director NR Nanjunde Gowda), Mom (Sridevi's last film), Dhappa (Marathi, Nipun Dharmadhikari, 115 mins), Walking With the Wind (Ladakhi) and the final treat of the Rima Das' Village Rockstars (Assamese) which is on a roll in the festival circuit, winning innumerable awards. Kaccha Limbu (Marathi) appealed with its offbeat theme of a mentally retarded boy coming of age, but is heavily manipulated that the result is one of overkill.
Of the films I recall vividly are Dhappa set amidst a housing society, where a bright group of children turn the tables on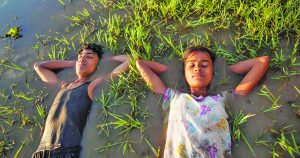 hypocritical parents at the mercy of heavy handed local goons who want to stop the kids from staging a play – all in the name of nonsensical religious fundamentalism. Leave children alone and they're both naturally democratic and secular! Then Walk With the Wind is a slow charmer. The story of an earnest schoolboy's adventures in getting his friend's chair repaired (a chair he had broken while chasing a butterfly fluttering on the wall)…wins my heart absolutely. The chair has to be smuggled out of the classroom surreptitiously, kept hidden here and a there, while someone can be persuaded to repair the chair…who would think the task would be several lessons in learning patience?
For once it's not scenic snow-laden mountainous backdrop which holds one spellbound, but the inner dilemmas of a young boy fighting to be a good friend. Praveen Morchhale's A Walk in the Sky is an agreeable charmer. Reportedly the film's crew lived in tents for 22 days in freezing high mountain country while shooting for the film. For Morchhale the film is a tribute to his guru, Iran's legendary Abbas Kiarostomi.
Come to Hebbet Ramakka, a political thriller with a government contractor wanting to reap the good life for his family up the ladder of corruption. Unfortunately or fortunately he fields his feisty illiterate wife Ramakka for assembly elections coming up and gets a rude surprise…his wife is that rare being who wants to be an honest politician! The film is a hilarious eye-opener offering a blow-by-blow account of political shenanigans and a testimony to sophisticated cinema viewing. Director NR Nanjundu Gowda's handling and editing is full of finesse as he draws the line between commercial interests, yet stays with the straight and narrow of an enormously insightful film worthy of several national awards.
Most poignant of the festival films for me were Bhayanakam, Nagarkirtan and Village Rockstars. In the Jayaraj-written and directed Bhayanakam (Malayalam) we see life through the eyes of postman Renji Panicker (brilliant study by Suresh Gopi). The backdrop is World War 2 and in the impoverished village backwaters of Kuttanad young men are recruited as soldiers to fight for God and Queen. The fears of family back home are palpable, even as they need the money orders… when telegrams of their boys' death are delivered they beat and chase away their friend-turned-enemy – the humble postman! A searing film adapted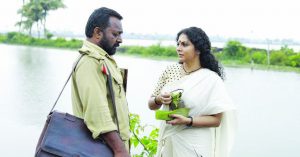 from two chapters of epic novel Kayat by Thakazhi Sivasankara Pillai.
Rima Das' Village Rockstars is about 10-year-old Dhunu whose life revolves around joining the boys in climbing trees and floating in shallow waters for blissful time pass, and showering affection on her pet goat. Life is grim and has to be lived through highs and lows as the children dream of forming their own rock band… it's a remarkably lyrical film of positivity reminiscent of Satyajit Ray's Pather Panchali!
The Bengali Nagarkirtan is incredibly sensitive and educative, tells us why a certain group of youth commit suicide. The only alternative is to join a religious movement offering them a little sunshine of joy in a cruel, feudal society which prefers to demonize rather than accept or deal with sexual variation in nature.
One may say life is not a film even as one trots off to see one more festival film of recent contemporary vintage. Yet again, if life is a film, whose life is a film? Regardless of whether we seek easy escape in films or difficult inspiration to live – our national award-winning films deserve to be better seen by our own people young or not so old in our own country. Be it with the help of subtitling in all the 22 major official languages of India and especially the classical Indian languages!