Bol sans rival? Call at Sylvia D'Souza's `Truffles' at Caranzalem, mid-mornings you may also find prawn and mushroom rissois, beef croquettes, lemon tarts, red velvet cupcakes, bar cakes, truffle pastries and full-fledged cakes…an interesting find in Panaji! (Inset) Bol sans rival, best meringue cake of them all
BY TARA NARAYAN
BOL SANS RIVAL! If you're asking me it's the most desirable cake of them all. This Goan or half-Portuguese, half-Goan cake is to live for and die for (that means I can't make up my mind but I love it). Bol sans rival is quaint combination of the Portuguese bol for cake and French sans rival for without rivals or no rivals! What is it about this cake which makes which makes my all my no-sugar resolutions crumble. All thoughts of how much cancer-friendly sugar there may be in it flies out of my mind! When a bol sans rival slice is put in front of me I happily dip into it reverently…it's my favourite cake in Goa and the world.
And because it's one of Goa's old time celebration cake, a heritage cake, I'm concerned that folk nowadays don't recognize it anymore, you don't see it in Goa's many cake or patisserie or bakery shops no matter how upmarket, and come the hubby's birthday every July 4 I'm hunting high and low for someone who will make the original, divine bol sans rival for me. Over the years I've learned that few can make a perfect bol sans rival and I've partaken of both messily, sugary, indifferently made bol sans rival as also a few memorable bol sans rival. Usually, one may find a bol sans rival at a Catholic wedding buffet at the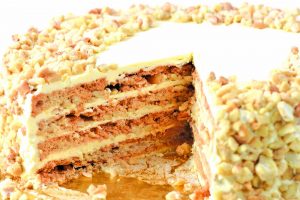 desserts counter and I always look for it. The hubby will of course skip dinner and make a meal of it!
Bol sans rival is an elegant white light-hearted affair in pale buttery cream with a décor of deep red candied cherries and a motif of greenery woven in with what I imagine is tutti frutti (or some coloured green candied fruit maybe). Most cake shops in Goa have stopped making it routinely and only some old timer chef like my friends, Clifford Rozario or the late Fernando of Nostalgia down south Goa at Raia, delivered a bol sans rival to delight the eyes first before one reluctantly cut into it for serving. Now it is his wife, the gallant Margarida, who runs Nostalgia.
One year a young chef whose name I can't remember for the life of me now, made an original almond layered bol sans rival for me (the original bol sans rival in Portugal uses almond crumble instead of cashew nuts crumble or so I learned). An almond bol sans rival is far more feathery light compared to the heavier caju bol sans rival. Making an original bol sans rival is a dying art although Goa has very many fine housewife bakers with magic in their fingers when it comes to baking cakes.
Basically, what makes a bol sans rival is layers of meringue prepared with egg whites, cream of tartar, sugar, chopped cashews (or almond crumble), vanilla extract/almond extract)…the finale is a buttery cream coating (French butter cream is made of egg yolks whipped up thick and pale yellow, with hot sugar syrup laced in when it is at soft ball stage and at room temperature the best dairy butter and flavouring is whipped in). The buttery cream melts easily though and one has to keep refrigerating a bol sans rival.
THIS year my friend Karen Dias said why don't I go to Sylvia D'Souza at Truffles and order my bol sans rival – Sylvia D'Souza is an amazing cake woman and Truffles is the cake shop where discerning folk are going nowadays for their cakes and sweet some things. Karen hasn't heard of a cake called bol sans rival, "but checkout their mushroom and prawn rissois, they arrive all warm and soft a little after mid-morning… `20 each but these are slightly larger crescents."
I took her word and looked up Truffles to order this year's bol sans rival. It came in long oblong shape instead of the usual round and was scrumptious (`850 kg), got over quickly between office and home on the hubby's birthday. After that I've taken to dropping by to savour a mushroom rissois or a lemon tart…there's truffle cakes, walnut or carrot bar cakes, red velvet cup cakes, brownies, etc. Usually daughter Yohanna presides here and sometimes son Zion who is more communicative, their mama Sylvia if she is around is usually engaged in supervising some order or another which has come in.
Do you know that when it comes to cakes there are wedding cakes, christening cakes, anniversary cakes, birthday cakes, kiddies cakes, coming of age cakes and the rest of it, maybe even a funeral cake (I mean some upper crust folk do serve cake and coffee on all occasions as far as I know)…there are magazines devoted exclusively to all kinds of cake-making. Come to think of it there are quite a folk who cater to orders for special cakes, housewives and retired German, French and Italian chefs in Goa! My friend Manuela out at her farm house in Nachinola makes dreamy apfelkuchen (apple cake streusel-style) but probably feeds it to all her crazy menagerie of dogs, cats, cows, goats and birds! Must catch up with her one of these days.
Help, these days the temptation to drop by at Truffles at mid-morning to find out what's there is haunting me or so to speak. Of course this won't last and the urge to go to Truffles will vanish once I discover something else to haunt me. But I do wish such things as lemon tarts, cup cakes, velvet cakes, etc, would go mini and be prized more economically, at least the option should be there; and if I find mini slices of bol sans rival routinely at my favourite cake shops I would go indulge when some sugary blues hit me (although I've outgrown sugar blues more or less).
You must know that pure white crystalline sugar is one of our modern food industry's bestseller ingredients, which is taking a toll on health in most homes (it's part of the reason why there's cancer; along with refined oils and hydrogenated vegetarian fats enshrined in most of our snacks and especially fryums). (Sigh) All this notwithstanding, I still call at my favoured places like Cremaux to pick up their dark chocolate cookies, Pastry Cottage for Swiss chocolate rolls, or the odd carrot/walnut/fruit cake bar or Goa's semolina cake baath or batica at Mr Baker.
Bodega's Café Al Fresco (up at Altinho's Sunaparanta) offers good cakes). A'Pastelaria down town Panaji has old world crème cones. Some days my favoured retreat is Anisha Menezes' Meraki Café at the CMM Memorial Polyclinic (Altinho). Here apart from a selection of desirable confectionary, I feel like sitting down in peace and tucking into perfectly scrambled eggs (laced with mustard sauce) stuffed in a toasted Goan poie! Soothing elegant café this and not forbiddingly overpriced.
Small niche cake shops and patisserie outlets keep coming up all the time in Goa and they're welcome for they offer better value-for-money fare and friendly service!