Vegan cooking workshop at Art Chamber, Calangute: More and more folk are going organic and vegan for reasons of health and helping to restore mother earth's fertility! (anti-clockwise from left) Svetlana stir-frying onions in olive oil to top the potato salad; hands-on chef-in-charge Rudolf Ludwig ladling in soup stock… and group members in lively discusstion.
BY TARA NARAYAN
DON'T ask me how last Sunday I found myself going all the way out to the interesting couple Yolanda de Sousa and Rudolf Ludwig's Art Chamber. The wondrously large domed art gallery – the Galeria de Belas Artes – is housed in their Castelo Vermelho and occupies prime center space. Lots of garden grounds around. The place is tucked away in the back lanes off the main Calangute-Candolim road and takes a little patience to find. The German Rudolf tells me he designed the building himself some 20 years ago when art hardly had a presence in Goa!
Rudolf has a musician's soul for he is both pianist and composer, also director of the Ketevan Goa World Music Festival. From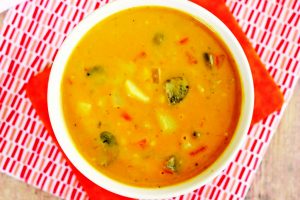 the sound of it a lot of sacred music and the muses of the art world keeps both him and wife Yolanda in the pink of life. But the Sunday evening of July 15 I had gone for an organic vegan cooking session presided over by hatha yoga teacher Pooja Gupta.
Apart from conducting yoga classes here at Art Chamber, the soft-spoken and excitable Pooja thinks the best way for people to bond is over a meal. In this case, a vegan meal. I agree, one may make all kinds of interesting friends over a desirable collective meal, especially one in which everyone pitches in to help cut, cook and serve…never mind the scattered chaos which may ensure for a while before everyone settles down to serving themselves on yes, eco-friendly dry leaf platters!
I'm so happy eco-friendliness is catching on like wild fire. Okay, may be not like wild fire, but it is still catching fire. It was a first session so things were still falling in place and I met the chatty mother and daughter team Tammy and June Shahani (who tells me she has been cooking for 55 years at home and still going strong, her other name is Rosabelle which she much prefers), then there was Yana with hubby Michael Rajam, the ever quietly helpful Svetlana Shliupakova (don't bother pronouncing her name, she shrugged), Rina Lawande, Henry Nazareth all the way from Panaji like me, Valerian Mendonha, Vivek Chauhan, Mukesh Jaiswal. Some were Pooja's yoga students I gathered.
It was a cooking session taken over by the sound of drumming and sweeping rain outside. We had to more or less restrict ourselves to the kitchen area, but still it was fun to see the ice melt slowly and then quickly as folk discovered each other. A pumpkin soup, a couple of salads and Pooja's much loved peanut curd rice and chana dal was prepared…I'm a terribly fond salad lover and so took a keen interest in two salads of German origin.
A boiled, peeled and fork-mashed potato salad laced with a dressing and mildly caramelized fried onions…more Indo-German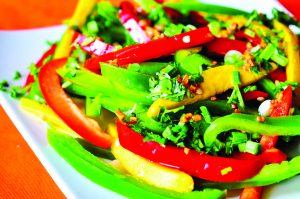 than pure German, someone exclaimed. Then I absolutely fell for what Rudolf called his "blaucrat" – "because in Germany this cabbage is really blue in color." There is also the more famous, familiar green cabbage sauercrat (matured in wooden barrels, which is the healthier version although quick-fixed canned Sauerkraut also exists). Anyway, this "blaucrat" was a big hit with me, and the recipe requires you to fine-cut red/purple/blue cabbage and marinate overnight for "marinating is a subtle science!" Next morning or after a few hours the cabbage may be slow-cooked for "40 minutes." Add in green apple wedges with skin on for more flavor, must get this recipe.
We started merrymaking with the flavorful pumpkin soup, then the salads with one more of cooked sliced beetroot looking very pretty, and an extra salad of green lettuce, colorful peppers and cherry tomatoes. I feasted on the potato and "blaucrat" naturally, there were secrets in them I still cannot fathom! Finally, came the piece de resistance of Pooja's peanut curd rice (fat brown rice, soaked in advance)…she had a bowl full of soaked peanuts or pale pink skinned groundnuts and this she put in a mixie and turned into peanut milk, which may then be set to peanut curd with "chili tops and a previous batch of peanut curd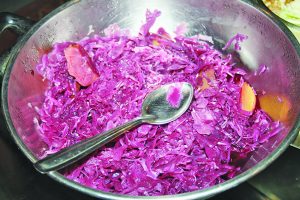 culture" (or lemon juice).
The peanut curd rice and chana dal was quite a savory combo and filling meal. Banana-cocoa ice-cream completed the vegan meal and we were a happy lot by then. Maybe this could have been better organized with something vegan to drink, but I suppose that would have upped the cover price of Rs300 which everyone paid. Vegan just means no animal meats and dairy products – no animal milk, curd, cheese; no eggs. I dare say veganism is the result of the highly industrialized bovine animals-dairy business (where chemical sanitization, claustrophobic imprisonment and manipulation of bovine biology had led to "mad cow disease" and various manifestations of ailments and diseases courtesy the treatment of the animals concerned). Mechanization of animals for big industry profits has become no no and folk are boycotting dairy products and meats, turning vegan at first out of environmental concerns and better health parameters is the result.
To be vegan means you eat more organically grown salads and Rudolf tells me in Germany one begins a meal with salads, there are cold or warm or semi-cooked salads. He rues the fact that in India we hardly know how to eat salads! In Germany (to which he has no intentions of returning) a recipe like "blaucrat" would be traditionally served alongside a main meat dish (which can be easily replaced with the host of vegan recipes there are using cereals/millets/pulses/veggies). Don't worry about going protein-deficient! A well-designed vegan meal incorporates vegetarian proteins courtesy nuts and seeds, and see what a wonderful variety we are lucky enough to still have in India.
ACTUALLY, environment and health conscious folk have been going vegan in the countries of the west for over a decade now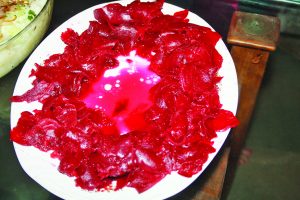 with Germany setting the pace perhaps! England too (where traditional apple orchards and village food fairs are being revived). In India we make a song and dance about vegetarianism officially but at ground level most of us are hung up on non-vegetarian for some vague snooty reasons. Never mind that large sections of India are vegetarian for religious or religious-ethical reasons…a lot of vegetarians in Gujarat (the Jains and others), Rajasthan (Marwaris), most upper crust Brahmin communities around India are vegetarian with Kashmiri Pandits and Gaud Saraswat Brahmins in Goa being an exception.
Vegetarianism along with Ayurveda and yoga have made a comeback in mainstream urban India. Nowadays you will find several vegan restaurants and caterers in our big metros like Mumbai that was Bombay. I am delighted that Pooja Gupta with Rudolf Ludwig and Yolanda are thinking along promoting vegan meals in Goa. Maybe they will even set up a restaurant by and by where they are located (I dare say there would be a lot of takers in this Calangute-Candolim-Aguada stretch of Goa's northern coastal belt).
Wish someone would put up a vegan restaurant in Panaji! Or do vegan restaurants already exist and I don't know about them? Please let me know. Much though I love my home-made dairy curd, occasional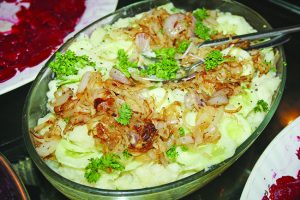 poached or scrambled eggs atop multigrain toast…I could re-settle happily ever after with a three-course vegan meal if it is lovingly prepared and affectionately presented on a banana or any other green or dry leaf thal or katori!
START thinking vegan, my friends, if you love mother earth big time or even small time. Forget fish for the time being. Do you know that yams, breadfruit and mock soy meats are very agreeable carnivore meat replacements/ alternatives? Out in Japan, China, South East Asia, Buddhist monasteries have eateries or restaurants open to the public and the menu lists a host of delicious mock meat preparations like "chicken drumsticks" and "pork ribs"…you will forget fish, chicken or meat! Check it out.
Ingredients: 2 cups brown rice, washed and soaked;, 1 cup peanuts, soaked for two hours. Set aside. Take 3 tomatoes, chopped; quarter inch piece ginger, grated; 1 tbs lemon juice/4 to 5 chili tops; 3 tsp cold pressed coconut oil; salt to taste; quarter tsp haldi (turmeric powder); 1 tsp mustard seeds; 1 liter water; few curry leaves for garnishing.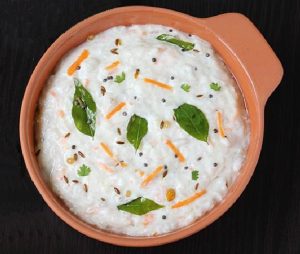 Method: Put peanuts in a mixie and add water little by little. Blend well. Sieving is optional but this will mean loss of fiber and nutrients. Pour milk in a pan and bring to a boil three or four times. When cooled add in lime juice and a few chili tops. Cover and set aside to set for eight hours into peanut curd.
When ready to cook heat coconut oil in a pressure cook, add mustard seeds and when they splutter add in chopped tomatoes, grated ginger, and fry till golden. Lower flame and add in peanut curd. Mix in. Add salt, haldi, water, bring to a boil on a slow fire. Now add soaked rice. Pressure cook for three to four whistles. If cooking in an open pan cook for 15 minutes or so till rice is soft and tender. Remove from fire, garnish with curry leaves and serve hot with roasted papad, salad, dal of choice. This peanut curd rice may be served chilled too with some freshly made mango pickle.
TIP: Peanut curd can be used in lieu of dairy milk curd in many recipes – for making lassi or buttermilk, you may use for making various raita, for making kadi. It is simple and tasty and a dairy free option to stay healthy!
(Recipe shared by Pooja Gupta)
Adds Rudolf Ludwig in an accompanying note…
"This way of cooking and the philosophy of nourishment is a conscious act towards your body and mind – versus the routine act. First experience. Cooking can be fun, in fact, should be fun. Why don't we always cook our good feelings, intentions into our food? It's like a little prayer. Our grandmas did that. A good attitude spiced with love and laughter makes the food always taste a little better. Use organic ingredients, the best fresh vegetables, brown rice, Himalayan salt — no milk products and no meats or fish. You may say you can't produce a decent dish with these ingredients: Wrong. You can!
What to do with potatoes? Create a potato salad with cucumber and fried onions. A soup is simple but the stock matters. People don't make the right stock and then soups taste bland and boring. Cabbage is cheap and healthy (red cabbage may be Rs100 kg). Grate cabbage and marinate overnight in coconut vinegar, water, one or two apple wedges; cinnamon, sugar or sweet red wine. Boil the next day…what a side dish!
Eating like this has benefits for your health. Large sections of society in the West now turn to yoga and vegan food (10% in UK). Modern lifestyle has taken too great a toll and positive results of diet change happen fast and so encouraging that it has become a moral responsibility towards oneself.
Sadly and surprising enough I am seeing all the bad habits coming to India, although India has the tradition of healthy living, all the veggies and good food in the world! Northern countries have to import all that. It won't be for long and Indians will be reminiscent of their own culture and gladly re-adopt to it again."