Delhi's Moti Mahal story: A piece of iconic foodie history, worth reading!
BY TARA NARAYAN
WHO has been to Delhi and not heard of the legendary Kundan Lal Gujral and his legendary restaurant Moti Mahal! So iconic that there's a lovely hardcover book by Monish Gujral dedicated to him and the restaurant which India's first prime minister Jawaharlal Nehru and his daughter Indira Gandhi used to depend on when entertaining…the restaurant itself has seen and sees a host of yesteryear and today's food lovers, many world-famous familiar names (master chef Gordon Ramsay in more recent times).
So much so that `Moti Mahal's Tandoori Trail' is a collector's item, I'm sure. These boring monsoon days I've suddenly re-found my copy (Roli Books, first edition hard cover of 2004) and am drooling over the recipes vegetarian and non-vegetarian anew, although I'm now more vegetarian and sometimes "fishetarian" (except that I'm convinced that the coastal waters of Goa are heavily polluted with heavy metals and will not eat fish caught off its shores)? But I'm hoping that one of these days I'll be more vegan than vegetarian or fishetarian!
Anyway, to stay with the book I do remember going to Moti Mahal many years ago while in Delhi to feast on what else but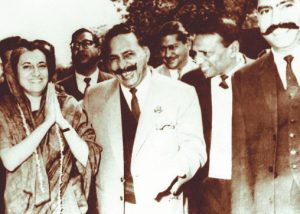 tandoori roti, butter chicken and to live and die for dal makhani (black lentil cooked slowly overnight and mixed with tomato puree and topped with fresh cream). It's said the late Kundan Lal Gujral changed the face of Indian cooking with his use of the "plebian village tandoor for baking into a royal mode for his innovations." First came the tandoori chicken, then butter chicken, then everything else and the name and fame of Moti Mahal spread across the world
In the wake of Partition of India in 1947 came many a crossover and the Punjabi migrant invasion from Pakistan sent a hitherto laid-back Delhi into a sizzling tizzy with stories of riches to poverty and vice versa…the Punjabis were filled with a zeal to re-invent themselves and forget the traumas of Partition which sent them fleeing to India. The Moti Mahal story is just one stirring story and Kundal Lal's youngest grandson, Monish Gujral, has a done a fine job of presenting both his grandfather and his passionate pursuit of feeding all who came to his restaurant…they were in a family or khandani business. The book is dedicated to his father Nand Lal Gujral who respected the baton he picked up from his father.
'In 1947, both Mukha Singh and the thirty-seven-year-old Kundan Lal, with his wife Prakash Devi, son Nand, and widowed mother Maya Devi came to Delhi together as refugees. `Mukha Singh went off to Dehradun and was never heard of again,' recalls Seth, `while Kundan Lal stayed on in Delhi. He changed the face of Indian cookery.' Catering was his first love. It was to be his last and the most fruitful one. The trail which began in Gora Bazaar in Peshawar ended in Delhi's then liveliest intersection between the old city and the new – Daryaganj. There in 1947, Kundan Lal, by now on his own, identified a small thara, a little platform for a wayside cafe to which he decided to give its original name from across the Frontier. Moti Mahal – The Palace of Pearls…."
He won the Diliwala's gastronomic heart with his "chicken roasted in a mud-baked oven made from a hole dug into the ground and lit with wood or coal – the tandoor (derived from a Persian word)…" The rest is history as we say. It's a story to read about especially if you're an old Moti Mahal friend and many of us are even in memories across many years. Some recipes there are which may be found best in Delhi and especially the old city in places no matter however so humble or palatial later on.
From a more or less takeaway joint to a more familiar establishment, Moti Mahal arrived and camaraderie built up with clientele. The word spread and soon noted journalist Inder Malhotra and Feroze Gandhi were regulars…Indira Gandhi "who continued the practice of banking on Moti Mahal fare for official meals when she herself became the prime minister." They all came looking for Kundan Lal and Moti Mahal cooking…Mohammad Yunus (who introduced him to Nehru), US President Richard Nixon, Canadian Prime Minister Pierre Trudeau, King of Nepal and Soviet leaders Alexie Kosygin, Nikolai Bulganin, Nikita Krushchev, Zulfikar Ali Bhutto, Field Marshall Sam Maneckshaw…at Sanjay Gandhi's marriage Moti Mahal did the honors.
One can go on and on, it's an unending who's who list with small or big, rich or poor in a love affair with Moti Mahal in Delhi. Of course, imitation is the best form of flattery and tandoori chicken, butter chicken, dal makhani, tandoori roti, naan…have become staple fare across restaurants of the same name or franchise serving Indian food. None may match the original Daryaganj Moti Mahal's flavor and love of serving. Kundan Lal was not in a hurry to go places and slowly and steadily made his `12,000 (all he had when he arrived to Delhi) pay dividends several times over by honing the six P's for success – quality of product, price, promotion, place, people and personalized service.
He was not a one to sit on his laurels and early on he introduced the popular form of music known as qwalli,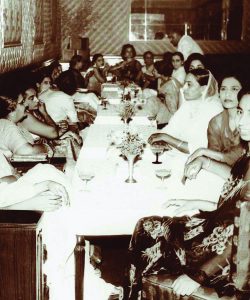 it became the
staple music at Moti Mahal…Shakila Banu sang here and folk got used to feeding themselves with as much food as music or so speak to make enduring memories. There was no looking back and Moti Mahal became an institution which it is to this day…as his grandson recounts, his grandfather was a rarity of the old school of folk who remained humble in success, subscribed to old world values.
He told Dolly Arora, his rakhi sister, "All my success lies at my mother's feet." He remained true to his puja, watering the sacred tulsi, offering obeisance to the sun, visiting the Gurdwara Sisganj late every evening… distributed blankets to the poor, kept open house to one and all. After such great innings he was fond of telling everyone that "My restaurant is my life." Moti Mahal's Tandoori Trail is undoubtedly a fond tribute by a loving grandson to his grandfather and it is for all who love good old food to warm the cockles of their heart.
OH YES, Moti Mahal with its pink walled gloomy interiors still lives on in Daryaganj although a lot may have changed (many Moti Mahal clones have come)…Vinod Chaddha bought it from Kundan Lal in 1991. The same much loved timeless cuisine continues to spin its charms for old-timers and new-comers alike. The cookbook is for all times sake and lists herbs, spices, ingredients used in cooking in the Moti Mahal kitchen, with an accompanying roll call of recipes from Raw Papaya Soup to Murgh Ajwaindar to Jimikand Ke Kebabs to Mango Kulfi with more recipes in between (lots of murgh or chicken recipes).
The cookbook's for keeps but I cannot do better here than offer a few selected recipes to round off, the light-hearted ones.
Selected Recipes from Monish Gujral's `Moti Mahal's Tandoori Trail' (Roli Books, hardcover, `295)….
Papita Shorba
(Raw Papaya Soup, serves 4)
Ingredients: Papaya (papita), raw, chopped, 1 cup; carrot (gajar), finely diced, 1; butter, 1 tbs/20g; bay leaf (tej patta, 1; onion, chopped, 1. For the spice bag: Crush the ingredients coarsely and tie in a clean muslin cloth, ginger (adrak), half inch piece 1; cumin (jeera) seeds, half tsp; salt, sugar and black pepper (kalimirch) to taste; cheese, grated to taste.
Method: Heat the butter in a pressure pan or cooker; add bay leaf and onion. Lower heat and sauté for a 1-2 minutes. Add carrot and papaya. Saute on medium heat for another 2 minutes. Pour just enough water to cover the pieces. Add the spice bag and close the lid. Lower heat and pressure cook till first whistle. Remove the cooker from the heat and keep aside to cook. Discard the spice bag and blend the mixture to a smooth paste. Strain the mixture and dilute with water to get the right consistency. Add salt, sugar and black pepper to taste. Reheat and serve hot garnished with cheese and accompanied with bread sticks.
Note: Soup tastes better if half-ripe and firm papaya is used.
Murgh Chaat
(Chicken Salad, serves 4)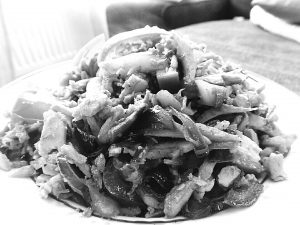 Ingredients: Chicken breasts, large, boiled, cubed, washed, 2; tomato, small, pulp removed, cubed, 1; capsicum (Shimla mirch), deseeded, cut into small cubes, half; spring onions without the greens, tender, cut into rings, 2; Chaat masala, 1 tsp/2g; rock salt (kala namak, half tsp; powdered sugar, quarter tsp; salt and black pepper (kali mirch) to taste; juice of lemon (nimbu), 1.
Method: Boil the chicken with half tsp salt and half cup water till tender or pressure cook to give a whistle. Mix the chicken and the vegetables in a bowl. Sprinkle all the dry ingredients. Add lemon juice and toss well. Cover and refrigerate till chilled. Serve on bed of lettuce or cabbage.
Note: If the chaat is not covered the chicken will harden.
Tandoori Arbi
(Grilled colocasia, serves 4)
Ingredients: Colocasia (arbi), 500 g; yoghurt (dahi), hung, drained for 25 minutes, 1 cup/200g; refined oil, 5tbs/75ml; carom seeds (ajwain), 1 tsp/3g; salt to taste; chaat masala 1tsp/2g; red chili powder, half tsp; onions, sliced 2; coriander (dhaniya) powder, 1tsp/2g; mango powder (amchur), half tsp; salt to taste; garam masala, half tsp; lemon (nimbu) juice, 1 tsp/5ml.
Method: Boil the colocasia in a pressure cooker for 10-15 minutes or till one whistle. Remove from heat and gently release the pressure. When cool enough to handle, peel and cut the colocasia into pieces. Flatten each piece slightly. Mix yoghurt with 1 tbs oil, carom seeds, salt, chaat masala, and red chili powder. Rub this into the colocasia and keep aside for 30 minutes. Heat the oven at 190degC/375degF, brush the rack with some oil. Place the colocasia into the oven and grill for 25 minutes or till the yoghurt dries completely. Heat the remaining oil in pan. Reduce heat, add onions and sauté till golden brown. Add coriander powder, mango powder, salt, garam masala, and grilled colocasia. Stir-fry for a few minutes. Add lemon juice and mix well. Serve hot with h lemon wedges an onion rings.
Dal Makhani
(Rich creamy dal in a butter gravy, serves 4)
Ingredients: Black gram (urad dal); whole, three-and-a-half cups/500 g; kidney beans (rajma, one-and-three quarter cups/250 g; Bengal gram (chana dal) one-and- three quarter cups/250 g; milk 5 cups/1lt; tomato puree 5 cups/1 lt; salt to taste; red chili powder 25g; cumin (jeera) powder 25g; garam masala 25g; butter1 kg; cream two-and-half cups/500ml.
Method: Pick and clean black gram, kidney beans and Bengal gram. Add salt and rub the mixture with both hands and then rinse with water. Soak the mixture in water, overnight. Take a heavy-based utensil, add the drained dal mixture and double the quantity of water; cook over low heat. Stir the mixture vigorously enough to mash it. Once it thickens, add milk and cook till the milk is absorbed completely. Add tomato puree and all the spices. Cook till the gram and beans are tender (for about half an hour). Add butter and cook for another 10 minutes. Add cream and mix well by stirring continuously. Serve hot.
Gajar Rai Waala
(Carrot pickle flavored with mustard, serves 4)
Ingredients: Carrots (gajar), peeled, cut into thin one-and-half inch long fingers, 500g; salt, 3 tsp/12g; red chili powder 2 tsp/4g; turmeric (haldi) powder, 2 tsp/4g; mustard seeds (rai), powdered, 2 tsp/6g; vinegar (sirka), half cup/100ml
Method: Add carrot to the boiling water and cook for 2 minutes. Remove the carrots from water and dry them for 1-2 hours on a muslin cloth. Then mix salt, red chili powder, turmeric powder, and mustard powder with the carrots. Transfer the carrot mixture to a jar. Add vinegar and shake well to mix. The pickle is ready to eat in a day.
Shahi Tukra
(Deep-fried bread topped with thickened milk. Serves 4)
Ingredients: White bread, cut into three-quarter inch pieces, crust removed, 10 slices; ghee three-quarter cup/150 g. For the sugar syrup: sugar: sugar 4 tbsp/60g; water 1 cup/200 ml; rose water (gulab jal) 5 drops. Milk, full cream; 5 cups/1 liter; sugar2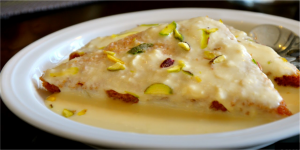 cups/300 g; pistachios (pista), chopped, 5 tsp/25 ; saffron (kesar), dissolved in 1 tbsp warm milk quarter tsp.
Method: Fry the bread pieces in ghee till golden brown. For the sugar syrup: mix sugar with water and boil till the water is reduced to half. Keep aside to cool. Then add rose water. Soak the fried slices in the sugar syrup. Boil the milk in a heavy-bottomed pot. Simmer for about 30 minutes or until it thickens. Gradually mix in the sugar and stir for 3-4 minutes or until it thickens. Gradually mix in the sugar and stir for 3-4 minutes or till the sugar dissolves completely. Cool and chill. Arrange the slices on a dish and pour the thickened milk over it. Refrigerate for some time. Serve chilled garnished with pistachios and saffron.