At the International Blockchain Congress in Panaji: Various speakers spoke enthusiastically, as well as cautiously, about blockchain technology coming into the country too fast and without security guidelines in place.
BY TARA NARAYAN
Blockchain technology is coming into India fast and the government and younger generation of business entrepreneurs want it for all kinds of reasons…
CLEARLY blockchain technology has arrived abroad or in the countries of the developed or first world countries as we call them. The crème de la crème of IT or intelligence technology may soon be going places in Goa and India judging by the number of IT entrepreneurs and enthusiasts who're mesmerized and involved by the sound of blockchain technology. Even if at ground level one gets the feeling that blockchain technology is understood only by the few or understood only half way or quarter way through…worse or better still, not at all.
At the International BlockChain Congress, which was chok-a-bloc with delegates, students and media at the old GMC/ESG complex in Panaji on August 5, 2018, it looked and sounded like blockchain technology is some kind of a new craze with young IT entrepreneurs at home and not-so-young from abroad willing to help India usher in the world of blockchain technology in governance as well as in other areas. Is India rolling out the red carpet like many technology-stuck folk would like?
Can blockchain be the magical wand to solve all our problems of graft in government and society! The interesting question arise: Can this simple yet fabulously complex blockchain technology in government offer more honest, efficient governance in India? Other questions: Can it replace social media like Facebook and Twitter which are reportedly old hat in comparison to blockchain technology and crypto currency (although one may not see the connection yet)?
In any case there was a lot of palpable excitement at the congress organized by Goa government's IT department with Ameya Abhyankar (IAS, Secretary-IT, government of Goa) playing a key role in organizing the congress, everyone was thanking him for something or another at the venue! Various speakers from abroad had much to say about how this technology works in some areas but may fail in others given India's contexts.
At the inaugural discussion Minister of Revenue, IT, Labour & Employment Rohan Khaunte, expressed his keenness in welcoming BCT to Goa for his is an entrepreneur himself, "Some folk think Goa has missed the IT bus but I am happy to say in the last six months we have counted up to 110 start-ups in Goa …blockchain will enable us to have a ledger copy of every transaction (something which used to take three days in the old days), it will solve record keeping and this is just the tip of the iceberg."
Others who spoke included Prof Varun Sahni (vice chancellor, Goa University) who too welcomed "advanced computing" and spoke highly of some of the IT brains of India abroad. Amongst the foreign delegates were Frans Kempen (Blockchain Lead Logistics & Supply Chain Industry, IBM Netherlands), who was all for powering up India with blockchain technology; while Jeremy Gardner (cofounder and managing partner of Ausum Ventures) cautioned that it was wrong to promote blockchain recklessly – the technology works or does not work depending on how it is applied.
Ground conditions have to be favorable and yes, in India it will affect employment en masse, make it redundant perhaps (in the west it's a boon but in labor-intensive countries the time may not be ripe yet for large scale application). Avinash Pitti (CTO, Nucleus Vision), who inspired and largely sponsored the congress) was very enthusiastic about how the blockchain global community is chartering new goals for countries with even no capital. In the last two years he has been to US, Korea, Bangkok…"blockchain has brought a global community together where thought leaders are playing a major economic role to access global capital."
Dr Muktesh Chander, (IPS, director general of Goa Police) spoke of increasing cybercrimes happening in the country nowadays through technology we still have to understand and master. Other speakers raved about India being second to none and how with BCT "we could have a potent concoction and be part of a transparent and safe world 1101."
Altogether it's not like the introduction of blockchain technology in government per se, can solve all our problems by checking graft in government or rescue us from being cheated time and time again. But in the long run and if the "ledgers" of any installed blockchain technology software are appropriately managed…it can solve many a problems of our 21st century lifestyles bordering from rock-bottom poverty to cloud No.9 in the skyscrapers of urbania!
As a final takeaway message one got the impression that if blockchain technology is the mother, crypto currency is the child…or so to speak. Both work or fail together in symbiosis. For example, there is the matter of bitcoin payments which can flout banking norms because of the secrecy enshrined in the technology; this has resulted in several difficult to pin down crimes taking place and some say it's all in how the blockchain technology game is used and put into place….what kind of systems, in which area, and who may or may not operate them with devastating results for the better or for the worse.
STILL, many countries in the world have welcomed blockchain technology with one speaker, Muhammed Arafath (executive director, APLA) of Indian origins but from Dubai, confirming, "nine out of 10 countries are evaluating the technology around the world and at Dubai we will be all geared up for it by 2020." This is according to an IBM study and he commented that some part of the technology is already in India given that every citizen now has the Aadhar card, that's the first step progressing towards full-fledged blockchaining.
Yes, of course, governments can use blockchaining to double as a surveillance system to keep track of what citizens are doing, this can have good or bad consequences, "It is all about how you balance it and it's happening because the security factor is very real threat too in the world." Say here's a mind-boggling technology, like a double-edged sword.
Speaking over a simple lunch of fried rice/noodles, sweet and sour vegetables, chicken Manchurian balls, gulab jamuns, served in eco-friendly platters, developer Tanmay Korgaonkar of Goa Electronics opined, "I am all for it, India is already behind in technology with the banning of Bitcoin transactions…but Bitcoin transactions and blockchaining is not the same thing although some think it is!" As one of the speakers at the congress said, "The truth is that technology can never be the villain per se and there may be some things negative but adjustments can be made…"
And there will always be new innovations to take care of old problems! Speaking to media people Levi Jeans' Mr Dudley traced the interesting 150 years story of Levi Jeans. Once a household name it touched rock bottom businesswise, until they realized that marketing is all about innovating, "Innovate or die!" Another way to say it is "Re-invent or die!" Getting Bruce Springsteen to wear Levi jeans on Time Magazine cover worked wonders for them and they were back again in business.
In the USA today a lot of old technology is dying, radio-television is going and everything is going digital, Youtube is replacing television, social media is a dominant player, "Messaging to a target audience…that's how Trump won the elections!" His standpoint is "It's a better job to educate and do research…technology is coming in very fast and the next revolutionary technology is chain block!" There is no way anyone can stop technology from progressively coming into our lives whether we like it or not, "because that is the future." For every problem there is a solution and so it will go on, either you stay up with it or get left behind.
WHEN asked about how too much radiation technology is killing off the butterflies and bees and some anti-too much technology folk are saying too much of technology is bad because after all at the end of the day you cannot eat technology…he shrugged, who is saying that, nobody in the USA at least is saying it!
Nevertheless, despite all the gung-ho enthusiasm for more and more technology, it is also true that a younger generation in the West and East are aware of the long-term harm of glaring digital technologies which means from a young age their eyes go for a toss and laser operations of rectification cost big time in the USA – my American sister brought her son to Mumbai to get his eyes operated on. She said, "Kids these days are on laptop and smart phone like 24/7…how can it not affect their eyes and posture even if they go work out daily!" Familiar story in India, anybody?
No, it's not technology. It's us, human beings and what we do with technology right, wrong or way out to hurt ourselves long before life is almost over. Perhaps too much of technology is not good, not for us, not for our children regardless of whether they listen to us or not. Ordinary or super technology, it is best put in its place and kept there, but here again, who will draw the lines between how much and no more? Sometimes collective choice erases individual choice, or does it? One may argue till the sacred cows come home in India.
IT'S A GURU-CHELA RELATIONSHIP!
TIBET'S Dalai Lama was in Goa and he was at his disarming best! He was here as keynote speaker to address the students and faculty of the Goa based B-school, Goa Institute of Management at Sanquelim, on August 8, 2018. The revered monk's frail looks belie his strong conviction that what ails modern civilization is superficial emotions and overwhelming materialism.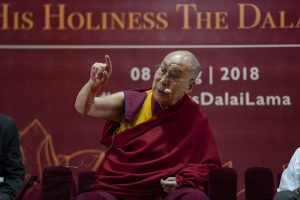 The world is facing an emotional crisis, he said. But the good news is all conflicts and problems should be analysed rationally and once understood in a broader perspective they may be easily solved.
Speaking on the subject of `Today's Relevance of India's Ancient Knowledge' the Dalai Lama's take is India ancient heritage of knowledge, wisdom and teachings should be revived today. And, in fact, the relationship between ancient Hinduism and Buddhism is as close as that of guru and chela (teacher and student)!
He described India as the land of ahimsa and only ahimsa can save us. India's traditional culture is deeply rooted in knowledge which includes the art of mediation, compassion, secularism…the British may have sowed the seeds of modern education as we know it today, but India can find the right balance between traditional knowledge and modern education.
He believes in the Nalanda school of philosophy in Buddhism wherein even the Buddha said, question everything, question even what the Buddha says…and then make up your mind about the truth of things. Fundamental questioning is good and he wanted the students in the audience to ask questions and argue step by step to arrive at a conclusion of consensus. He would like the students to learn, analyze and gain new experiences, "We need more people to come together to talk and debate on aspects linked to India's ancient knowledge such as ahimsa and compassion. We also need to find ways to reduce conflict amongst ourselves," he urged.
He stressed that much larger problems are facing the finite earth on which we live. Two huge problems are global warming and population explosion. To a query, he laughed with amusement, yes, it would help if one-third of the population of the world were to became monks and nuns! That would solve a lot of population problems! But he reminded everybody that we cannot live without water and acute water shortages are already happening, rivers are drying with the melting of mountain glaciers. Please remember that the rivers of India and China rise in Tibet (the Buddhist people's homeland).
He is no longer seeking independence from China (because that would be difficult) and he has washed his hands off politics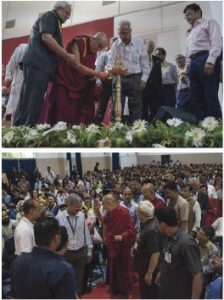 . But he does seek something whereby the 1,000 years of Tibetan culture could be saved along with the people of Tibet, his people…he seeks not war but peace for the world. The Dalai Lama spoke refreshingly about why he decided to leave Tibet in 1959 to seek refuge in India. When he first came to Dalhousie to make his base, he said, he remembers the thick snowfall they used to get then …in comparison the snow is so scanty now. It is the changing environment which will bring hardship to us all and that is the matter of vital concern we should sit down and talk about to do something.
He is a real charmer, His Holiness, the 14th Dalai Lama of Tibet. An incredibly wise man to listen to in our times and pay heed to. Not for nothing is he a "living god" for Buddhists everywhere and increasingly even for non-Buddhists. A pity he was here in Goa but one couldn't meet him personally to bask in his blessing for a bit!
Educational institutions would do well to forge a learning partnership with The Dalai Lama Center for Ethics & Transformative Values at Massachusetts Institute of Technology (MIT). It's something which GIM director Ajit Parulekar said they were doing. The partnership would work closely with primary education centres in Goa to lay emphasis on ethics and emotional learning at an early age.