Eating is Fun / Eating is Yuck! – A variety food column
By Tara Narayan
UNDOUBTEDLY! The way we drink and eat tells us whether we're living in harmony with Mother Earth or not. No two ways about it either – one may treat one's body with respect or like a garbage bin to use and abuse. Despite more than 35 years of writing this foodie column in Mumbai and Goa, and having learned much about the connections between what we drink and eat and what we suffer from…I will confess I indulge in foodie wrongdoing more often than I like to think about it. But the will and spirit to make a changeover, makeover is always perennially there and lately I've been thinking soups and why I've forgotten them for a long spell, what's been on my mind is Italian soup minestrone which I can't find anywhere for love or for money!
But before that I'd like to say my soups inspiration this week has been inspired by a lost and re-found book of mine titled The Ultimate Soup Cleanse' by Nicole Pisani & Kate Adams. Kate Adams is from UK and Nicole Pisani is a noted chef from the island of Malta, both came together to do this book on how to get back into shape with soups of the wondrous kind with reaffirmation of messages like eat natural, eat with the seasons, go on a soup cleanse this winter, the best time to linger over warming savory broths or hearty hunger filler soups and so on. After another re-reading of this wonderful guide to how mind and body should work together ("Tell me what you eat, and I will tell you who you are," quoting Brillat-Savarin) I've got soups Indian, Asian and Continental on my mind…thin soups, thick soups, tangy soups, soups full of flavor and freshly chopped herbs, etcetera. I think I can go on a diet of soups and am dreaming of them these days. I agree with the authors of the aforesaid book that souping is the ultimate way to begin with a cleanse of the digestive system and body beautiful. That is if you want to clean up your guilty acts of omission and commission…hey, soup it up for a week like I'm thinking of doing! Note the authors in their useful book, "Autumn and winter are not when our bodies instinctively want to cleanse, but with so many of us enjoying the holiday season and all the treats on offer, it is a time when we often feel a need to balance out our over-indulgences. We tend to feel more hungry in cold weather, and we do need to keep warm and take care of our immune system, so going on a 100 per cent raw food diet at this time might be a little more than our already strained digestion can handle. This is why soup is such a great way to cleanse: it's the ideal solution or eating a little less, eating natural ingredients, and eating foods that nourish our digestion back to optimum health…." Another thing I like about what Nicole and Kate say is "The more we can live with an awareness of nature, the better it is for our bodies, too. This is what the healthiest cultures in the world have been doing for thousands of years…" Right, eating organic, eating local, eating natural…and you can't go wrong. Also of late I've been thinking many of us today need more old fashioned sanatoriums to go away to for a few weeks or so… instead of deadly, paranoid about billing patients up as max as they can in hospitals! Do you know that the Swiss physician Dr Maximilian Bircher-Benner (of Bircher muesli fame) was also a pioneer in nutrition research and he founded one of the first of its kind sanatorium -- Vital Force -- in 1904, it was based on the German lifestyle reform movement that popularized the idea of living in harmony with nature. The good doctor advised people to drop their meat and potatoes and eat more fruit, vegetables and nuts, and needless to say his sanatorium went on to become home for a whole heap of distinguished patients suffering primarily from diseases of malnutrition…they came in weak, anemic and at death's door perhaps, and returned home high on the good health which came from the natural good food served to them (yes, Bircher's muesli being one of them), fresh mountain air and sunshine and presumably a benign love thrown in for good measure. Who doesn't like to feel loved? But this is just to reiterate that I think sanatoriums need to make a comeback in our times and more hospitals should close down! But to stay with my soup cleanse book here is a collection of some excellent soups and disarmingly the authors say that since they were neither dietitian nor nutritionist they got on board Victoria Wells (nutritionist and food lover) to do their soup book, also Dr David Servan-Schreiber (author ofAnticancer' and fertility expert practitioner Emma Cannon, women's health expert Marilyn Glenville (unravels relationships between how we feel about life and what we eat)…altogether a great team to help folk "rest, restore and renew" stressed out digestive systems and who may be patients in need of natural detoxification processes to heal anew with new awareness and knowledge.
There's a neat quick guide to the digestive system as also a note on kidneys because "they are responsible for removing waste, extra water after your body has taken what it needs from the food you eat. Generally, a healthy diet rich in antioxidants is also beneficial to the kidneys, including cruciferous vegetables – for example, cabbage and cauliflower – and the allium family of garlic, onion and leek, along with berries, apples, oily fish and olive oil." Signs of a weakened digestive system are bloating, excess wind, constipation, heartburn and indigestion, loose stools, fatigue, headache…if you suffer from any of these symptoms which persist, sit up and take note. Do something about it.
The book also talks about food allergies and intolerance and irritable bowel syndrome which is a vast intricate and complex subject. But it's the recipes which I'm interested in of soups created along specific cleanses and goals in mind…first resolve, then rebalance, restore, renew.
All across a preliminary 2-day cleanse designed to resolve the problem of excess water retention, followed by a 7-day weight-loss cleanse, 7-day cleanse for restoration and strengthening, and finally a 5-day diet which is nutrient-rich, energizing, great tuning up to sing a song again or so to speak.
Not easy, you've got to get your kitchen equipped to begin with and there're such things as body brushing, oil pulling, Epsom salts baths, breathing exercises, meditation… lots of tips and clues here and frankly I wish I could go away somewhere where all the tantalizing soups are served! For example, Carrot, Cumin and Miso Soup with grain salad, Magic Soup, Raw Soup, Buckwheat Broth, Roasted Cherry Tomato and Lemon Soup with salsa…even a Kitchari soup (inspired by India's Ayurveda repertoire)!
Well, this is a 2015 Orion Non-Fiction published paperbook you may find or not find, but there are some interesting recipes here and I cannot do better than share some of them here to give you an idea of how to nourish yourself back to life with soups here. No minestrone soup recipe but not difficult to find, Google…it's worth learning how to make a good minestrone. Take some time to cut veggies and store in the freezer for use at convenience. I used to invest in Safal frozen veggies packets but for some reason I can't find them anymore in Goan stores with deep freeze refrigdaires, although there're lots of frozen green peas for it's the season for green peas (better to buy fresh, Rs100 kg currently)…make a hearty green peas soup but try not to over dope it with, butter, cream or garam masala!
I'm reproducing a few recipes from the book I'm reviewing here just to give you an idea of what healing soups are all about, you may use your imagination wisely to do your own combo soups.
Selected recipes from 'The Ultimate Soup Cleanse' (to "Lose up to 7lb in 7 days, feel fuller for longe and healthier than ever!') by Nicole Pisani and Kate Adams….
Avocado, Lemon, Turmeric and Cayenne
(Avocados are high in heart-healthy monounsaturated fatty acids (MUFAs) and fibre, making us feel fuller for longer. Peeling avocados means you get more of the nutrients close to the skin. Serves 1. 163 kcal)
Ingredients: Half ripe avocado, peeled and stoned; 100ml fresh coconut milk, pinch of sea salt, pinch of cayenne pepper, quarter tsp ground turmeric, pinch of freshly ground black pepper; zest and juice of half small lemon.
Method: Scoop out the flesh of the avocado into a blender with half the coconut milk and process until smooth. Add the rest of the coconut milk in stages until you reach your preferred consistency. Add salt, cayenne pepper, turmeric, black pepper, lemon zest and juice and blend again.
Taste to check flavor and if you are happy pour the soup into a container. Squeeze a bit more lemon juice over and cover the top of the soup with parchment, pressing it down to try to exclude air (to reduce discoloration). Chill in the refrigerator before serving. If you want to serve immediately, add a couple of ice cubes when blending to chill the soup.
(Note: This is a Resolve soup recipe)
LENTILS, SEASONAL GREENS AND GINGER CARROT COLESLAW
(To make lentils really tasty, we cook them as if they were in a risotto. They are a great vegetarian source of protein. Serves 2. 343kcal)
Ingredients: 1 tbs olive oil; half onion, peeled and finely chopped; 100 g lentils; 400 ml hot vegetable stock; 1 large or 2 small carrots (washed and scrubbed if organic, peeled if not), grated; half tsp freshly grated ginger; 100 g winter or spring greens; 2 egg yolks, in the shell.
Method: Heat the oil in a frying pan or heavy-based saucepan and soften the onion for 8-10 minutes. Add the lentils and stir through the onion for a minute before adding the hot vegetable stock. Simmer for about 30 minutes until cooked but still with a little bite. Stir the carrots and ginger together. Steam the greens for a few minutes until cooked but still a little crunchy.
To serve, divide the lentils and broth between two bowls and top with the carrot and greens. Carefully separate the egg yolks from the whites, keeping the yolk in one half of the shell to serve in the bowl. When you eat the soup, stir the yolk through the lentils and discard the shell.
(Note: This is a Restore recipe. For Vegetable Stock, for 1 liter take 1 leek, roughly chopped; 1 white onion, roughly chopped; quarter celeriac, roughly chopped; 1 celery, roughly chopped; 1 fennel, roughly chopped; 6 garlic cloves, bashed; 1 tsp coriander seeds; sea salt flakes, a handful of soft herbs such as dill, coriander, tarragon. Add all the chopped vegetables to a large pot, along with the garlic, coriander seeds and a little salt and cover with about 1.2 liters of water. Bring to boil, reduce the heat to a good simmer and cook for 45 minutes until all vegetables softened. Switch off the heat and add your preferred soft herbs, then leave to rest for an hour or so before straining through sieve lined with muslin or cheesecloth, discarding all solids. Transfer the stock to an airtight container once cool. It will keep in the refrigerator for a week, or can be frozen for 1 month. This makes quite a delicate, aromatic white vegetable stock, perfect for the cleanse recipes.)
KITCHARI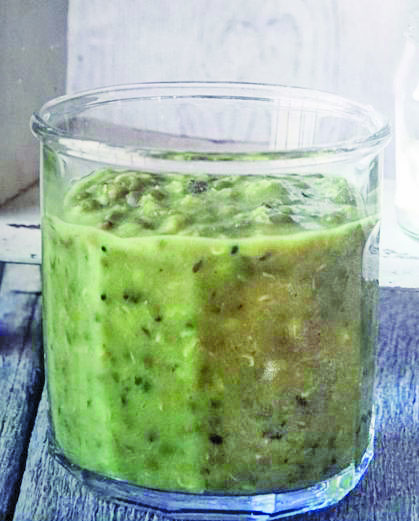 (This recipe for kitchari is based on the ancient medicine tradition of Ayurveda. This is a soup that will get rid of any bloating or water retention and have you feeling light on your toes in no time. Serves 2. 219 kcal.)
Ingredients: 100 g green mung beans; 1 tbs ground turmeric; quarter tsp asafetida; 2 tbs coconut oil, melted; 1 tsp cleanse spice mix (see note below); zest and juice of 1 lime; sea salt flakes and freshly ground black pepper, to taste. Greek yoghurt, to serve.
Method: Rinse mung beans in several changes of water, then leave to soak in a bowl of water overnight. Rinse the and drain the beans and put them in a saucepan with a liter of fresh water. Bring to the boil, add the turmeric and asafetida, then reduce the heat to simmer and cook gently for 45 minutes to an hour, until the beans are soft.
Head the half the coconut oil in a frying pan and add the cleanse spices and lime zest. Fry until the aromas are released, then add to the soup along with the lime juice. Check for seasoning, add the remaining coconut oil and put the lid on. Take off the heat and let the soup stand for 10 minutes. Serve with a spoonful of yoghurt.
(Note: This is a Rebalance recipe. To make Cleanse Spice Mix take 1 tsp black mustard seeds, 1 tsp cumin seeds, 1 tsp fennel seeds, 1 tsp black onion seeds. Simply mix all the seeds together and keep in an airtight jar in a cool, dry place. To add a tidbit here this cleanse spice mix may remind you of the panch poran mix of West Bengal cuisine in India which is a similar traditional spice mix but also includes fenugreek seeds and makes for an aromatic contribution or tempering to whatever you're cooking, be it a light-hearted veggie or a tomato chutney.)
OVERNIGHT OATS
(It isn't always easy to have a good breakfast when you're rushing to work or organizing the children instead of making time to look after yourself. This recipe for overnight oats is so versatile that you can add all kinds of toppings, and all you need to do is let the oats soften while you sleep, so they'll be ready for you first thing. Soaking oats makes them even easier to digest, which is good news when you're trying to give your body a chance to rest and restore. These will keep in the refrigerator in an airtight container for three days, so you m can make plenty ahead of time. Serves 1. 221kcal)
Ingredients: 50 g rolled oats (use gluten-free if you are intolerant); 1 tsp flaxseeds; 1 tsp chia sees; 1 tsp sesame seeds; pinch of ground cinnamon; 150 ml almond or coconut milk (or coconut water, if you prefer); couple of drops of vanilla extract.
Method: Combine all dry ingredients and then add your liquid of choice along with the vanilla extract, stirring thoroughly. Transfer to a glass jar with an airtight lid and set in the fridge. The oats will be ready within a few hours.
Note: Bircher muesli is served cold, so it's super easy to prepare first thing. When you are ready to serve the overnight oats, stir in the juice of half a lime, a few chopped hazelnuts (or nuts you like), a chopped apple or pear and a couple of heaped spoonfuls of natural yoghurt (home-made dahi), if you like.
RAW SOUP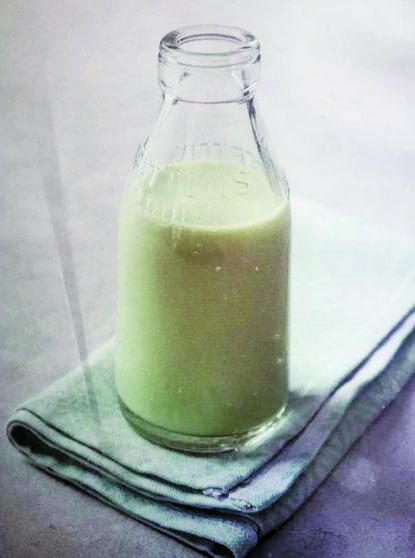 (This is perfect for a warm, sunny day. The cucumber is cooling while the avocado satisfies. The kefir nourishes your gut flora while the kale/spinach adds a burst of antioxidants. Serves 2. 194 kcal)
Ingredients: 1 medium ripe avocado; half medium cucumber, roughly chopped; handful of baby spinach or kale leaves; zest and juice of half lime (plus more juice to taste); 75 ml natural yoghurt or kefir; 3 ice cubes; 2 spring onions, finely chopped; 1 tbs finely chopped coriander; sea salt and freshly ground black pepper to taste.
Method: Whiz all the ingredients except the spring onions and coriander in a food processor or blender until smooth. Add a little cold water if the soup seems too thick. Taste for lime and seasoning. Transfer to the refrigerator to chill before serving.
Combine the spring onions, lime zest and coriander to make a salsa. Serve the chilled soup with a dollop of salsa on top.
(Note: This is a Renew recipe.)
KIMCHI
(This recipe is adapted from a `white kimchi' recipe we came across in Bon appetite and love. It is a cross between Korean kimchi and sauerkraut. 42kcal.)
Ingredients: 4 cm piece fresh root ginger, peeled; 3 garlic cloves, peeled; 2tbs sea salt; 1 white cabbage (approx. 500 g), shredded; half daikon (long white radish), peeled and thinly sliced; 4 spring onions, thinly sliced.
Method: Process the ginger, garlic and salt to a paste. Put the paste in a large bowl along with all the vegetables, and massage with your hands until thoroughly combined and the cabbage begins to release its own juices. As you continue, more liquid will be released until there is enough to cover the cabbage when it is pressed down. Transfer the cabbage and all the liquid to a preserving jar. You need to put weight on to the cabbage to keep it submerged, then put muslin or cheese cloth over the top of the jar seal with rubber band (or eco-friendly string/ribbon).
The cabbage needs five days to ferment at room temperature before it is transferred to the refrigerator, where it can be kept in an airtight jar for up to six months.