By Our Special Correspondent
Just because there is Covid-19 all around there is no reason to be gloomy! You can cheer yourself up and others by getting yourself some of the garments of designer Clara Vaz. Clara specializes in making colourful batik shirts. Batik shirts which remind one of the Malaysian and Indonesian and in fact South East Asian fabric of tie-and-dye called batik. The Clara Vaz shirts come in vibrant colors and are available in collar designing and long sleeves too.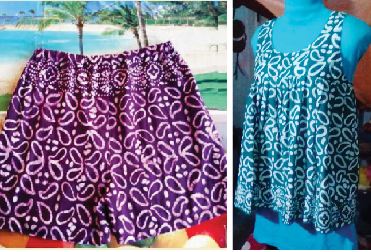 Clara is an innovative designer whose key theme is to spread happiness. She says outer brightness make up for any inner gloom. If the sky is dark it does not mean you should suffer from the blues! An outer brightness inspires cheer from within. And this happy philosophy is reflected in her sense for designing shirts, tops and just about whatever you desire.
The full sleeved silk batik shirt is inspired from the Eastern look. Women may choose from colourful tops in red colors. Inner lining is in Raymond suiting material while outside material is batik cotton. These wonder shirts may be won either side! Along with the batik shirts come accessories like bags – as depicted in the illustrations here. Call them Covid-19 challenge shirts in red, green, purple and other combo colors. Available in size 42 too.
One of these days wear a silky smooth Clara Vaz shirt to make a statement – I am not afraid of Covid-19! This may remind you of Chief Minister Pramod Sawant's now famous statement, "Kaich bhivpachi garaz na!" But Covid-19 is serious. Wear Clara Vaz garments but take all due care to keep your distance when out in public. Show off your fashion bravado from a discreet distance! And do not forget to wear your mask properly. Be safe but also be happy, says this designer Clara Vaz. Boost your happiness by stepping out in a Clara Vaz shirt and tops. For more details contact Clara on 9850930252 or you may order online through e-commerce website with cash on delivery facility www.claravaz.com. You may also buy your Clara Vaz shirt or top through the Goan Observer Facebook page, or WhatsApp 9422386966.