EQUALITY: Goa's Uniform Civil Code, a legacy of the Portuguese, has no place for triple talaaq for Muslims or Church permission for divorce. There is gender equality financially as well, with both daughters and sons having an equal right to inherited property
In a lightning strike, defence minister Manohar Parrikar managed to bribe and bully the Maharashtrawadi Gomantak Party, Goa Forward and even Congress-backed independents, to support the Bharatiya Janata Party and form the government in Goa, despite winning only 13 of the 40 seats in the Assembly
By Rajan Narayan
WE ARE familiar with the story of the seven blind men of Hindustan who encountered an elephant and touched it. The man who touched its tusk was convinced it was the horn of a buffalo. The one who touched its flapping ears thought it was a giant bird with huge wings. The man who touched its trunk thought it was a python. The one who touched its feet thought it was a teak tree. And the one who felt its tail thought he had caught a long rope.
Similarly, if you ask 10 Goans what they understand by Goenkarponn, you will get 20 answers. Goans cannot agree on anything except that there should be no restriction on their right to drink as much daaru as they want whether it is on the highway or the low way, whether it is at home or while they are driving.
There are some Goans like Manohar Parrikar and Vijai Sardesai on the other hand who seem to believe that one-eyed men should be kings in the land of the blind. The story by legendary 20th century writer Oscar Wilde speaks of a man who climbs a steep mountain in search of adventure and slips on ice. He wakes to find himself in a bed in a cave of a nearby valley. Deciding to explore the area, he discovers that by some freak of nature everyone in the valley is blind. The old saying runs through his mind: "The one-eyed man is king in the kingdom of the blind".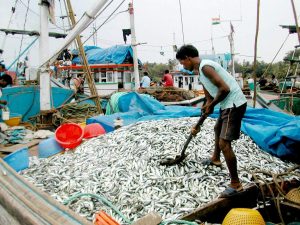 Our hero decides that if the saying was true, he, with vision in both eyes, could become the emperor or the Samrat. It was particularly lucrative as he discovered that the kingdom had a diamond mine. But when he tried to help himself to diamonds from the over-flowing treasury, he was quickly caught. Though the people could not see, their other senses were so sharp that they could sense what the culprit was trying to do and caught him in time.
Taken for a ride
THE tragedy of Goa is that despite being able to see, we were blind. We were blinded by slogans like Goa, Goem and Goenkarponn. We were taken for a ride by Parrikar and Goa Forward (GF) led by Vijai Sardesai as well as independents like Rohan Khaunte who were elected with the support of the Congress. They have been able to do so because we did not ask them to define what they meant by their commitment to Goa, Goem and Goenkarponn.
Parrikar promised the blind people of Goa good governance in 2000 when he first became chief minister. We know how many U turns he has taken since then. We were reminded in the assembly and on the streets and in our homes by GF leaders who asked us not to vote for U-turn champion Parrikar and the Bharatiya Janata Party (BJP) which destroyed Goa, Goem and Goenkarponn.
In justification, Sardesai tells us that he had no choice but to join the BJP because the Congress had double crossed him again. GF had been savagely attacking Parrikar and the BJP for repeatedly going back on their promises, but has suddenly discovered that he is the most efficient and honest chief minister of Goa.
In letters of support given to governor Mridula Sinha, GF placed a condition that they would support the chors who were trying to steal the government only if Parrikar resigned as Raksha Mantri and returned to Goa as chief minister, instead of his weekend visits.
So it is important to try to define the essence of Goa. What makes Goa unique? What attracts millions of people from all over to Goa? What is this Goenkarponn the NRI Goans are even more proud of than Goans living in Goa? Goans in London are proud of Goa and prouder of the villages in which they were born.
Goenkarponn Abroad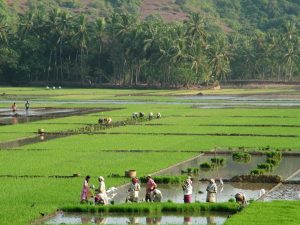 WHEN I visited London in the early 90s, I discovered that were more than two dozen village associations of Goans – from the Benaulim and Santa Cruz associations to the Moira, Assagao and Navelim associations.
There was even a federation of the associations which had so much money that they bought a cricket stadium owned by Rupert Murdoch which belonged to the London Times. It is another matter that like in Goa, the Goans in London also fought and filed cases against each other based on whether a tailor or a barberia or a Saraswat should be president of the association. They spent more money on lawyers than the price they paid to buy the cricket stadium. The last I know is that somebody burnt down the club.
I am a bhailo (outsider) who has stayed in Goa for only 35 years. I am therefore not an authority on Goa, Goem, and Goenkarponn. But I do know that Goa means building bridges, not over the Mandovi or Tiracol rivers for the benefit of hotels, but between people. It also means strengthening the bridges that already exist between Hindus, Catholics and Muslims. Just like sugar when dissolved in tea or kheer makes it sweet, so also Goans have absorbed the culture of all religions. As Mahatma Gandhi advised, Goans have allowed the winds from everywhere to blow into its house but made sure it did not deprive them of their unique identity.
Assimilation
WHEN they were forced to accept Christianity by the Portuguese, they just added it to the milk of Hinduism and assimilated it. They already worshipped Shanta Durga and Mangeshi, so added one more, converting Mother Mary into Saibin. Many places of worship, both Catholic and Hindu, are still referred to as the seven sisters, including Milagres church in Mapusa. In Milagres Church, they follow the Hindu tradition of anointing the idol with oil as they do in a temple. In Shanta Durga temple, the original Hindu Gaonkars who converted to Christianity still have precedence in worship over Hindus.
So Goenkarponn means not just acceptance but assimilation. When I came to Goa in 1983, I spent a lot of time in Clube Vasco which was initially meant only for the Portuguese. Clube National was built by Goans to protest their exclusion from Clube Vasco. To my pleasant surprise, everyone – Hindu, Muslim or Catholic – enjoyed their drinks with chouriço (sausages). In no other part of India would you find Hindus, let alone Muslims – who consider pork unclean – eating sausages. I must add that the original Muslims of Goa were from the Khoja community who were more interested in business than in religion.
Goa is the only state which has never witnessed a communal riot, with the exception of a small one targeting the Muslim minority in Curchorem. If there is some communal tension in Goa, it is the result of mass migration and the huge increase in Muslim population. Strangely, the tension is not between Hindus and Muslims, but between Catholics and Muslims. The disputes are about land for mosques, madrasas and kabristans as land is scarce and is largely in the control of big Catholic bhatkars in South Goa.
Goenkarponn has always meant all communities living together, and not their polarisation on religious lines which is the mantra of the Sangh Parivar. Though Muslims constitute 17 per cent of the population of Uttar Pradesh, not a single ticket was given to a Muslim candidate by the BJP.
The other unique aspect of Goa is that it is a green oasis in the desert of concrete which all cities in India have become. I call Goa a city as more than 70 per cent is urban. When I came here in 1983, there were no huge gated colonies in Miramar, Dona Paula or Bambolim. There were no concrete jungles on the highway from Panjim to Margao or Panjim to Mapusa.
There were only green paddy fields with tribal women in colourful raincoats harvesting the grain. It is this green Goa that attracts so many people from outside to settle here. Parrikar himself told NDTV in an interview that he felt he was in a prison in Delhi and his health was affected by the pollution. While he misses his job as defence minister, he is happy to return to green Goa. So Goenkarponn means keeping Goa green and not building mansions on paddy fields.
The Goan Essence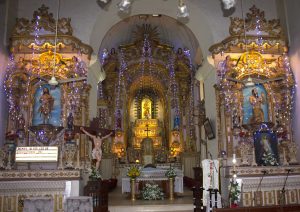 AND Goenkarponn means xit kodi. It means fish in the rivers and not casinos, rampons and perhaps even trawlers, but not iron ore barges and dolphin chases. It means Goans from all communities and castes standing patiently on the Patto, Mandovi, and Zuari bridges and indeed every river bank with rods trying to catch fish which they can take home to eat. To me, Goenkarponn is the late Maria Conceição, president of the South Goa Fisherwomen's Association, who was six feet tall and equally broad and was the queen of the fisherwomen. It means men, and not women, going to buy fish, not because they know more about fish, but because they want to flirt with the fisherwomen.
Goenkarponn may mean different things to different people. To me, it means communal harmony, swaying coconut trees, people patiently standing on the bridges with fishing rods. It means Goan Gavdi women in colourful raincoats harvesting paddy. It means drinking feni with mango chipni and chouriço pao. It means respecting other people's faiths. It means working hard to make enough money for your needs. It also means finding time to relax. Sussegado does not mean lazy, but gracious living. Goans know how to work hard, but they also know how to have fun.
Most importantly, Goenkarponn means equality – financial equality and gender equality. This is a positive legacy of Portuguese rule. In Goa, there is no triple talaaq. Here, Catholics do not have to wait for permission from the Church to get divorced. Only the civil registration is legal. To get married, you have to give a month's notice to the registrar of marriages and then appear before the registrar even if you have not performed any religious ceremony.
If you have born in Goa and were married here under the Uniform Civil Code, half your assets and even your income automatically belongs to your spouse. If something happens to you, 50 per cent of your assets including all the money in the bank goes to the spouse and only the remaining 50 per cent can be distributed to the children. Moreover even that 50 per cent has to be distributed equally between sons and daughters without discrimination. When GF comes to power, it is planning to make it compulsory for all those who want a ration card and a voter ID irrespective of whether they are Hindu, Muslim or Catholic to abide by the Uniform Civil Code.
GF's Sardesai must ask Parrikar whether Goenkarponn means the same to him as it means to Goans like him. And even if Parrikar is committed to Goenkarponn, will his master, prime minister Narendra Modi, and BJP president Amit Shah, permit him to keep Goa a harmonious green garden without vipers like Pramod Muthalik of the Ram Sene, Sudin Dhavalikar of the Sanatan Sanstha and Uttar Pradesh's new chief minister Swami Adityanath of Goraknath Matt?