CHEMISTRY: Fr Bismarque who was a singer himself had developed close ties with Hema and her husband who stood by him even when the church expelled him and he was very depressed
The popular Konkani and Hindi singer, Hema Sardessai, who was among the first to raise the issue of Special Status for Goa, was a close friend and associate of Fr Bismarque
A TRUE story..A MUST read for every true 'Save Goa' concerned heart…
The late Mr. Bismarque Dias was a priest when I met him during our Save Goa campaigns in 2007, when we fought together against SEZs and succeeded in saving Goa from them. The Navhind Times carried my plea for 'Special Status' for Goa on its front page in 2008. It was the first time anyone had mentioned this. Soon a group of seven people started meeting regularly to discuss the Special Status for Goa. Apart from me, the group included the Late Mr Mathany Saldanha, Mrs Alina Saldanha, Late Fr Bismarque Dias, etc. After many meetings, other comrades like Prof Prajal Sakhardande and later Mr Jatin Naik, Miss Goretti and Mr Amol Navelkar joined in. Very soon we had fifty eminent individuals of Goa on the panel and had had several serious successful meetings on this issue.
That same year my beloved father passed away and I slipped into depression and shut down my life for a long while. On my exit from the group, soon all meetings stopped and the matter which we had so seriously discussed remained unattended. However, Fr Bismarque, Prajal and I, along with my husband, Xavier, kept in touch through this period and we shared a warm bond.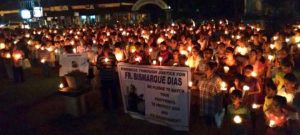 At one point when I was in Mumbai I got a frantic call from Fr Bismarque that 50 Save Goa activists had been taken to jail – Prof Prajal was one of them. I promptly called up the then opposition leader, Shri Manohar Parrikar, and requested him to save the activists. He immediately reached the spot and freed them all. He called me and told me the job was done and I was grateful to him.
Once again the Save Goa agenda was unattended to for long.
In 2012, during the last assembly elections, I was strongly supporting Shri Manohar Parrikar, and yet, with belief in my friend Bismarque, who had given up priesthood by then and was standing as an independent candidate against BJP etc, for elections from Cumbarjuan constituency. I was the only Save Goa comrade who went to Zuven to attend his public gathering. He was touched by my support to him.
Few people know that while Bismarque was a priest he was very hurt. And one fine day he left priesthood and started openly opposing some religious practices which he had stood against during his priesthood. He was a former priest crying out for justice, bringing into the open the truth he believed in. He explained his dilemma to me and our common friends with a pain-filled heart. We were there for him then too.
Later that same year, on the sad demise of the Late Mr. Mathany Saldanha, on being sworn in as a minister, Mrs Alina Saldanha started her own agenda on the Special Status. Fr Bismarque who spoke out at a public gathering against the Late Mr Mathany, was kept out of this Save Goa campaign even though his very profound work to save Goa was well known. Mr. Amol Navelkar and I were initially invited for the meetings, but when we voiced out certain wrongs in the agenda we too were kept out of the meetings. I watched helplessly for a while as Bismarque's heart hurt on this account.
I went public on this and said there was injustice meted out to true Save Goa comrades like Bismarque etc. And I again called upon the then Hon Chief Minister Shri Manohar Parrikar and told him that Bismarque Dias and Amol Navelkar could not be kept out of any Save Goa campaign especially Special Status. In the very next meeting for Special Status, our Manohar bhai made sure both these greats of Goa were invited. I was there too and witnessed the shocked and surprised faces of our former Save Goa comrades who had not stood up for them. Manohar Parrikar inducted us rightfully in the movement. Bismarque was grateful for the justice shown unto him. Lovingly he started addressing me as 'Hemulsha'.
In 2014, when I was to perform at a Gospel concert in Margao, I invited Bismarque and he travelled with my husband and me to the venue. I made sure he got due respect at the concert, although he was no longer a priest..I addressed him in front of the audience, very respectfully as Father Bismarque..I spoke good words on his work for Goa and his true love for Lord Jesus. After the event, Bismarque hugged me warmly and said, "Hemulsha you always have stood by me. In fact you are the only one. Today your genuineness showed in your reverence to Lord Jesus, because everyone in the audience had tears in their eyes as you sang out your profound love to the Lord with total devotion" Later he smsed me more praises on my devotion to the Lord.
Many a time, Prof Prajal, Bismarque, my husband Xavier, and I, met for hours together to discuss how to save our Goa. At one of our meetings earlier this year, Bismarque came shaken. He said his life was being threatened by a builder. He was also being falsely implicated by some people as being part of a bribe scene. Here also I stood by him strongly and told him he just has to say the word and I will hold a press meet for him and endorse his sincerity publicly. Again he was deeply touched. He then confessed to me that he was on anti-depressants since he had left the priesthood. I was shocked and saddened by this revelation from him. Long intake of anti-depressants can often push the victim to suicide. I experienced this trauma after I lost my father.
I urged Bismarque to take my help and talk to counsellors to get rid of the killer pills. I told him he could stay with us, and that my husband and I would personally help wean him off the pills. But although he promised to let me help him, he kept postponing it.
Last month when the four of us met, he was looking very frail and lost. I beseeched him to get his act together and to let me help him. I told him I would get him a great job and would make sure he is well settled in life. For once he relented and told me he would come to meet me soon. He said "Hemulsha I know you truly care about me. Yes I will do as you say. I love you both so much".
I was the ONLY ONE who supported him truly. He endorsed this with his smses to me!
But it was not to be. I lost my dearest comrade before I could help him walk towards a better life. My heart hurts for him…