DURIAN MAN: Rahul Kulkarni of the ICARCCARI at the Konkan Fruit Festival….posing for the majestic south-east Asian fruit, still early days and the durian is an acquired passion!
Photographs and text by Syed Nasserudeen & Tara Narayan
By Tara Narayan
THERE'S no doubt about it. In the heat of summer and mango season summer citizens do look forward to escaping to a food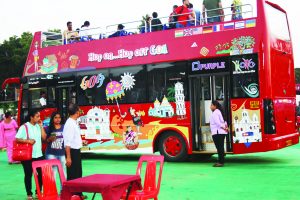 and lifestyle festival like Goa Tourism's The Grape Escapade. A last-minute controversy erupted but the festival was in full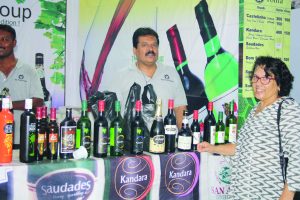 swing all four evenings from April 27 to 30 from 6 pm onwards at the DB Bandodkar grounds down the Campal promenade.
The Grape Escapade has become an event in the tourism calendar of Goa and not just tourists but locals look forward for a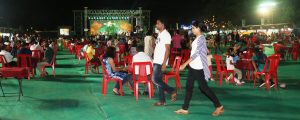 respite from the daily grind of life and enjoy an evening out for a drink, some good food and entertainment under a cool, star-spangled, night summer sky. Since it is a festival celebrating the liquor of the grape (not a Konkan fruit!) that is wine, naturally various wine company stalls were there offering a taste of their wine in little plastic wine cups! As Indians become wine connoisseurs the wine industry too is booming in the wine country of Maharashtra.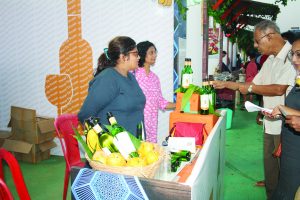 The festival can of course take on a larger canvas by promoting the Konkan summer fruits of mangoes, kokum, jackfruit, jamun, starfruit, bilimbim, etc. And there is no reason why only mango wine should be promoted and sold at the festival – Konkan fruit stalls would also be welcomed by the people to do some shopping of fruit. However, the festival remains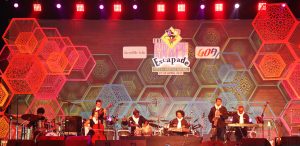 primarily a wine, food and entertainment festival with the "grape" menu listing grape stomping, wine tasting (by sommelier John D'Souza), and a Grape Escapade Queen Contest…several stalls offered sizzling foods along with confectionary and ice-creams (including yogurt ice-creams).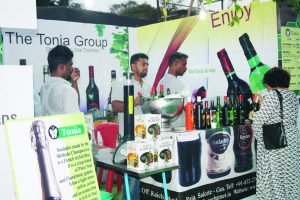 Fabian Tavares of Ribandar was busy introducing visitors  to Goa's most famous treat – the real Fabs Bebinca – at this year's festival. The dark multi-layered sweet made of coconut milk, eggs, sugar and spice flavoring is a treat although few make it traditionally over a wood fire anymore. Fabs Bebinca is becoming a popular buy across Goa.
Equally interesting were the Pomar De Frutas of mango wine fame – this wine is said to be India's first ever pure fruit wine brand. Pomar de Frutas fruit wines are single fruit wines made from local tropical fruits and these are crafted to retain flavors of original fruit. The wine is a creation of artist Dr Archana Thakur, a microbiologist and founder member of Codon Biosciences in Goa. She works in close collaboration with ISVY, Unversity of Bordeaux, France and Technische Universitat Dresden, Germany, to develop wines and other value added products of tropical fruits.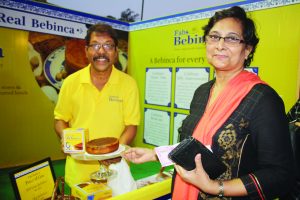 Her alphonso mango wine, she says, is the perfect way to cap off your day as you enjoy a beachside sunset in Goa! The marriage parties in Goa should discover this mango wine of Goa. The wine goes very well with all types of barbeques and Asian cuisines and may also be enjoyed as in aperitif. A pity I didn't get to taste Goa's mango wine! It's worth taking cognizance of though.
Amongst the foodie stalls was The Yellow Chilli which has refined its menu vegetarian and non-vegetarian courtesy Sanjeev Kapoor's cookbooks, blended masalas, ready to cook mixes and pickles, cookware and bakeware – the works in marketing a signature cuisine.  The Yellow Chlli food is definitely worth taking a closer look at. They do soups like coconut zaffani shorba, starters like dahi ke kebab, curries like Paneer taka tak, try their lalla mussa dal or martban ke chholay…lots of fish and seafood…kadai prawns or Sikampuri seekh  or gosht saagwala, anyone? Fascinating mix of recipes on their menu and they also do Goan specialities like baked crabs and Goan-style butter chicken…
All this and much more. May the Grape Escapade festival of Goa grow from strength and strength and evolve in the best sense of the word with every year!