Remember Panaji last monsoon? The town which never flooded is all set to be Goa's flood prone smart capital city now, thanks to the loss of St Inez Creek and irrational high rise construction boom. These pictures of last year's floods in Panaji are courtesy advocate Diya Chandrakant Shetkar of NGO Nari Adhikar. She is also Goa Pradesh Mahila Congress State secretary and vocal social worker in Shiroda constituency (seen in pic top right with former mayor Surendra Furtado)
BY TARA NARAYAN
Adv Diya Shetkar offers further insight into how the small town of Panaji is courting more and more tragedies of the environmental and unhealthy kind courtesy the promotion of haphazard high-rise construction activity based on the destruction of natural life-saving features like the historical St Inez Creek which drains the flatlands of agriculture in the vicinity of the city's outskirts in Taleigao, Santa Cruz, Merces and also Panaji…..
INFRASTRUCTURE in capital city Panaji is outdated and inadequate! Last year during the monsoon season on a day of heavy rains I witnessed how Panaji — touted as smart city nowadays — was the worst affected city in Goa.
The choking with garbage and encroachment St Inez Creek overflowed at many places and the muddy, sewage-laced flood water entered the homes of those residing in the St Inez-Tonca-Camrabhat vicinity, causing damage to household utensils and valuables, as also creating health hazards due to contaminated water.
Water-borne and respiratory diseases abounded and several people went down with malaria, dysentery and other health-related problems courtesy a sickening environment filled with garbage piles everywhere dumped along stretches of the St Inez Creek here.
Mala, a locality on the eastern side of Altinho also witnessed flooding of many homes. Even 18th June Road flooded badly with water entering shops up to about a foot above sea level. All this is just a testimony to cursory and negligent civic planning and bad and inadequate infrastructure of Panaji which is booming with more and more residents but little to boast about the quality of life! The BJP has neglected the capital city for the last 15 years and although the Corporation of the City of Panaji (CCP) pre-monsoon drainage-cleaning exercise is carried out every year, it is a superficial exercise and flooding takes place in several pockets to cause hardships to residents living in low lying areas.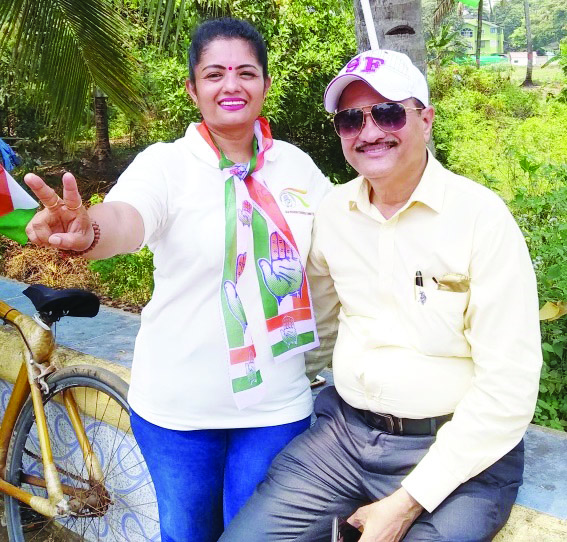 Annually shops in Panaji too face monetary losses due to the flooding of their premises during the monsoon months whenever there is a heavy downfall. All this despite paying heavy taxes to the State as well as CCP levies. Under the circumstance it is criminal to permit multi-storeyed housing complexes and gated housing colonies where builders think nothing of filling up low-lying areas and agricultural lands. Builders encroach illegally on public land water bodies surreptitiously with or without the proper permissions.
Also see one sees the story of how double or repeated asphalting of roads keeps increasing the height of roads every years while drainage gutters and pavement spaces remain neglected and fill up with stagnant water for the drainage has been destroyed without much thought. The volume of the drainage system is also highly inadequate and lacks emergency pumping and water evacuation systems as deployed in big cities like Mumbai which is also prone to flooding.
The entire storm water drainage system in Panaji is outdated. It is at least 25 years behind in terms of technology, capability and volume. All in all I am sorry to say that the BJP-led governments have neglected Panaji and instead of implementing sound infrastructure projects, it has and continues to indulge in horse-trading to desperately save the new chief minister and stay in power rightly or wrongly! The people of Panaji should make a note of these failures and give a fitting reply at the time of elections. Vote for candidates who will put Panaji first in their manifesto, let them spell out in detail what they will do to rectify the sorry plight of Panaji and especially the St Inez Creek which is virtually strangled courtesy various real estate and builders lobbies.
(Note: Advocate Diya Shetkar has been appointed vice-president of Congress South Goa District Committee. An energetic, loyal Congress representative she has helped sort out problems of residents in Shiroda constituency where she is a popular face. The Shiroda People's Forum has endorsed her as a candidate for the constituency.)