MAFI KI BAAT: PM Narendra Modi apologized to the country for all the trouble caused due to the coronavirus lockdown in his "Maan Ki Baat"
BY RAJAN NARAYAN
Life after the lockdown may not be much better. It will take time for a new normalcy to return. Just as the case of demonetization and GST it will take aam aadmi time to adjust anew. And whether you stay at home or resume work you will have to do social distancing, that is maintain physical distance of one meter. As long as coronavirus continues to spread in Goa….
FROM March 22 when Narendra Modi announced a 1-day "Janta lockdown" in India no one took it seriously. When Chief Minister Pramod Sawant extended it to three days there was a sense of annoyance and irritation. The real shock came when Modi announced a further 21- day lockdown across the country. What this meant was there would be no trains. There would be no flights and airports would be empty. That even road transport would stop. India was re-divided into 28 states and Union territories with no physical contact with each other.
Within Goa itself it meant that all government offices excepting for a few essential services like garbage collection, water supply and power supply, were closed for the lockdown. Worse of all the Accounts Department was closed. This in any case is a token gesture as the Accounts Department has had no money for over six months. Every month the government of Goa has been borrowing money to pay salaries. All PWD works including even filling of potholes has come to a halt. Contractors are not willing to accept any new assignments as they have not been paid for previous completed works. All private sector units were asked to shut down. Every resident of Goa was asked to sit at home with his wife and be pestered by his children. There was no escape for the man of the house as every time he tried to run away the police pushed him back home. In one instance a CRPF cop even bashed up a tired husband.
All the shops were shut down, whether it was the mighty Caculo Mall or the small grocery shop. There was no food at home, no vegetables, no fish, no eggs. And nowhere to go to buy essentials. Till the Chief Minister or his wife or relatives must have complained and it was decided to permit some grocery and vegetable shops to open. Even these shops required a permit from the government. Whenever a family member stepped out to buy available provisions they had to observe social distancing. Which meant keeping a distance of at least one meter from each other. Since the liability for enforcing this distance was on the shopkeeper, they all painted rounds or squares of one meter distance on the ground outside their shops and here people had to wait their turn.
     CM LIKE MENTOR      
"MUHAMMAD bin Tughluq" Pramod Sawant like his mentor the late Manohar Parrikar took another U-turn. He decided suddenly that the lockdown could be enforced more effectively if groceries and other necessities were delivered to everybody at home. Party workers and MLAs were also grumbling that they had no opportunity to make money. So the task of delivering essential supplies was assigned to MLAs and BJP party leaders who diverted stocks of rations to themselves.
The only essentials that was freely available at a price in Panjim were local vegetables. Fortunately, lawyer Albertina Almedia had refused to sell her family land and decided to retain it for agriculture and horticulture. Locals took full advantage and grow vegetables in the open spaces ling Babush Monserrate's new roads. The urban farming guaranteed fresh gauti vegetables every morning and evenings till stocks ran out.
DURING the Emergency in 1975 I was part of the Janata party led by Jaiprakash Narayan. Some of us who were protesting against the arrest of labour leader George Fernandes were arrested. But the lockup was much worse than 24 hours in the police lockup of Azad Maidan. Coming back to the present lockdown at home I have a severe acid reflux problem. I have to eat a small quantity of food every few hours. In the first place I could not go out of the house as one could leave the house presumably only during specified hours. In any case the few biscuits and sandwiches that I wanted were not available at Carasids or anywhere else. Indeed, we did not have even bread, butter and eggs, till a colleague who took pity on me and got me some eggs and bread from Jack of All shop on the 10th day of the lockdown.
Unfortunately, I'm not found of Goan pao which any case was not delivered in the morning as done earlier. In the past, a long, long time before the lockdown, I started my day with tea, bread and butter, and a newspaper. Excepting for tea I missed both my bread and newspaper during the lockdown. The government of Modi seems to be determined to kill the print media. Due to the lockdown there were no newspapers, no advertisements. The bhakt community had frightened newspaper delivery boys so much that they refused to deliver newspapers home. And the rich bhakt devotees living in gated colonies refused to allow newspaper vendors or maidservants into the colony. In the belief that only the poor could transmit the coronavirus to them.
Mohammad Bin Tugluk was one of the craziest kings of Delhi. Every day and every hour he kept changing his mind. He suddenly decided one day that the capital of India should be shifted from Delhi to Daulatabad. Now shifting the capital did not mean the king alone shifted along with his officials. Mohammad Bin Tugluk issued a fatwa that every man, woman and animal of Delhi would shift to Daulatabad. Like Pramod Sawant he did not believe in giving them any allowances to travel from Delhi to Daulatabad. Nor were they provided any transport and had to make their own way like the jobless migrant workers did in various parts of the country.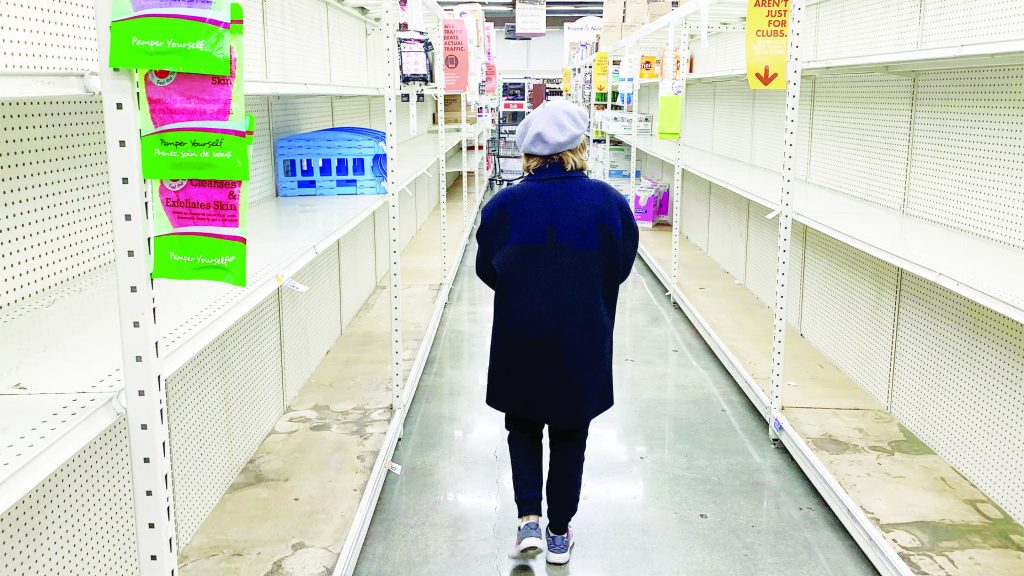 The lockdown period is in its third week this week. Most of the migrant labourers who were working for medium and small industries have already resigned and left. The M has now made the grand announcement that all employees should be paid in full for the lockdown period. It is not his concern as to how the owners would get the money to pay their workers. To give an example, going by the logic of Pramod Sawant, all newspapers will have to pay all their employees their complete salaries during the lockdown period. But he does not think the government has an obligation to pay newspapers their dues for advertisements released long before the lockdown period. We were waiting till the third week of March because we were promised that the Information Department would pay the dues for multiple advertising released during IFFI. This of course was not possible because both the ESG and its accounts were under lockdown.
PHILANTHROPIC PRAMOD SAWANT
CHIEF Minister Pramod Sawant also like Mohammad Bin Tughluk announced that landlords should not demand rent from their tenants for the period of the lockdown. The overwhelming majority of tenants are landless folk who live hand-to-mouth. Do you expect any landlord to forgo the rent that landless labor owes them? The question on everyone's mind is what will happen after the lockdown period ends on April 14, 2020. Will the factories be allowed to start working again? Will there be enough labor as many of have gone to their home town not only because of the lockdown but because this is the agricultural season where they go home to work on farms their own or some others. The question on everyone's mind is will transport including motorcycle pilots, rickshaws, trains, buses and planes be completely restored? Will restaurants and hotels be allowed to function anew?
Some are already working khulam khula like a Marwadi Rajasthani restaurant and sweet shop in Old Goa which has a branch in Panjim. Swiggy and Zomato have been allowed to deliver food again though only a few hotel kitchens are working. You get more bhashan on safety and coronavirus than food at inflated rates from delivery apps. Parents are worried about their children as schools will re-open only in June and not at the end of the lockdown period. Keeping children out of masti during holidays is simpler than sending them to school. I am told that suddenly there is a shortage of maidservants because the memsahib believes that they are the source of infection. That doing their own house work will keep them fit. Till the lockdown period ends husbands will do domestic work for their wife. After that wives will have to go back to stealing one another's maid servants.
EVERYONE is worried about the state of the two major industries which were the backbone of Goa, namely the tourism industry and the gambling industry. The only gambling that has survived the lockdown is matka. Most Nepali and north-east employees have returned to their home towns. Similar is the case with tourism. More than 80% of the staff in tourism were interns and trainees from Orissa and Bengal. So even if tourism revives it is going to take some time before any profits come in.
The 64 billion dollar or should we say trillion dollar question is what will happen to the coronavirus? Considering that there are over 85,000 Goans employed in cruise liners stranded all over the world, will the epidemic stop? The worst part of this epidemic is that all hospitals have closed down their OPD. They have converted OPDs into emergency departments for dealing with the coronavirus. But unlike as in the old OPDs patients will have to pay a minimum of `1,000 for testing and much more for treatment if they are positive.
I would like to know from my insurance friends whether insurance covers coronavirus in their existing policies? What both India and Goa desperately need is a new competent prime minister and chief minister. Banging empty kitchen vessels on the balcony and lighting oil lamps or candles for nine minutes is not going to frighten any coronavirus away.