STAY BACK: Goans in the UK would prefer to stay back despite the lockdown and BREXIT. Primarily, because unlike in India and Goa, they have social security and don't have to worry
By Rajan Narayan
Goans worried about migrants taking over Goa will be happy. As many as three lakh migrants wish to leave Goa now. In sharp contrast, not many Goans abroad want to return to their home state…..
GOA is no longer as attractive to migrant workers as we had thought. On the very first day when it was announced that they may leave, given permission to leave Goa, as many as 71,000 workers registered at Taleigao Community Hall and across Goa. The only hurdle or disincentive appears to be the document or form to be produced acknowledging they worked in Goa officially. Those in Goa to work have to produce their Aadhar cards and voter IDs.
If they don't have the necessary documents they will have to pay quarantine dues at `2,500 a day! No wonder migrant labour who do not have any documents prefer to go back home. Though, ironically, there are many industries in Goa ranging from the pharmaceutical to the fishing industry's which are largely dependent on migrant workers.
no night shifts
Goa has a pharmacy college. It has several pharma production units, one of which, CIPLA, is exporting HCQ to the United States. Many pharma multinationals have production units in the state. But not many Goans are interested in pharmacy. It is the fourth preference after medicine, dentistry, homeopathy and Ayurveda. For some reason the majority of pharmacy student are girls reluctant to work on night shifts.
Most pharma units in the Verna Industrial Estate would like to work 24 hours in three shifts. The government has not created facilities for Goan young women to work even a late evening shift, leave alone night shifts. Many units like CIPLA depend on migrants for whom they provide dormitory accommodation. Goans might own taxis and trawlers. But it is the migrants who run their taxis and trawlers. Goans who have spent two decades in the Gulf invest in taxis when they return. And promptly hire migrants to drive the taxis.
dependent of migrants
Similarly though Goans may own a lot of huge trawlers, many with LED lights, the workers on the trawlers are mostly from outside the state. If the migrants don't come back by August 1 later this year when the fishing season resumes, there will be no fish for Goans. Besides this pharma, fishing and tourist taxis, migrants form the majority of the workers in the tourism industry. Even the waiters and cooks catering to tourism needs in the beachside shacks and smaller restaurants are migrants. The Nepalis who came to Goa originally to do watchmen and doormen jobs now also work as Chinese food cooks in small-time restaurants. For some reason even Grade A restaurants prefer people from the North East states to be waiters and kitchen boys.
why ghar wapasi?
However, post-coronavirus lockdown many migrant workers want to return to their native states. Particularly those from UP and Bihar who are more recent first generation migrants. The Kannadigas and the Malus are second or third generation migrants in Goa and have virtually settled in Goa owning property in their name. They think of Goa more as their own home then even the states they come from. An example is the nurses working in Goa Medical College & Hospital, whose children have joined their mothers and they speak more fluent Konkani then even Goan NIRs.
So the 71,000 migrant workers, a figure which may go up, who want to return to their home states are majorly from UP, Bihar, Gujarat and Madhya Pradesh. This is also partly because in recent months there is considerable hostility towards the newer generation of migrants from North India. This is partly because unlike the migrants from Karnataka and Kerala they have not been in Goa very long and don't want to integrate with Goa and Goans.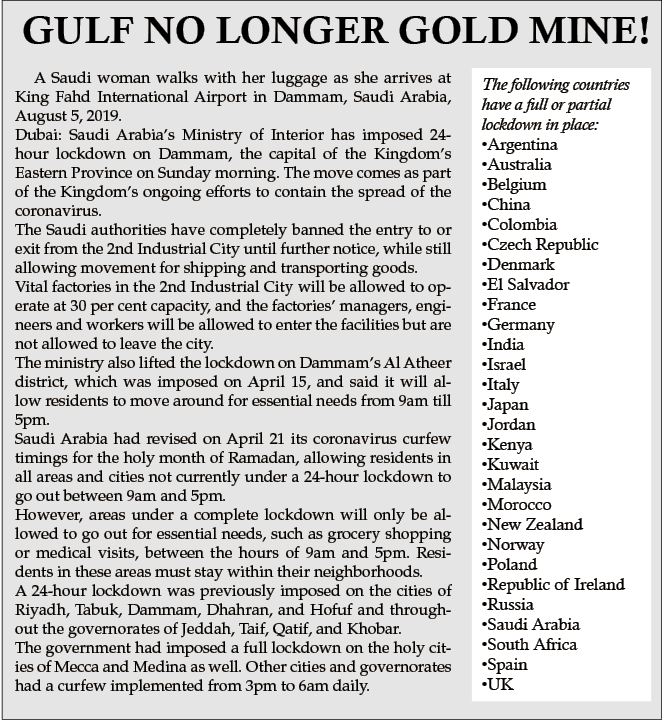 cultural divide
Indeed, some of the migrants from UP speak no other language than Hindi. The newer migrants from the North moreover tend to be far more aggressive than their counterparts in the South. They are not great fish lovers, nor do they eat beef. They are more the mutton biryani types which is not particularly popular or widely available in Goa. The only migrants who are unlikely to leave Goa and return to their home town are those from the North East and Nepal. This is partly because these states are too far away for them to return as and when they wish and come back again. Moreover, levels of poverty in Nepal and North East are so high that compared to their own home towns or villages Goa is a paradise.
And for migrants who really want to stay in Goa documents are no problem. I understand that there are agents near the market who offer you fake or nakli Adhaar cards for `5,000. You don't need to pay anything for a voter registration card as the politician s promoting them will facilitate the card for a vote. There are agents available and they will take care of ration cards too for these favoured migrant workers. Migrants who want to leave Goa are primarily from the North because of cultural differences between them an Goan culture. Culturally, Goa is closer to South than North India.
returning goans
NOT surprisingly there are many Goans who want to return to their homeland Goa. This is besides the seafarers who will in any case have to come back till the coronavirus problem is resolved. A lot of Goans working in the Gulf may also be forced to come back to Goa. There is a lot of uncertainty in the Gulf because of the coronavirus pandemic. The backbone of the Gulf economy is excavation, refining an imported crude and natural gas. Coronavirus has hit the automobile and transport industry very badly. Not only the road transport but even civil aviation. It is difficult to imagine flying or driving while maintaining physical distance. The fact that the price of crude oil has come down to almost zero dramatizes the state of the petroleum industry. Admittedly, besides petroleum there are a lot of consumer industries in the Gulf, including luxury accommodation for those who can afford it like Sanjay Dutt, Sharukh Khan, not to mention Sachin Tendulakar. But the source of all Gulf wealth is petroleum. With the collapse of the automobile industry a lot of Indians have already lost their jobs. They will have no choice but to return to Goa. Others who may be part of the 3,000 Goans who have registered to return to Goa, are Goans working in UK on Portuguese passport. After Brexit and in the wake of COVID-19 their fate is uncertain. United Kingdom is one of the worst affected with both Prince Charles and British Prime Minister Boris Johnson contacting the coronavirus infection, except that both have recovered and indeed, Boris Johnson is celebrating as he has just had a baby with his girlfriend.
types of quarantine
While migrants are free to exit Goa. At least till May 17 no one will be allowed to enter Goa without a compelling reason, according to Chief Minister Pramod Sawant. Returning to Goa can be quite complicated as the incident of the seafarers dramatised. The sea fares who sign off have to spend 14 days in quarantine before they can return home. It is still not clear whether the charges for food and shelter during the quarantine period will be paid by the seafarer or the company or the government. When anyone from outside comes to Goa by road or by air or train, they will be tested with the thermal gun to check the temperature. High temperature is a symptom of Covid-19. Those with high temperature will have to undergo further testing at the GMC or the two private path labs in Panjim and Porvorim. If they have other symptoms like a cough and cold they may be quarantined for 14 days. Depending upon the seriousness of the symptoms the quarantine can be more or less than 14 days which is the incubation period of the virus. In milder cases home quarantine will be recommended but this means that the entire family will have to stay at home with the patient.
paid quarantine
Institutional quarantine can be a guest house or a hotel and can be free or paid depending on the preference of the patient. If the patient test positive there is no option but for him to be sent to the Covid-19 hospital located at the ESI hospital in Margao. There has been a lot of controversy over seafarers and their companies being forced to pay for their quarantine period once on Goan shores. Seafarers who had disembarked in Mumbai are being brought in buses back to Goa and quarantined in hotels. The Chief Minister has further clarified that any Goans who want to enter the State will be placed under a facility quarantine of a minimum of two days so that they can be tested to see if they have COVID-19.
liquor shops open
Entering in the State will only be permitted thrice a day at specific times namely 8 am, 12 pm and 8 pm. The moment any outsider enters Goa even in private vehicles they will be escorted to the quarantine facility quarantine so that they may be checked for coronavirus infection before being declared fit enough to enter Goa. Goa has now been resignated as a Green Zone district where you can do almost anything you want at least between 7am to 7 pm. For Goans the happiest news is that they can freely buy liquor again in any quantity they want to. But the bars will remain closed till a fresh announcement is made about the revival of the hospitality which includes hotels and restaurants.
The whole world if not the whole of India would ideally like to come to settle down in Goa! In recent years even during the monsoons Goa has become a popular tourism destination. The fact that Goa has been declared a green district and once all restrictions are removed Goa will once again become more attractive. Levels of pollution are lower in Goa and further down after the COVID-19 lockdown. The bold and beautiful and rich and powerful have been particularly quite happy being lockdowned in Goa after the relaxations. Hopefully after May 17, you can even get married in Goa right now as long as there are not more than 50 guests. We hope that the bride and the groom will not have to maintain a distance of one meter even for suhagraat. This is the right time to revive tourism which will help to revive the tourism industry. This should include the casino industry where there is enough space for physical distance and which contributes greatly to revenue. After all if ore can be transported and coal imported there is no reason why gambling should not be revived. Atleast for the sake of restoring the jobs that have been lost. We also hope the government and the private sector will renew the advertising in the print media which made a major sacrifice to create awareness on coronavirus though it had to lose heavily and struggle to survive. Whatever news you may get about COVID-19, the most trusted source of information is the print media. You can say whatever you want on WhatsApp. You can screen whatever you want on the small screen as the big screen is out of bound for now. The news you can trust is what appears in print. No print media can afford to publish news or views without confirming it as it is the only section of the information infrastructure that is governed by law and those who spread false news can be arrested and tried in court and punished if they are guilty.