CHUTNEY FOREVER: We are a country of chutney or chutneys and down south India may be found the widest range from coconut to garlic to ginger and more. The vast repertoire of breakfast and tiffin food from idli-dosa to appam, oothapam, idiappam, upma, etc come with side helpings of chutney. There is even a restaurant called 'Too Much Chutney' in Kodihalli in Bengaleru serving some 20 types of chutneys (above picture)… the idea is to eat a chutney a day to feed your immune system these coronavirus times and forever after! Discover the world of chutneys in India.
By Tara Narayan
THESE hot summer days of May lockdown (for the cause coronavirus infection in town) I've got chutneys on my mind. I swear nothing can liven up a simple meal like a chutney of the day. Nothing is more exciting than a chutney. If you're asking me a chutney can take the place of any marketplace gooey sauce or slippery mayonnaise and these overwhelmingly hot days (heat wave is on) even a few minutes of working in the kitchen turns me into a puddle!
Right from the morning I dream of making a chutney or raita and storing in the fridge as a quick standby for lunch or dinner. There is nothing I would not do for a chutney after my own heart. All manner of chutneys are my dear friends. Chutneys are also vital foods as far as I am concerned, not pickles, but chutneys, okay. I prefer chutneys over pickles. Although these mango days a freshly made green mango miskut (pickle) can also light up the palate if I make a yellow moong dal kichdi.
I make my kichdi out of pressure cooker, preferring to soak rice and moong dal for about four hours before cooking it on gas on slow fire, adding bay leaf, may be a clove or two and somewhere along the way a pinch of sea salt, golden turmeric – desi ghee laced in last at time of serving. If there's kichdi there must be buttermilk naturally. Buttermilks too are to live for these summer days. Making a thin delicious buttermilk is an art of love!
This is real food for the hot summer days ahead I'm waxing lyrical over. To stay with chutneys they're just simply fine be it with rice, kichdi (I prefer kichdi to plain rice) or pulka. A green chutney of pudina is pretty much standard chutney for most chutney lovers. Plain mint or mint and green coriander chutney with green chilly, grated coconut (dry roasted chana or gram is just as good). Green chutneys make a lot of things come alive with cooling deliciousness. If you don't like green chilly hot use green capsicum and a friend also insists adding baby palak leaves to her chutney.
All my lunch affairs these days end with chilled buttermilk since I'm not a yucky sweet lassi type, I'm more a buttermilk type spiked with cucumber juice, or orange juice, but the easiest spike in buttermilk is lemon juice, pinch of sea salt or rock salt and roasted jeera powder…stir and sip on the rocks any time you want to cool down. I can't find Goa's thin-skinned lemons these days!
I'VE been on a chutney high this week because there are few things I love to do more than stir in a chutney in freshly cooked rice, dollop of desi ghee, and relish on a hot afternoon. Light and robust and easily digested. This the season for light eating and in my early morning market sorties I've been getting fresh Khurade button mushrooms at `40 a pack from Feroz (underneath the mango tree next to the still to open Caculo Mall in Panaji, he says he gets them all the way from Margao). So I have been stocking up on these crisp ivory toned mushrooms, the small ones have a tighter texture, most agreeable.
Nothing to do with mushroom but slice and stir-fry them for breakfast with garlic pods, chopped spring green onion, black pepper and butter…sprinkle lemon juice and stuff in your poie for a hearty breakfast. Lots of Amul butter stuffed in of course if you want to go to heaven any one of these days.
TO STAY with chutneys I find when nobody will touch a kachumbar or salad on the table, they will help themselves to dollops of green mint and green coriander chutney; the fresh sweet grated coconut chutney which goes so well with idli-dosa and even wrapped into two phulka. I can stuff chutney into anything. No sabzi, thank you, give me chutney and will do me just great.
The other day I was reading about how someone loved garlic chutney and immediately came to mind the chutney from down south called poondu chutney. Up north they may do a lot of pickles but I like to think down south India they really do specialize in chutneys, wet and dry powder chutneys. All the classical chutneys are scrumptious affairs beginning with Kerala's tangy gingery injipuli or this Tamilnadu's chutney? More a relish really.
My all-time favorite chutneys are Kashmir's creamy doon walnut chutney which goes with the great wazwan feasting of marriages, there's also muj chutin (radish chutney), yummylicious. Then comes the Bengali sweet sour panch poran-tempered tomato chutney (with raisins or dates)….Kerala's poondu chutney is also superlative. Poondu is easily made with cup of peeled garlic, cup of baby sambar onions – stir fry both in bit gingerly oil till pinkish; add in four or five soaked Kashmiri dry red chillies, nugget tamarind, salt. Grind. Give the chutney a phodni in bit oil tossing in half tsp mustard seeds, half tsp urad dal, pinch hing, a couple of curry leaves. Mix tempering in chutney (ground now) and your poondu chutney is ready to go gaga over….make sandwiches out of it. Most chutneys make great sandwich fillers, assorted and adventurous and with loads of nutritious deliciousness.
The chutney from the south is of course the classical milky sweetish white grated coconut chutney with a hint of ginger and green chilly in it, tempered in mustard and curry leaves. It's the chutney we're most familiar with in Udipi restaurants the country over; there are many takes of this chutney and some of them can be quite indifferent, using grated coconut from which the milk has been removed for other purposes! Then the coconut chutney can be really yuk, like dry coconut rags.
Curry leaves feature in several southern chutneys and that's all kinds of good things, there's also an exclusive curry leaf chutney. Some folk I know like to just dry roast up curry leaves till crisp and toasty, crumble up and stir into rice with pinch sea salt and desi ghee, nice, very nice. Leaves dry up fine in the fridge too. There are also the coconut-red chilli and coconut-red chili-garlic chutneys down south.
The south also has a whole heap of dry chutney powders like the molapudi (sometimes called gunpowder) – if you're itching for chutneys one of these days go check out this place called Too Much Chutney in Kodihalli in Bengaluru…20 kinds of chutneys served here, of beetroot, spinach, capsicum, chicken, brinjal, red coconut chutney Kerala-style, of course idli-milagai podi and even a gongura pachadi (superior chutney using sour greens of the gonguru plant)…injipuli of course, neem chutney. One of these days I'm going to look up Too Much Chutney.
MOST chutneys are keto-friendly and the green chutneys I need not tell you are rich in all kinds of weight-losing properties. Learn to do India's favorite classical chutneys north, east, west, south! This is to say these hot summer days of May eat more chutneys of green mint and green coriander and green curry leaves and green dill and green basil leaves….combine with fresh coconut, peanuts, caju, almonds….and whatever you consider your personal je nais sais qua favorite ingredient! Green mango or hog plums in Goa.
I don't see too many chutneys in Goa though – unless you want to consider pineapple and mango and ambade sasav and karam as chutneys or relishes of also classical vintage. My favorite Goan restaurants serve wee bits of fresh chutney which can be quite superlative – on a good day at Annapurna, or Café Real, or Café Bhonsale. Wish somebody would make a wholesome range of our classical chutneys and retail them – like pickles are retailed!
But the simplicity of chutneys can be so enchanting. If you find fresh turmeric just scrape, grind, add sea salt and store as a chutney – truly good stuff. Add in lemon juice at time of eating or doing up anything. That's it – chutneys can be so versatile when doing up a recipe and one may add them to dal, rice, even stir-fry a sabzi using them. Chutneys, truly versatile. Make them a summertime favorite like I'm doing these days.
A FEW OF MY FAVORITE CHUTNEYS….
Thengai Thuvayal
(from Tamilnadu)

Ingredients:
1 tbs oil; one-and-half tsp mustard seeds; one-and-half tbs husked, split black gram (urad dal); 3 dry red chillies, broken; 1-2 green chillies, roughly chopped; half tsp hing (asafetida); half cup fresh grated coconut; small nugget tamarind without strings or seed; 2 tbs fresh coriander leaves, finely chopped; sea salt to taste.
Method:
Add oil in frying moderate heat. When hot add mustard seeds, dal, red chillies, green chillis and hing. Fry till mustard splutters and dals golden. Remove from heat and set aside to cool. Add in remaining ingredients and grind to chutney adding one or two tbs water if required. Serve as you wish with dosa, idli, yummy mixed up with cooked hot rice with dollop desi ghee.
WALNUT DOONE CHETIN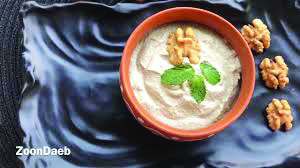 (A Kashmir wazwan or marriage feast classic meal special but you may make it whenever you get fresh walnuts, it makes for a great spread and very nutritious.)
Ingredients:
One cup freshly shelled walnuts; three or four green chilies, half tsp caraway seeds, two to four garlic buds; a cup curd with whey drained off in a clean linen cloth; salt to taste.
Method:
Soak walnuts in hot water for four hours, wash and remove walnuts. Put them in mixer or mortar and grind to a coarse paste, adding washed green chilies, caraway seeds, garlic, to a coarse paste. Add sea salt as per taste. Mix walnut mix to the drained yoghurt and stir till creamy looking and serve. The best of walnut chutney is made during Kashmiri marriages! Add lime juice for a wonderful flavor. This is quite the heritage chutney of Kashmir. They also have a yummy apple and raisins chutney and daikon white radish chutney in Kashmir, both worth learning how to make to perfection.
POONDU CHUTNEY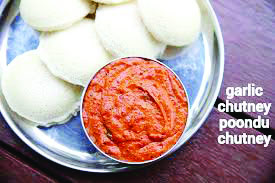 (A Tamil cuisine classic for idli-dosa meals.)
Ingredients
Take eight dry red chilies (soak in a cup of hot water for 10 minutes); three shallots, diced; small ball tamarind; half tsp sea salt; for tempering – 2 tbs oil, 1 tsp mustard seeds, half tsp udad dal; pinch hing, few spring curry leaves.
Method:
Heat three tbs gingelly (sesame seed oil) and add in garlic buds, stir fry, when blisters appear add in diced shallots, sauté till light golden, adding in tamarind. Take off heat and cool. Blend together with red chilies (taken out of hot water, squeezed dry, till you get a coarse creamy red paste. Temper in gingelly oil, mustard seeds, udid dal, pinch hing, curry leaves. Stir well and serve with idli or dosa or put it to whatever use you wish as a tempting accompaniment.
TOMATO CHUTNEY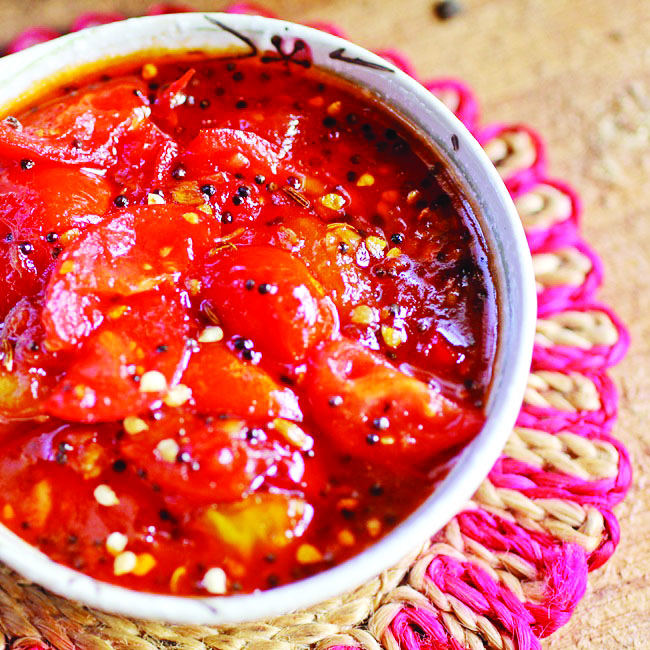 (A most sour sweet chutney tempered with Bengali spice mix of panch poran – take equal portions of mustard seeds, fenugreek seeds, onion seeds (kalonji), cumin seeds and fennel seeds (saunf). Mix and store in bottle for use in tempering.)
Ingredients:
Four to 5 tomatoes, washed and cut big chunks; 1 tbs ghani cold pressed mustard oil; 1 tbs panch poran mix; 2 tbs finely julienned fresh ginger; half cup golden raisins or de-seeded chunky chopped dates (khajoor); tsp sea salt to taste.
Method:
Heat oil and add in panch poran spices, when they sizzle add in tomato chunks, stir fry, add in julienned ginger, add in raisins, salt to taste. Add in half cup water if you wish. Let cook till you get an aromatic thick relish-styled mixture or chutney. (Some like a slit green chilly added in too.) Serve with rice, chappati, whatever, use atop toast for breakfast.
PUDINA CHUTNEY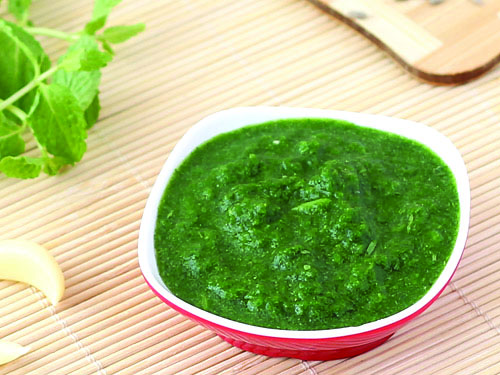 (Mint chutney is delicious. It is prepared with fresh mint and coriander leaves, ginger and garlic. The garlic and coriander leaves add additional dimension to its flavor as well as helps bring down strong aroma of mint and making it more palatable. Thus chutney is perenially popular with most Indian homes enoy it with paneer tikka dry, khaman dhokla, samosa, kachori, sandwiches, etc.)
Ingredients:
1/2 cup finely chopped mint leaves, 1 cup finely chopped coriander leaves, 2 garlic cloves (lasun), 2 green chillies, chopped 1/4 inch ginger piece, 1 teaspoon lemon juice, 1/4 teaspoon salt, 1 tablespoon water
method:
Grind garlic, chilli, ginger to medium coarse consistency. Add coriander leaves, mint leaves and 1 tablespoon water. Grind again until desired until desired consistency. Finally mix in salt and lemon juice. Eat mint chutney everyday.