By Tara Narayan
THE world has been going vegan for a long time and not just in predominantly "meatarian" countries but also in the predominantly vegetarian countries! Undeniably more and more people are choosing to be vegan out of concern for our rapidly varnishing habitats of wildlife and deteriorating environment, as also out of the concern for better health parameters. In Goa too there is a community of vegans attached to the Earth Keepers movement founded by alchemist, healer and organic farmer Darryl D'souza (read his timeless first-person sickness-to-health first book titled 'Become Healthy or Extinct').
Earth Keepers is a constantly evolving and dynamic movement right here in Goa – it promotes health-consciousness vis-à-vis earth-consciousness vis-à-vis the need to be organic and environment-friendly. It's a complete movement which also promotes veganism. We in this country push vegetarianism but veganism has more chutzpah and a lot of young people are drawn to it. What does it mean? It just means give the other animals of mother earth a break, a holiday, for perfectly rational xyz reasons — increasingly we human of the species are turning mother earth into a sick invalid desperately in need of treatment and healing. I tend to go along with this view. We have to stop using plastics and return to living in harmony with the good earth which is feminine, nurturing, wholesome, generous and so tolerant (or maybe not)!
Vegan Darryl d'Souza and Ranon Thomas say vegan food is 100% plant-based food. It is advocated to avoid any type of cruelty to animals and making any use for them for our eating purposes anyway. Veganism is rooted in a compassionate outlook towards all animals, birds, reptiles, fish, insect species of our one and only first home – the earth. Vegan food is healthy food for human bodies as well as the most environmentally safe cuisine doing least damage to the environment. Add Sattvic and oil free to that and it becomes the healthiest food on earth for human beings to patronize – that is, of course, if we love the earth and love and respect the clean air, earth and water it provides!
Hey, don't knock veganism. Many celebrities out in the countries of the West are vegans and some of them I can think of is the television show philanthropist presenter Ellen Generes, another is Alicia Silverstone…there are many famous vegans at home and abroad. Is going vegan really a healthy thing to do? Well, studies have proved that vegans have lower body mass index (BMA, which means better cholesterol levels and lower blood pressure, both of which are major risk factors associated with cardiovascular disease). The only concern is vegans who eat only fruits, vegetables, legumes – peas, beans, lentils, nuts, seeds, breads, pastas, rice, dairy alternatives of soymilk/coconut milk/almond milk/etc, may lose out on vitamin B12 (to be found in meat, fish, eggs, dairy foods). B12 reportedly protects against nerve damage , heart disease and strokes…read up on this if you wish.
But in toto a vegan diet is seen as a most healthy diet and for your information soymilk has roughly the same amount of protein as cow's milk, a vegan diet also creates a healthier gut microbiome (on which so much good or bad health depends). Also, there is the additional fact that when people go vegan they also tend to exercise more, shun smoking and alcohol…vegans are more consciously health-conscious all around.
But to stay with the growing movement of veganism in Goa this is to say I'm an absolute fan of the Earth Keepers movement and totally with it in promoting veganism in Goa. Recently, Darryl D'Souza put out an invaluable e-book of painstakingly put together vegan recipes on his website and I cannot do better than share some selected recipes here this week to try out during these Covid19 times of lockdown and trials and tribulations – when all of us want to stay at home safe and happy.
This wonderful e-book collection of vegan recipes lists several kinds of beverages, milks, cheese, curds, sauces, chutneys, pickles, soups, salads, appetizers, main course, desserts, sweets, savories…all 100% vegan recipes courtesy the initiative of Darryl D'Souza and Ranon Thomas at The Rejuvenation Center out at Candolim in Goa.
Go vegan this monsoon, my friends and be astounded by how much there is to eat in vegan cuisine and how desirable, nourishing it is! So that we may be more sit for life in gratitude and compassion!
A FEW VEGAN RECIPES
BEVERAGES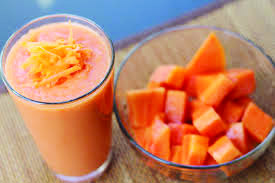 Carrot Papaya Smoothie
(courtesy Pooja Gupta)
Ingredients
4 large carrots (peeled, roughly chopped);
1 medium papaya (peeled, roughly chopped & seeds removed);
Honey/jaggery/palm sugar (as per taste);
150 ml or 4 cups of water;
Few ice cubes (optional);
Fresh lime (for garnish).
Method
Blend carrots, papaya and honey (or any other mentioned sweetener) together with 4 cups of water until smooth. Some prefer to strain the juice for a smooth structure, but in doing so much of the fiber and nutrients are lost. To ensure the drink is smooth, start blending with minimal water and add more water as it blends. Add a few ice-cues and blend. Pour the juice into glass. Garnish with a freshly sliced lime and serve chilled.
VEGAN MILKS
Cashew Milk
(courtesy Humpreet Singh)
(Cashew milk is rich, creamy, delicately flavored, and oh-so-versatile. It's perfect for a cup of chai and to add richness to a variety of Indian sweets like kheer, rabri, kulfi and gajrela. It's also great for making savory items like creamy soups, cheese sauce, and chowders. And the best part? It's so easy to make! On the flip side, it's not really an economical option for regular use, but hey, whip up a batch whenever you're in a mood to treat yourself or your loved ones! Preparation time: 5 minutes + soaking time, Yields: 5 cups or around 750 ml)
Ingredients
1 cup cashews;
5 cups water, plus more for soaking;
A big pinch of salt
Method:
Place the cashews in a big bowl and cover with warm water. Add salt. Soak for 4-5 hours. Drain and discard the soaking water and rinse the cashews well. Blend the cashews with 1 cup of water until smooth and creamy. Gradually add the remaining 4 cups of water
and continue blending. Your cashew milk is ready! No need to strain. It keeps well in fridge for up to two days.
Notes: Why is it important to soak seeds and nuts in salted water before consumption? Seeds and nuts are high in phytic acid and enzyme inhibitors that interfere with the absorption of essential nutrients. Soaking seeds and nuts in salted water for a few hours helps break down phytic acid so that nutrients can be absorbed properly. Soaking also makes seeds and nuts easier to digest.
SAUCES / CHUTNEYS /
PICKLES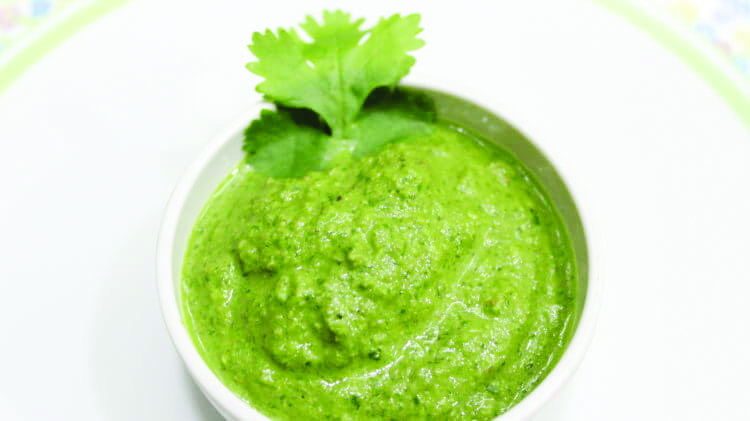 Green Chutney
(courtesy Annu Sharma)
Ingredients
Coriander leaves;
Ginger;
Garlic;
Green chilli;
Salt to taste;
Lime (can add raw mango instead);
Jeera;
Half-an-onion (optional)
Method
Grind coriander leaves, ginger, garlic, green chilli, salt, lime (raw mango can be added instead of lime) and
jeera. If needed you can add and grind half an onion along with the other ingredients.
SOUPS
Fiery Papaya and Lemon Grass Soup (courtesy Bhavna Kapoor)
Ingredients
1 green papaya (peeled, deseeded and cut into pieces);
1 chopped onion;
2 – 3 cloves of garlic;
3 stalks of lemongrass;
5 lemon leaves;
½ inch piece of ginger;
Dried red chilli;
Coriander seeds;
Salt to taste;
2 cups of coconut or peanut milk
Method
Steam the papaya for approximately 5 mins till it is soft. Dry roast dried chilli and coriander seeds. Add onion and saute till golden. Add lemon grass, garlic and ginger along with some water and let them cook till the flavors are soaked in. Remove the lemon grass, blend the rest of the ingredients with the papaya. Add the nut milk and blend well. Before serving, warm it up, adding salt and lemon leaves.
SALADS
Cucumber Slices with Gomasio (courtesy Bhavna Kapoor)
(Gomasio is a sesame powder dressing. Simple gomasio is just sesame seeds and salt coarsely ground. High
in calcium, you can add spices of your choice to make it like a chaat masala too! This can be sprinkled on
almost any dish. Some people like this on the dishes where they used to sprinkle cheese.)
Ingredients
For Gomasio: ½ cup sesame seedsl, ½ tsp salt;
red chilli powder or any other spices (to taste)
For Salad: 2 cucumbers; handful of parsley or coriander;
lemon juice (to taste)
Method
For Gomasio – Lightly roast the sesame. Once cooled pulse it in the grinder just a few times till you get a fine powder. Make sure you don't pulse it too much else it will become a sticky powder. Add salt and spices of your choice to it.
For Salad – Slice cucumbers into long pieces (with peel). Sprinkle the gomasio, chopped parsley or coriander and lemon juice as per taste. Polish them off the plate!
APPETIZERS

Mixed Grain Dosa (courtesy Annu Sharma)
Ingredients
1 cup yellow dal – soaked for 2 hrs;
2 spoons oats flour;
2 spoons semolina flour;
2 spoons rice flour;
4 garlic flakes;
1 green chilli;
Himalayan rock salt to taste
Method
Mix the three flours and soak them in water for 1 hour. Add the soaked dal to it and blend all together to a paste of thick consistency. While blending add the 4 garlic flakes, 1 green chili and salt to taste. Pour the batter on a hot tava or bake in an oven till medium brown. You can also add very finely chopped carrot or onions or tomatoes.
MAIN COURSE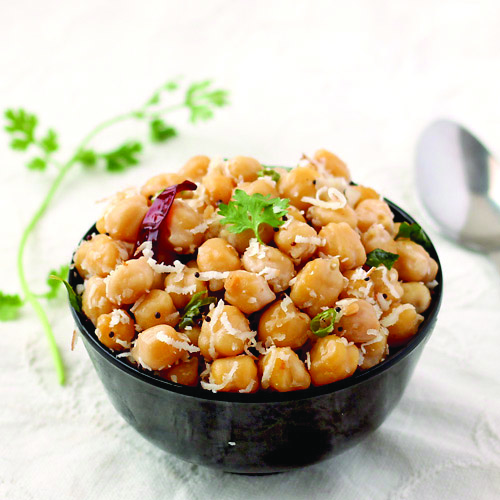 Chana Sundal
(courtesy Vidhya)
Ingredients
Chana;
Mustard;
Jeera;
Hing;
Onions (finely chopped);
Garlic;
Green chillies;
Red chillies;
Curry leaves;
Salt;
Coconut (scraped)
Method
Soak chana overnight. Boil it with salt and cook for 3 – 4 whistles in a cooker. In a pan of oil add mustard, jeera, hing, finely chopped onions, garlic, green chillies, red chillies, curry leaves, salt and saute for a minute or two. Then add chana and saute for a minute. Garnish with scraped coconut.
Notes: Instead of chana one can use green gram, black gram, rajma, ground nuts, horse gram, black beans etc.
DESSERTS
Vegan Kulfi (courtesy Swati)
Ingredients
250-300 ml coconut milk;
A handful of almonds;
A handful of pistas;
A handful of cashews;
Pitted dates soaked for 6-8 hours
Method
Grind the nuts separately. In the mixer churn coconut milk with dates in small quantities, keep adding small proportion of nuts while mixing. Consistency should be little thick. If required add more nuts if the material is thin. Pour it and freeze. Yummy dessert is ready!!