'Come lately Sweet Nation'… Some amazing familiar sweets here, also savouries and combo meals like rajma-chawal and South Indian dahibhat. There is a chat counter and the place is spacious and well lit, inviting one to sit awhile to study the menu and order something to eat or drink,
BY TARA NARAYAN
IT'S kind of crazy that this Chinese monster Count Coronovirus (a la Count Dracula) has been sitting for almost a year on our heads and controlling every moment of our lives from dawn to dusk. And here I'm thinking how many food kitchens have been opening up here, there and everywhere and some of my friends who are professional chefs trying to stay alive with foodie offerings. It is really desperately seeking times and I'm also caught up in this rigmarole of staying alive!
I'm getting so many offers of food deliveries at home and the menus are of homespun food tiffin offers to all kinds of Chinese, Continental, Goa-Portuguese, Goan of course…what not and what not. Sit at home and eat happily ever after! As if to say, don't cook, please, we know how difficult the times are for you to go out shopping during coronavirus times, close your kitchen, patronize ours. Some sadness yet good cheer is driving all these kitchens doing home deliveries…
We know those who continue to remain reasonably wealthy have no problem with all kinds of deliveries at their doorstep – with some exceptions. For example, there is this a wealthy senior couple I'm friendly with who keep recounting how they need someone young to help them do their various errands – they can't find someone to go stand in a queue to pay their electricity bill, or a freelance driver to maintain their car and take it out for a drive once a week. Otherwise they're pretty clued up smart phone-wise and talk daily to their son in the USA. But practically speaking they need assistance with health issues dogging them and all the precautions to be taken to keep Count Coronavirus hovering around like a malevolent spirit of evil at a distance.
BUT now even I'm getting spooked and have taken to inhalations whenever I can…put a pot of water to boil, drop in a few lavang (cloves), inhale the steam (after protecting my eyes with a wet hankie. Hey, the idea is to help keep one's breathing apparatus clear of too much phlem, except that you know what – the best way to keep nasal passages clear is to learn how to use a jalneti pot, this recommended practice is part of ancient Ayurveda. I still have my lovely cream-colored jalneti pot which bought many moons ago from the Kaivalyadham Institute at Mumbai's Chowpatty many years ago. It's hard to find these neat ceramic jalneti pots these days, they've been replaced by colorful plastic pots and there also stainless steel or copper ones if you hunt for them in the right market places.
These jalneti pots are like mini kettles and one fills them with tepid salted warm water to drain the junk out of nasal passage…put filled pot spout to one nostril, use a finger to close the other nostril and lightly breathe in and gently allowing water to drain out of the other nostril. Likewise reverse practice. This jalneti practice offers a remarkable cleanse and one may be surprised about how smoothly and freely one is breathing afterwards! Try it. It's something amazing you should check out these maddening coronavirus times.
Also let me say whoever comes back in the market with these ceramic pots will be flourishing, I be of you to please market them on the Goan Oberver online commercial page we're setting up or at least I'm told we are setting up. We need help to do a commercial page online to stay alive, happy and kicking, please help if anyone of you out there have a mind to help.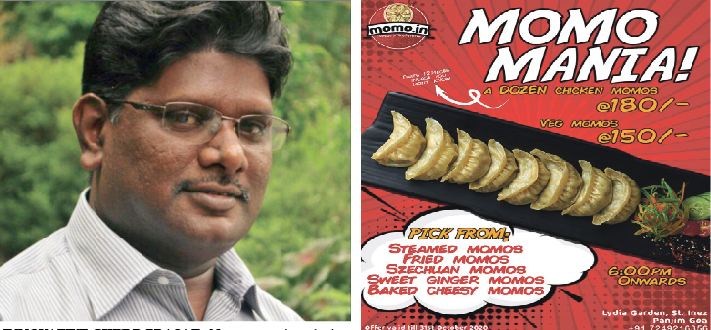 TO RETURN to food, food, food all around. If we don't die of coronavirus fears we may as well die of eating ourselves to death (sorry, my readers know I'm a temperamental emotional eater most times, it's an old sickness which dogs me but less and less). Already tired of managing in my new ill-equipped pantry-style kitchen (we have shifted homes from one rental to another this month) while out cruising aimlessly on my Blue Angel bike I suddenly discovered this inviting cool see-through ambience of Ujjwal Tripathi's Sweet Nation (at EDCON Mindspace, take the fancily paved lane by the St Inez creek somewhat opposite Taj Vivanta, Panaji).
Sweet Nation is spanking new place. They have an interesting range of savories, sweets and combo meals. I stopped before a novel Milk Mysore Paak (ever heard of a true blue south Indian Mysore Paak having milk in it?), Rajasthani gheevar, pista-studded jelebi, the besan ladoo look quite delectable, etc, etc, but I'm not looking for sweets, thank-you, but I wasn't looking for economical useful combo meals – one stressful afternoon I went to pick up Yellow Dal and Steamed Rice (Rs120) combo, back at home I found the dal a little over-cluttered and over spiced but okay at a pinch. Okay, another time around I'll try the Pindi Chhole Masala/Mint Jeera Rice, Rajma Masala/Steamed Rice, what do you know – South Indian Curd Rice (Rs100)! I rather like the idea of a most unusual Cranberry Biryani (Rs80) but wish it came along with their crunchy cucumber raita. Its wee agreeable sweetishness is redolent of something Kashmiri or Persian with reference to pilaf touches but here instead of golden raisins or apricots we have cranberries (which are a pretty expensive berry and did I spied some tutti frutti too as a filler, what is tutti frutti but candied, colored green papaya, you know that?).
Anyway, this is to say the Sweet Nation chaat numbers are also fairly good, but be sure if you're ordering paani-puri you ask for the semolina or rava puri which has a much nicer softer crunch, and they do offer two paani to go with the puri, a green spicy paani and sweet spicy paani. Whoever is here may forget to offer the sweet spicy paani, so ask and you shall get. They're doing some hard to find item numbers like Lagan Nu Custard (Bombay Parsi marriage standard favorite) and what's this Boondi Trifle? Also there's malpua, rasmalai and gulab jamun…all sweets things sold by weight. Go have fun doing some dekhoing!
On the menu there's Lachha Paratha (plain and mint) but I can't stand these refined flour, hydo fat doped paratha; although once upon a time in my teens in my old hometown of Penand I used to feast on these crumbly hot paratha served with chickpea or egg curries, with side helpings of onion-mint leaf-lemon tukda relish. Many find these Sri Lankan or so I think paratha very irresistible and worth dying for! Good-luck Sweet Nation, I know winter is coming in so how about offering hot, desi ghee redolent carrot halva…not packed with mava but honest carrot choon? Make it simple affair Ujjwal Trivedi, he's boss here.
TO MOVE on since most folk are ordering home food these days I'd like to congratulate my friend Chef R Prasad (he's been to place including Cidade de Goa once time) for starting his Momo Mania kitchen — funny, how so many Goans young and not so young have a soft corner for steaming hot momo laced with red chili sauce red or green chili sauce. Although most shun veggie momo for chicken momo in Goa! Prasad wanted me to taste his momo and I said only veggie versions please, they arrived — a dozen momo to a box, with two plastic containers of red and green chili sauce.
I think momo are pretty health cobnscious food being steamed food. Chef R Prasad's offerings were filled with a generous savory mix of stir-fried chopped cabbage, carrot, onion, garlic, ginger…and the potli steamed cooked. Chinese cuisine is really one of the most health-conscious if I may so, although Chinese do love their roasted suckling pig which is put out at funeral wakes along with rice wine, so grieving visitors may not grieve so much over gone with the wind dearly beloveds.
I have begged Chef Prasad to do savory mushroom momo, my favorite; if he wants I'll help him do the filling – chopped fresh mushroom, spring onion, ginger, garlic, green chili, salt and black pepper to taste. Will be a great hit. In the meantime if you want to order these latest momo in town Panaji say hello to Chef R Prasad Paul on 8888867639.
FUNNY or not funny. Since I'm not earning money in journalism these days I'm thinking maybe I should join forces with the food business and see if I can make better money to push off for a holiday to Kinnaur or Lahaul & Spiti for a year. That's my latest bubble dream – go stay in a mountain state for a year just to see the seasons come and go, before saying goodbye cruel world! Up in Manali once upon a time I savored in a nondescript Tibetan eatery some of the most utterly agreeable and generously fat steaming hot momo stuffed with radish greens, served with a tangy fresh red chili sauce (never forget sesame seeds in filling or sauce). Made my lips burn, but nice burn, I was seeking it almost every evening while doing Manali in my youthful years.
Well, my this week's recommendation here is Sweet Nation's Cranberry Biryani and my friend Chef R Prasad Paul's veggie momo…on one of these cool evenings sweeping in to fill the mind with stormy blue thoughts of how one may allow oneself to grow old gracefully with too many sweeping changes of an unkind kind. (Sigh) Feeling terribly ancient this month of unacceptable sad moon mooning and of course I pray and appeal to mahadeo to come rescue me one more last time!