Discover Vinod Vadapav and next door there is Mannpasand in Panaji….
RECENT DISCOVERIES IN PANAJI: Vinod Vadapao & MannPasand next-door to each other; Vinodji's batatvadas are famous far and near in Panaji. MannPasand offers temptations like kulfi-falooda and Raj Kachori
By Tara Narayan
IT was my week for roaming around because the CCP campaigning was going on, then came polling day…and D-day one after another in quick succession. Who else but Babush Monseratte, the 'Pathan' money-lender from Taleigao who walked away victorious (read about it elsewhere in goanobserver.in). This is a foodie column, very local and up close to my mostly very veggie tastebuds… one of the days on my newly acquired bike(women think Activa 6G gives them a modicum of bike thrills)! I was catching my occasional best batatvada down town Panaji where Vinod Vadapav is located (remember Vinod Kashyap, for years and years near the huge mango tree next to Caculo Mall his handcart was parked through the evening retailing piping hot batatvada, bhajia of kappam of onions, potato slices, onion gota with stir-fried oily chili fries…. folk made a beeline for his batatvada for they were so good. Eat hanging around chatting with Vinodbhai or parcel home.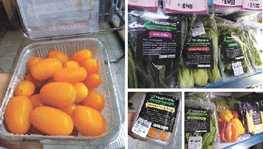 Since I didn't care for the soft pav loaves I'd just settle for a batatvada or two. Then one fine day Vinodbhai abandoned his old adda under the Mango tree and varnished, I looked high and low for him. Gone with the wind? No. I re-discovered him at a proper stall shop opposite where the Women & Child Welfare offices are amongst all kinds of other establishments…here all day long he does roaring business now and it's worth waiting for the next hot batch of batatvada from his frying pan. If it's a vada-pav you want he laces in some green or garlic chutney and here you are tucked in a piece of paper plate of the shining kind…dab off the excess oil if you wish, enjoy and don't burn your tongue! Savory and with fairly thin coating these batatvada are the best which I've eaten over the years in Panaji.
In fact, at all Congress press conferences I remember wishing they would get their batatvada from Vinodji (the difference between Congress and BJP press conferences is that the former serves batatvada and tea and the latter serves samosa with tea)! Nowadays of course nobody likes the media, it is fashionable to curse the media and especially if they step on delicate toes, but forget all that.
I can rarely pass by Vinod Vadapav without stopping to savor a batatvada or two, so much so I try to avoid that route! Don't want all the fryum temptations. Still last week I was there anew but this time instead of hanging around outside on the pavement here I decided to walk into the brand new Delhi chaat place called Mannpasand right next door. The sweet guy here lets me eat my batatvada in peace as long as I buy something from them too – be it pani-puri (puri a bit hard-hearted be they of wheat flour or semolina) or their grand kesar kulfi and finally I spied someone eating a falooda kulfi, it was different from the tall glass ones served at Crawford Market down town the old Bombay I've grown up in.
This Maanpasand kulfi falooda comes in a fancy ceramic while plate piled with a pile of malai kulfi pieces, topped over with a mélange of rice vermicelli, rose syrup, tablespoon dollop of soaked basil seeds (falooda favorite ingredient "takmari"), finally dash of fine cut badam-pista…altogether a pleasing concoction to relish on a hot evening, if it's been a bad day you want to cheer up at day's end by chilling over something interestingly icy, rich and sweet.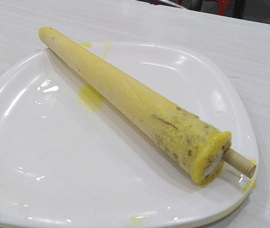 Hey, this Maanpasand also boasts of a charming raj kachori wherein a large crisp puri is served stuffed and overflowing with interesting dahivada juices melting with sweet sour tamarind sauce, some bit crunchies topped with beetroot-carrot slivers…. nice, very nice. I'm told this raj kachori is the latest buzz with PYTs or pretty young things on a diet! Well, check it out. Brightly lit place, not to cozily designed yet because it is fairly come lately, and they have a family place upstairs but I haven't been up yet.
They're sporting at the cashier's desk and even offer you casino invites if you're interested! Must be some connection.
AND then came this find while dropping by at the petrol pump Magsons store near Don Bosco's school… very come lately Trueganic yellow pear cherry tomato – I bought a transparent pack and popped this so lovely richly yellow colored cherry tomato….and mmmmmmm, they are to live for! Full of flavor with a rare just so natural sweetness – I rinsed them out, put them in a bowl, sprinkled some pink Himalayan salt… put them on the table, eat. Nobody ate, so I ate all of them up. Made my dinner for the day.
Now I'm so instantly hooked on these yellow pear cherry tomato and am taking an interest in them like crazy – they're so good, they're that good! The label line reads "Farmed with love" and the 250g pack is priced at `99, naturally organic is always better and more expensive. A closer reading reveals the yellow pear cherry tomato have been grown through hydroponic farming (that is grown without soil)… somewhere in Kolhapur, Maharashtra.
This is to say hydroponic farming is going places in many an urban home these days and one of these days it is worth discovering and doing one's own yellow pear cherry tomatoes, lettuce, microgreens and more. Find some coco peat first and then get cracking. I wish I could take my own advice instead of squandering money I no longer have to squander these hardship days.